Harriet the Spy's Tomato Sandwich
When I was a kid, there were exactly three girl sleuths on American bookshelves. Nancy Drew, with her sweater sets and ladies who lunch, Trixie Belden, with her horse and her "Moms", and Harriet M. Welsch. Harriet M. Welsch was mean, she was obsessive, she saw too much, said too much. She had to see a psychiatrist. And Harriet M. Welsch loved herself, meanness, messy hair and all.
Harriet is a "spy" inasmuch she has a list of people that she needs to keep track of; friends, classmates, random people in the neighborhood , the Upper East Side of Manhattan. She takes copious notes reflecting on other people's failings, like immaturity, indolence, snobbishness, and generational conflicts. And since the most scintillating stuff isn't going to happen right out in the open, maybe she has to sneak into people's houses now and then, maybe up a dumbwaiter every so often.
Harriet writes down exactly what she sees and thinks, in its honest brutality:
MY MOTHER IS ALWAYS SAYING PINKY WHITEHEAD'S WHOLE PROBLEM IS HIS MOTHER. I BETTER ASK HER WHAT THAT MEANS OR I'LL NEVER FIND OUT. DOES HIS MOTHER HATE HIM? IF I HAD HIM I'D HATE HIM.

CARRIE ANDREWS IS CONSIDERABLY FATTER THIS YEAR.

I THINK MISS ELSON IS ONE OF THOSE PEOPLE YOU DON'T BOTHER TO THINK ABOUT TWICE
Her blunt appraisals of everyone around her are accurate but uncharitable, truthful, but callous. That's okay, though, because it's a private notebook.  It's not like anyone could ever read it.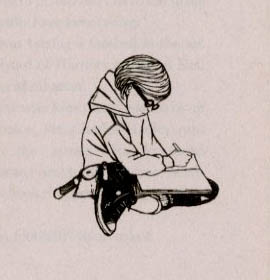 Harriet is a creature of severe habit. She has her friends and her parents, a cook and her wise, literary nanny named Ole Golly. Harriet has a school uniform and a spy outfit that she puts on after school in preperation for going out into the world and finding out what people are up to: bluejeans and an old blue hoody sweatshirt, sneakers so comfortable that they have holes over the pinky toes, and black rimmed  glasses with no glass in them to make her look smarter, spy tool belt, which she has usefully loaded down with pockets for her notebook and extra pens, a flashlight (in case she ever needs to be out after dark) and a boy scout knife with a collapsible knife and fork (which might come in handy eventually, although it hasn't yet). . Harriet has her regular spy routes. And she eats tomato sandwiches, with mayo, on white bread, for lunch every single day.
"It was the best taste in the world. Her mouth watered at the taste of the mayonnaise. Tt was an experience."

'Wouldn't you like to try a ham sandwich, or egg salad, or peanut butter?' Her mother looked quizzically at Harriet while the cook stood next to the table looking enraged. 'Tomato,' said Harriet, not even looking up from the book she was reading at breakfast. 'Stop reading at the table."  Harriet put the book down. "Listen, Harriet, you've taken a tomato sandwich to school every day for five years. Don't you get tired of them?' 'No.' 'How about cream cheese and olive?' Harriet shook her head. The cook threw up one arm in despair. 'Pastrami? Roast beef? Cucumber?' 'Tomato.'

"Sot in her ways" says the cook.
When she is caught red-handed and bullied by her classmates, they hit her where she lives. The tomato sandwich.
When she picked up her lunch the bag felt very light. She reached inside and there was only crumpled paper. They had taken her tomato sandwich. They had taken her tomato sandwich. Someone had taken it. She couldn't get over it. This was completely against the rules of the school. No one was supposed to steal your tomato sandwich. She had been coming to this school since she was four – let's see, that made seven years and in all those seven years no one had ever taken her tomato sandwich.

Not even during those six months where she had brought pickle sandwiches with mustard. No one had asked for so much as a bite. Sometimes Beth Ellen passed around olives because no one else had olives and they were very chic, but that was the extent of the sharing, and now here it was noon and she had nothing to eat.

She was aghast. What could she do? It would be ridiculous to go around asking "Has anyone seen a tomato sandwich?" They were sure to laugh. She would go to Miss Elson. No, then she would be a ratter, a squealer, a stoolie. Well, she couldn't starve. She went to the telephone and asked to use it because she had forgotten her lunch. She called and the cook told her to come home, that she would make another tomato sandwich in the meantime.

Harriet went home, ate her tomato sandwich, and took to her bed for another day. She had to think. Her mother was playing bridge downtown. She pretended to be sick enough so the cook didn't yell at her, and yet not sick enough for the cook to call her mother. She had to think.

As she lay there in the half gloom she looked out over the trees in the park. For a while, she watched a bird, then an old man who walked like a drunk. Inside, she felt herself thinking, "EVERYBODY HATES ME. EVERYBODY HATES ME."