Say, 9-year old in the 1970's: are you tired of blowing regular old, harmless soap bubbles? Looking for something a little more psychedelic, a little more trippy? Something perhaps that will explode your brain cells one by one with poisonous fumes?
Once upon a time there was little company called Wham-O . Wham-O was the sign of a terrific toy. I wanted everything Wham-O. The very name elicited fun. A couple of University of Southern California college graduates began the company in 1948 as "WHAM-O Mfg. Co" in the family garage in South Pasadena. Wham-O.  
One of Wham-O's most titillating toys  back in the day was something called Super Elastic Bubble Plastic. What a goddam catchy name. Why it's genius, I tell you. I wanted it. I wanted it bad.
The package was pure insane desire in shrink wrap. Everything about it screamed: I NEED TO HAVE THIS TOY. Just look at it. LOOK AT IT. Could you resist this? This packaging is the pure creative abandon that Wham-O employed with all their toys.  First step, before you do anything else, package the shit out of it.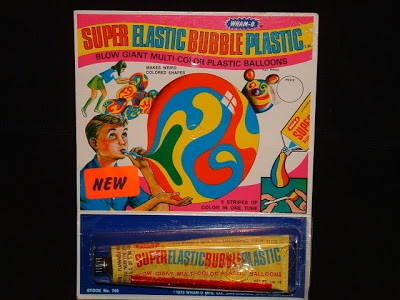 Hire geniuses to make the packing SO enticing, So desirable. Then, if there's a demand, outsource the production…. if it's a dud, no problemo – you haven't wasted money on buying the supplies and equipment yet. This "what the hell" attitude is what gave Wham-O its character and seemingly limitless variety in their product line. They threw shit against the wall and saw what stuck. Super Elastic Bubble Plastic was one of those pieces of shit that stuck
What in holy hell is this shit,  you ask, oh young one?