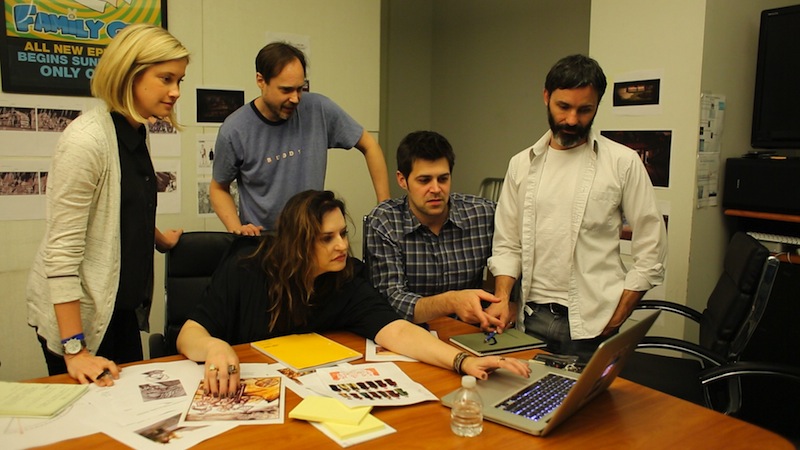 The Cosmos animation team from left to right Production Manager Allie Crane; Assistant Director Andrew Brandou (behind me), Supervising Director Woods and Director Lucas Gray.
In addition to his work on Cosmos, Brent Woods is also one of the Supervising Directors on American Dad and was the very first artist I hired back in 2003 to direct the American Dad pilot presentation for Fox. Brent is wildly talented and tireless and the linchpin of our creative team, everything goes through him. After his experience on Cosmos, he will also be a master glass blower.  Andrew Brandou has been a color stylist on The Cleveland Show as well as many other television shows, and is an accomplished fine artist, illustrator and graphic designer. Andrew was the art director for me on In The Realms of the Unreal, a feature documentary about outsider artist Henry Darger. He is a masterful and resourceful artist and researcher. Lucas Gray has been a director on Family Guy and on The Simpsons and directed and highly acclaimed piece "Why Obama Now?", a three-minute video, narrated by a speech Obama delivered at the Associated Press Luncheon in April of 2012, in which he breaks down the concept of "trickle-down" with swift, precise and visually-clear animation. Seth and I call Lucas "The Master Explainer", thus I needed him on Cosmos. Allie simply makes the train run, every day, rain or shine. Nothing would have ever gotten turned in without her. At the end of the Cosmos production, she will have fielded eleven thousand phone calls from Brent.
All are now gentlemen and gentlewomen of science.