Furries are EVERYWHERE at CPAC. But what else is going on at America's Favorite Comedy Convention, fashion-wise?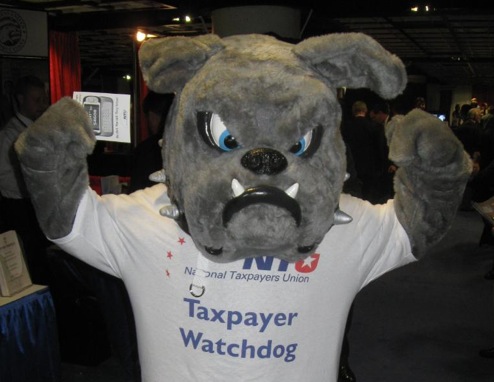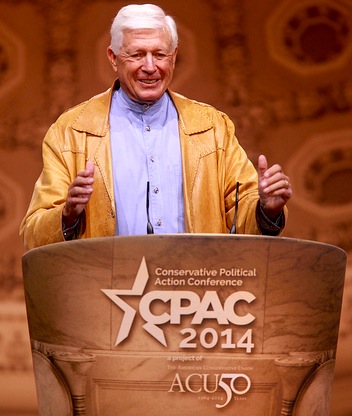 Here is Newt-lover Foster Friess in a jacket stitched together from the hides of baby pandas and rubbed to a golden sheen with the earwax of Rick Santorum's children. The gazillionaire likes to kills things specially to sew into an outfit for when you step on stage to introduce the man whose primary run you financed with the change from your jet's cupholders. Is there any doubt which species provided the hide for Foster Friess's jacket? Let's just say he killed it himself while hunting the ultimate prey.
We think these two might have taken a wrong turn at Comicon.
Or, maybe they are here to advocate for increased drilling on other planets? At least they can defend us against that deranged one in the middle with the curtain rod.
Rand Paul, who I assume spilled something on his suit and paired a blazer borrowed from a senate page with jeans and a pair of shitkickers from the backseat of his car on the fly. Nice save. The central thesis of Rand Paul's speech: "OBAMA WEARS MOM JEANS!!1!"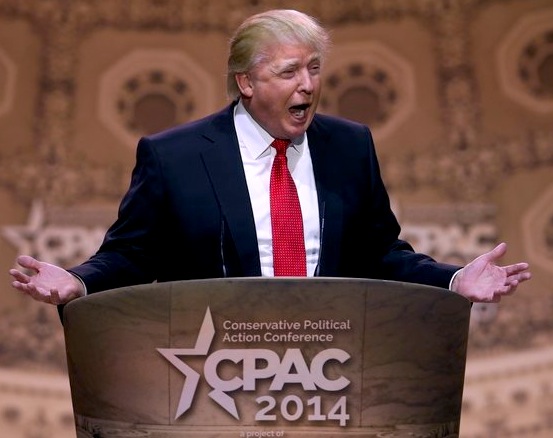 Here is Donald Trump pontificating about how China is stealing our jobs while (presumably) wearing one of his namesake made-in-China sold-in-Macy's suits, as he goes "off-teleprompter", and onto an extemporaneous rant about President Barack Obama, his fellow Republicans, the Chinese, immigration reform, entitlement reform, and the national debt and the orangutang he slaughtered to stick on his head.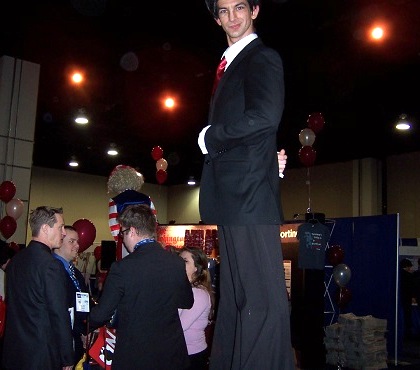 Bringin' it.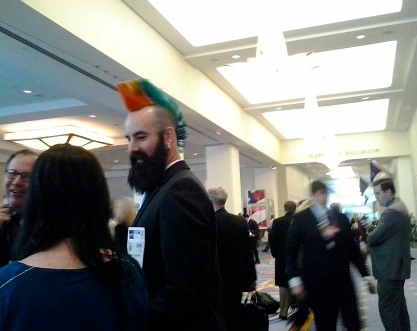 Big beard and rainbow flag mohawk at CPAC? Way to cram it down their throats, dude.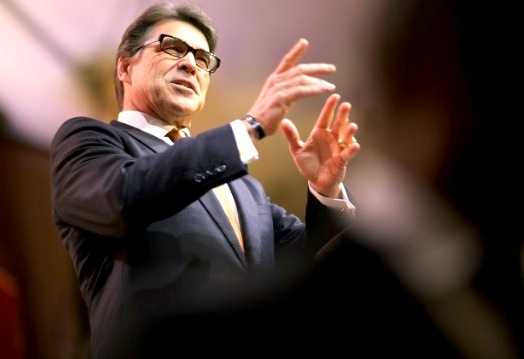 Now, do ya think Rickster is rockin' the specs as a tribute to Barry Goldwater or is he trying to appear to be in room temperature range IQ wise? I mean, the glasses only fool the idiots that actually listen to him, they don't make the stupid from his mouth sound any smarter. The sad part is that Perry's staff probably wrote memos, had meetings, and commissioned surveys before opting for the glasses. The governor was opposed because he used to beat up kids with glasses, but his staff convinced him these were different, because they don't actually have lenses.
.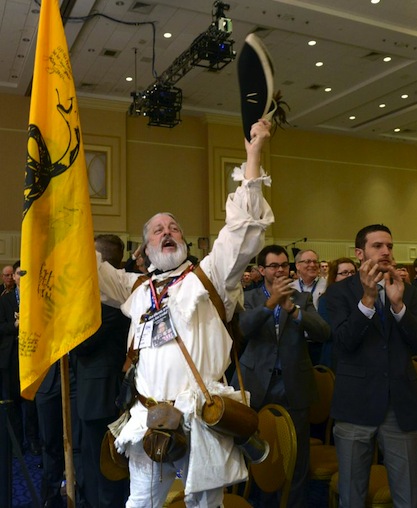 I hated Jesus and America until I saw the guy dressed as the Quaker Oats Man. Well-played, CPACers…
Fortunately there were no women there to complicate and confuse things the way they do.When taking a stroll through the CPAC Hub, a.k.a. the Hall of Grievances and Outrages, it's as much to be seen as to pick up swag bags and foreign-made t-shirts
The GOP. They can drape ourselves in suits and leather, but god forbid we raise the minimum wage.