As stupid as they are, most Confederate memorials strike a solemn, stately tone, incorporating elements of classical Greek sculpture to honor historical figures and capture the magnitude of human loss during the Civil War. All but one.
In a timely manner, Americans have formed a consensus that the war banner of loser secessionist is a hideous symbol of slavery, and we are – in 2015 – suddenly exceptional enough that we don't need public artistic celebrations of those who tried to destroy the Union in the name of human chattel. The South has a lot of things to be proud of: music, tasty food, beautiful native flora….its population's failed attempt to form The Confederate States of America is not one of them, and so does not deserve to be memorialized in our nation's parks and pedestrian walkways. With one exception.
Poignantly located next to a barren strip of land by I-65 in Nashville,  there is a statue – a massive, 25-foot fiberglass statue – surrounded by 13 Confederate state battle flags. It is the Nathan Bedford Forrest monument, the most alarming looking statue I've ever seen in my life, including statues of cartoon characters located inside cartoon shows.
Just look at this fucking thing: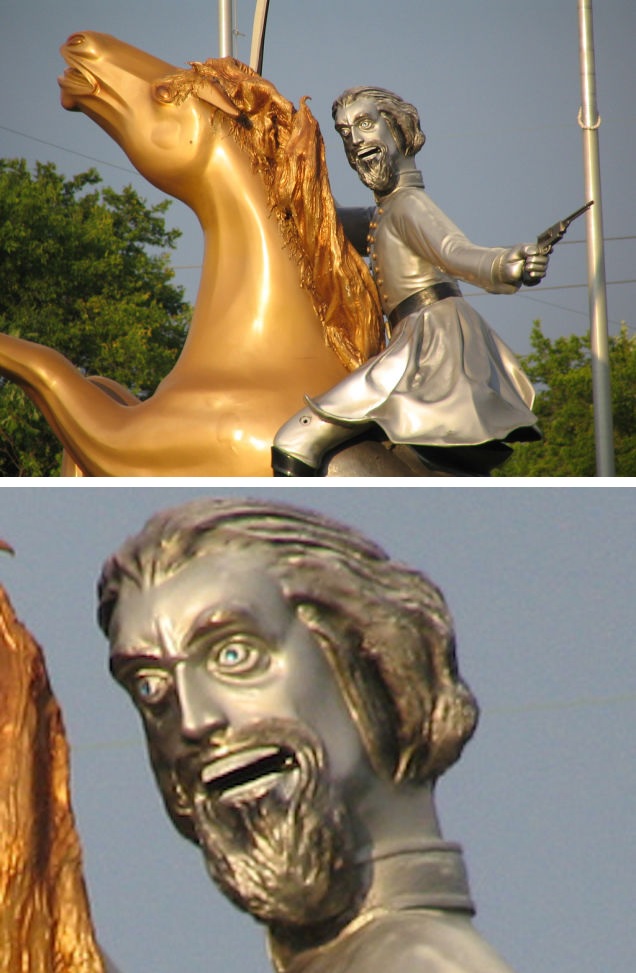 That's supposed to be a human being.
There are, apparently, more statues of Nathan Bedford Forrest in Tennessee than there are statues of George Washington in Virginia, or of Abraham Lincoln in Illinois, or of any other person in any other state. This just happens to be the greatest one. Despite a reputation for having singled out black Union soldiers for slaughter following their surrender and the subsequent lynchings, Forrest has been immortalized in statues across the South. His name has been lent to public institutions, including  Nathan B. Forrest High in Jacksonville, Florida, all the way up until November of 2013.. Oh, The South, you big goofs, with your  sleeveless shirts and junky cars and small brains.