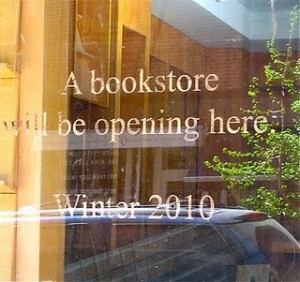 If Iceland and Goldman Sachs have not gotten you sufficiently pissed off this week, then this is for you: Tirelessly chic and sickeningly industrious clothing designer Marc Jacobs bought beloved West Village bookstore Biography Book Shop to open his own, better bookstore. A Marc Jacobs bookstore, called Book Marc. 400 Bleeker Street will be Jacob's seventh store in the area, and the first one to sidestep the standard protocol of rooting around in bins of $15 keychains, compacts and plastic jewelry to get to the adorable $200 anchor pattern, red and navy silk-blend nautical sweater or the $300 cherry blossom silk jacquard dress with puffy sleeves.
Seriously seven stores in a 20 square block radius? Carnegie, Rockefeller, Starbucks and Trump have nothing on this guy! That means there are 4 more Marc Jacobs stores than there are even Starbucks in the same area! Why there isn't a MarcJacobsiGoogle gadget or iphone app to flag all the stores is a mystery. You could be in one Marc Jacobs store and your girlfriend could be waiting for you in another Marc Jacobs store and there is a good chance that both those stores could be on the same street and you would never even know!! Â 
Earlier this week, a mysterious, gilded window decal appeared on Biography Bookstore's window that read, coyly, "A bookstore will be opening here Winter 2010." Could the mysteriousness surrounding the store be, in fact, part of a trend of "un-branding" – like Starbucks' sneaky attempt to build fake old fashioned coffee shops that are actually the global chain in disguise? Since it is rumored to be candidly called Book Marc, maybe there are no shenanigans afoot at all. Maybe it's just good old fashioned sober pep and enterprise. I swear this guy was put on earth to make the rest of look bad. And by "bad" I mean fat, lazy, drunk, gluttonous and tacky. Oh and poor. I mean, the old Marc Jacobs, the real one, the scraggly pre-rehab Marc Jacobs with problems would never have had his shit together enough for all this stuff and side projects.