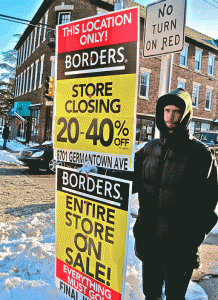 Does this guy just scream "Philadelphia", or what?
It's 1994 all over again.
Borders – born as a used bookstore in Michigan 40 years ago and long seen as the less idiotic of the large chains – filed its long-expected bankruptcy yesterday. The global reaching retail chain that helped define the age of the book superstore leaves empty malls, airport terminals and a struggling book industry wondering what indignity will follow. Borders will close hundreds of its stores in the next few week, unceremoniously sending its employees the unemployment line. Also worried are book publishers – who are getting burned to the tune of millions owed to them by the bereft chain – and mall owners, whose shopping centers are anchored by Borders's superstores. Yes, there are still malls and shopping centers anchored by Borders. Barnes and Noble could come out smelling like a rose. But it's not likely. The biggest threat to Barnes & Noble is the same threat that exists to independent book sellers and to anyone engaged in the sale of printed books, the Internet.
Remember in the early 1990s, when independent bookstores were closing all over the country as Borders and Barnes & Nobles moved in with their super low prices and coffee couches? When the chain bookstores were seen as great predators gobbling up local booksellers? And then Megastores like Walmart and Costco started selling bestsellers, so that neighborhood bookstores were weathering threats from all sides? Then came the internet and Amazon and most of them had to shutter their doors? The number of independent bookstores has been declining for some time, but creepily, the sales of books themselves are declining for everyone. Besides the obvious fact that people are quantifiably dumber than ever (I can count on 1 hand people I know who consider reading a habit up there with their Zumba classes or marathon running, their Thursday night gathering at some stupid bar).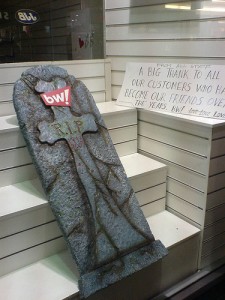 And, entire categories of books, like reference books and travel books are just passe junk, now that all that information is available instantly and for free on the Internet. Now that everything is dominated by Amazon, the big chains are kaput, too.
Here's hoping that someday the Kindle will be the new Betamax.
Here is a woefully incomplete list of bookstore casualties of the past few years: