As news of the impending closure of the Barnes & Noble store in the Encino Marketplace travels through town, Encinoites are taking up (online) arms. They are venting their anger via a Facebook page (created by resident Robin Permaul), demanding that the mall's owner, the evil Caruso Affiliated – whose other "holdings" include The Grove and the abomination that is the Americana at Brand in Glendale  – stay the bookstore's execution. The Encino B & N location is not just a bookseller, but a neighborhood gathering spot and a host to author appearances, readings, book clubs and community events. The local Encino Patch covers the drama. The news that a godforsaken CVS drug store is what will be replacing their bookstore adds salt to the wounds. They are rightfully taking it out on Rick Caruso, blaming him for the store's closing. Caruso took to the Facebook page to defend himself:
"…Last year we reduced [Barnes & Noble's] rent to encourage them to stay open, nonetheless, in the end they decided to close due to a lack of sales at this location. I love having bookstores on our properties. They are a great amenity for the community and a great core tenant for us, but unfortunately we must accept that Barnes & Noble recognizes the retail book landscape has changed and is examining store closings, strategic alternatives and even a possible sale."
Encino residents are threatening to boycott the CVS. No bother, there are 2 such horrible store locations within a three and a half mile radius already.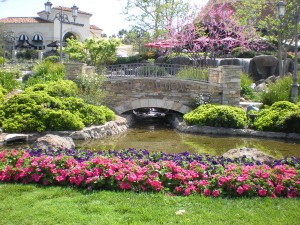 Eleven miles North, lies another Caruso Affiliated monstrosity, the tragically majestic Calabasas "Commons". The Calabasas Commons is a faux fancy, faux Mediterranean shopping center. It boasts a faux turtle pond with real ducks, real pink roses and a faux stone bridge and a fake golden bell tower. Water sculptures and fountains abound. Speakers, disguised as rocks hum with golden oldies designed to keep you in the mood to shop. The stores are predictable and banal, the restaurants horrible. The Barnes and Noble at The Commons, however, is quite good for a marginally literate suburb. It has a particularly well stocked and well curated children's section. The Barnes and Noble at Calabasas Common's lease expires on Jan. 31, 2011. See the Calabasas Patch for updates.
Barnes & Noble has about 400 leases up for renewal over the next few years.