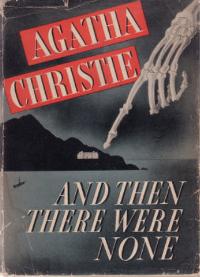 (spoiler alert). First, there were ten….. a curious assortment of strangers summoned as weekend guests to a remote island off the coast of Devon. Their host, an eccentric millionaire unknown to all of them, is nowhere to be found. All that the guests have in common is a skeleton in his or her closet, a wicked past they're unwilling to reveal – a secret that will seal their fate. For each has been marked for murder. One by one they fall prey, their deaths as nominated in the titular nursery rhyme "Ten Little Indians" (which is displayed in their rooms); poisonings, axes to heads, etc. Each murder occurs in a situation where almost all the other island guests might have had opportunity to commit it. Before the weekend is out, there will be none. And only the dead are above suspicion. The guests discover that they have been brought to the island by an insane and sadistic judge, who has tried each of them in criminal court in the past, driven by an overarching sense of duty to render proper, horrific justice for each. I've read and reread every one of her books, and this is Agatha Christie's masterpiece, intricately planned, genuinely bewildering, a plot that Christie herself considered "near-impossible." It is horrifying, and an astonishingly baffling and ingenious jigsaw. There is no trickery; the reader is just bamboozled in a straightforward way from beginning to end.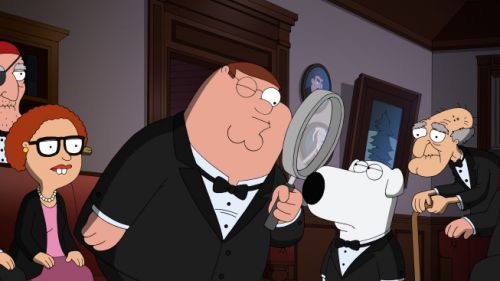 Our Family Guy season 9 premiere – "And Then There Were Fewer" – is a one-plus-hour murder mystery whodunnit loosely based on the same premise. The Griffins and their fellow Quahog residents are summoned to James Woods' spooky mansion, and pretty soon the bodies start piling up and everyone is scrambling around trying to figure out whodunnit. Referred to as nothing other than "Clue" around the office – where it has been in production for the past year –  it's the most ambitious episode we've ever produced. What makes the episode special are the cinematic setups and "camera" moves that director Dom Polcino (Blue Harvest, Dark Side, Long John Peter, etc), used as storytelling devices, where shots are sometimes used to make a statement with the "camera" – a departure from the simplicity of the set ups of a typical episode.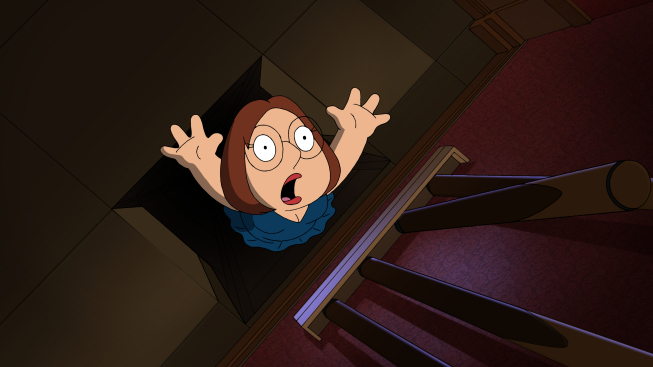 He also designed a new, rich and deeply shadowed color palette. Dom is a storytelling director who, while plotting out the story, keeps the presence of music in mind. Composer, Walter Murphy, used an 89 piece orchestra to score the ridiculously layered and visceral soundtrack. Many of the scenes – like a lengthy panning of The Griffins car driving towards the mansion – are there to allow the score to take center stage. Few other animated television sequences have had such a tightly intertwined mix of sound and image. The music gives a haunting presence to the visuals, a testament to the strange palpability of the score, and a rejection of the notion that television animation music should stay discreetly in the background. Walter has produced hundreds of evocative motifs in a cornucopia of music styles for the show through the years, this being his darkest and most cinematic.
Airing Sunday, Sept. 26 (9:00-10:00 PM ET/PT) on FOX.