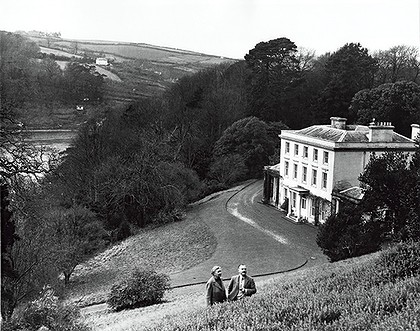 It's Agatha Christies' 120th Birthday, so here is her scary house.
From Telegraph.co.uk
A country home where some of the 20th century's most baffling murders were planned opened its doors to the public yesterday.
Only one day's glimpse was allowed by the National Trust, which is spending two years restoring Agatha Christie's grade two listed Greenway House, overlooking the river Dart in Devon. Rooms will be decorated in faithful 1950s style and displays will include items such as the buckets and spades used by Christie, her archaeologist husband, Sir Max Mallowan, and their family on summer holidays in the area. The £2.25m property was given to the trust seven years ago . Christie's handwritten changes to many of her detective stories, including the Hercule Poirot and Miss Marple series, were put on show yesterday, along with fi rst editions in the small library where she hatched some of her best-known plots.
Set into one side of the front portico at Greenway, Agatha Christie's former holiday home in South Devon, is an unobtrusive sandstone plaque. It is incised with arcane characters, like little rows of camping stools, and it was brought back from Iraq by her archaeologist husband, Sir Max Mallowan. "Cuneiform script, from Nineveh," says Robyn Brown automatically, eyes busy elsewhere. "It should probably be in the British Museum." Brown is the National Trust's property manager at Greenway and has been overseeing the complex, labour-intensive two-year project to open the house and gardens to the public. We re-examine the golden slab for a second. "He wrote two books on Nineveh here at the house," she adds. "She never wrote here at all."
And there you have it, the key to Greenway, which opens to the public for the first time today. You won't see a writing desk, or a study used by the great crime writer when completing one of her 79 mysteries, although she came here every summer from 1938 until her death in 1976. There is no physic garden stocked with deadly nightshade or spotted hemlock. And while three novels and a couple of murders are recognisably set here (the artist Amyas Crale dies in the garden after drinking hemlock-laced beer, and the girl guide Marlene Tucker is found strangled in the boathouse), none were written in the house. Christie saw Greenway as a place of relaxation, not of work, as a chance to enjoy family, friends and the benevolent surroundings of the River Dart. It was also somewhere to indulge the family passion – or obsession – for collecting.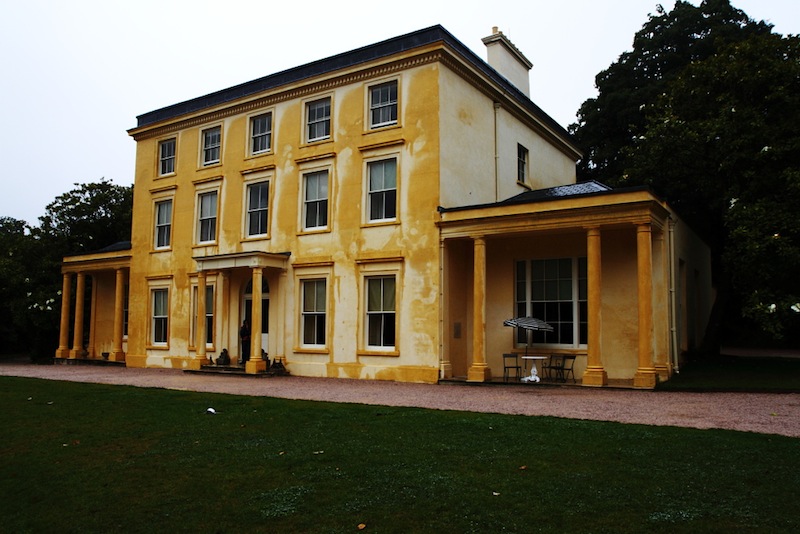 Greenway is a very Devonian house. It is no-fuss Georgian, the colour of clotted cream, beautifully sited on land swooping down to the river, and on sunny days – this is, after all, the English Riviera – it soaks up the rays until dusk. It occupies its own promontory on a bit of the river that bulges like a newly fed python, surrounded on three sides by water and backed by woods of ash, beech, Monterey pine and vast swathes of camellia and rhododendron. It must have been an utterly private retreat, used first by the Mallowans, then by Christie's daughter Rosalind Hicks and her second husband Anthony – a talented gardener – who gifted it to the National Trust in 2000. After their deaths Christie's grandson, Mathew Prichard, donated all the contents as well, making Greenway a unique treasure. It is also a logistical nightmare; parking is desperately limited, access roads are narrow and they expect more than 600 visitors a day during the peak summer season. Frantic signals are going out to persuade people to come by boat (starting from Dartmouth and Dittisham this weekend), bus, bike, foot – anything but by car. What they are going to do with people like me, who decide to visit on a whim and just turn up, I hate to think.
The family would have entered the house through the portico facing the river, stepping into a simple three-storey façade, which had side extensions added in the early 19th century. We have to enter through a side route, but the interior has been planned to feel much as though the Hicks family is still in residence. The hall has a studded leather Baghdad chest, another Mallowan find, in which a body was discovered in one of his wife's novels. It also still has the dinner gong – which was beaten each evening, apparently, by the young Mathew to summon the adults to dine. In the inner hall, old gardening hats and a scarf lie on the table beside a white leather lifebelt with "Greenway House" painted on it.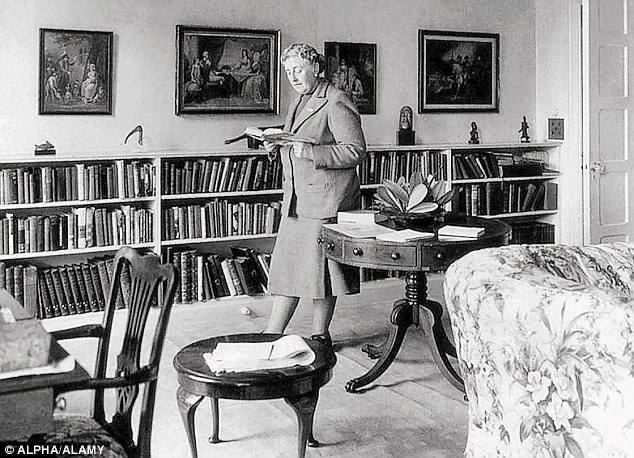 Agatha Christie in her library at Greenway
It's in the library, though, that you first begin to realise that this was no ordinary family. The room looks straight out over the glorious river view, so its shades are pulled down to block the light, but even the dimness can't hide the shelves protected with neatly folded white tissue paper, furniture under creamy dust sheets and dozens of objects, each with its own ghostly nimbus of plastic (some of these coverings will remain until the formal opening, in June, as building work continues). Beneath the covers I can see tantalising details: the shiny yellow beaks and feet of a pair of Meissen eagles; part of the Hicks' ceramics collection, which also includes superb pieces by potters such as the Leaches and others. There is the bargeware – populist pottery, often with an inscription stamped on it – collected by Mallowan, the Hicks' studio glass and Rosalind Hicks' collection of books, including a complete set of Christie novels. Around the walls is a blue-and-white mural painted by an American officer during the Second World War. The house was requisitioned and when the soldiers left, Christie kept the mural – which she considered a war memorial – but not the 14 latrines that they had built in the house. It was said that the dozens of magnolias in the garden – another collecting tic, which included a sumptuous creamy pink magnolia grandiflora planted by Mallowan, still erupting behind the Trust shop – reminded the officers of the scented blooms of steamy Louisiana.
The Morning Room is hung with Christie's collection of shell paintings, made by sailors for their sweethearts using shells painstakingly collected on their voyages. The Drawing Room holds the shelves of highly sentimental pottery belonging to her parents and grandmother. Elsewhere there are tapestries collected by Mathew Prichard's godparents, wooden Mauchline ware souvenirs collected by Anthony Hicks and Christie, and a cabinet of Verge watches belonging to Rosalind Hicks. There are papier maché objects inlaid with mother-of-pearl, and a charming collection of Stevengraphs – little silk bookmarks or pictures made by Thomas Stevens, a Coventry silk ribbon manufacturer – featuring early fire engines, English sports and mail coaches.
There is something delightful about it all. Not necessarily aesthetically (I still shudder at the thought of one piece of china, probably worth a fortune, featuring a parakeet screeching across the summit of what looks like a mountain of blue and white marshmallows), but because of its unpretentiousness and its ardour. You can almost feel the quiet, happy hours spent researching, hunting and later gloating over new acquisitions. Although Christie's taste in collectables was essentially Victorian, Greenway's simple colour scheme gives it the feel of a Modernist interior and a distinct sense that it has slid to an easy halt somewhere in the sunny Fifties or Sixties.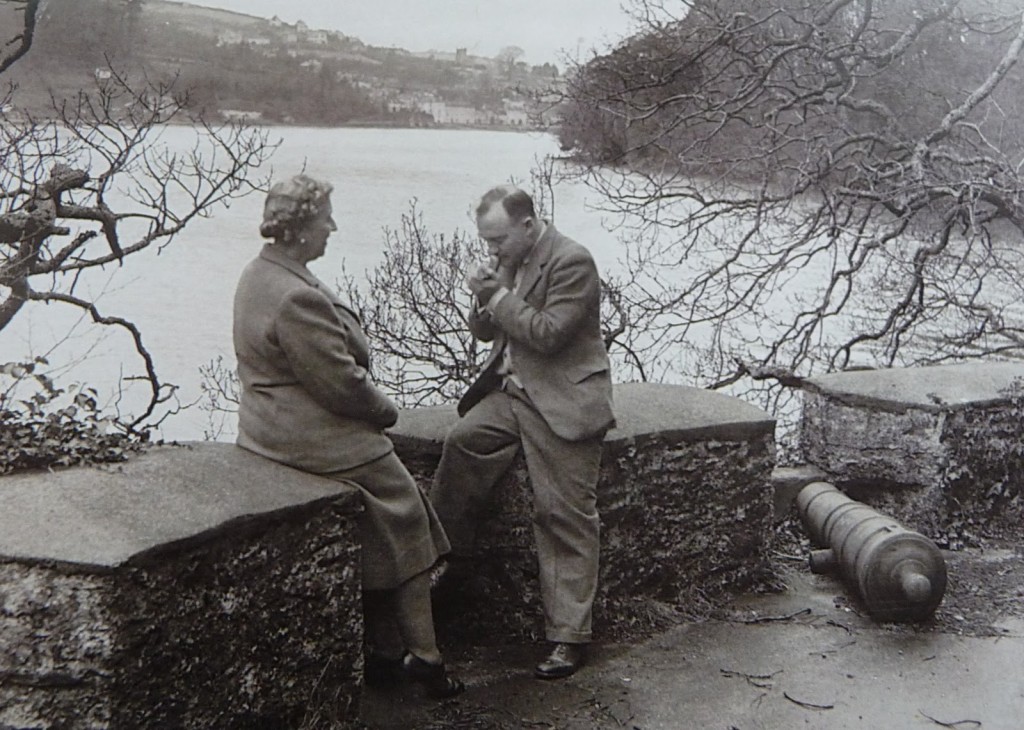 Agatha and her husband Max Mallowan at Greenway
I take a walk down to the boathouse, zigzagging down through what feel like distinct climatic zones; glossy laurels and camellias giving way to delicate bamboos and shrubs as the land slides into the water. The boathouse looks out across slippery seaweed steps (a swift push, perhaps by a butler with a tray of cocktails… it's difficult not to start planning murders) to the Scold's Stone, marked by a red flag in mid-channel. This is where disobedient wives were apparently trussed up to drown in medieval times; those who failed to do so were stoned to death. I have a feeling that the camellia garden along the path was where Crale met his death at the bottom of a beer glass. In the end, I scuttle back up to the house, happier to be strolling through the walled gardens to see the peach and nectarine houses slumped against a south-facing wall, and soon to be restored to their full, fragrant glory.
Haunted!!!!