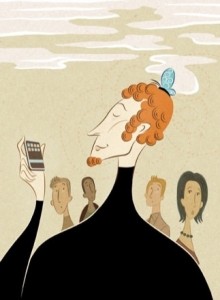 Oh the banality of it all. In today's double issue of the venerable New Yorker, the snoots and James Bottomtooths pay homage to 20 young (under 40) whippersnappers, whom they deem to be the most talented and most important writers of their generation. It will be the first such unnecessary pronouncement from the magazine since 1999 when the list included future literary stars Jhumpa Lahiri, Nathan Englander and Junot Díaz as well as already established young authors Michael Chabon, Jeffrey Eugenides, and David Foster Wallace. I subscribe to the New Yorker. I, like all New Yorker subscribers, amass stacks of back issues which I eventually get around to reading and usually enjoy. But come on. "20 under 40?" A celebration of  "book writer's" youth and nubility? Why? First of all, The New Yorker's bromidic attempt to assert itself as a uniquely powerful and influential force in the unfolding history of contemporary literature is so tedious and fatuous I'm moving Harpers to the top of the "to read" periodicals stack. Ahem, New Yorker, while you are a well curated, meaningful, entertaining magazine, your moment of cultural authority has passed. Like long past, as evidenced by the magazine's increasing coverage of current events and hot topics like celebrities and business tycoons and the "Goings on" often focused on Manhattan nightlife. Recently I've read "The Roundup: VH1 Diva, Elton John, Wax Fang", "The Tea Party Book List",  "Supermodel Sticker Shock"  and "Heidi Montag Talks To God". And let's not even get into the escalating over focus on those  – I'm going to say it – kind of annoying cartoons.
Anyone see the episode of Family Guy where Brian visits the New Yorker?
Not to be self promoting, but it's pretty funny.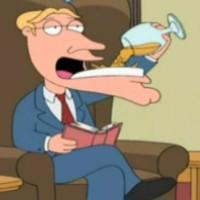 I have no problem sifting through any of those things, if it means the New Yorker can stay afloat for me to read the "Arrest of Madame Agathe" by Phillip Gourevitch, or anything by him at all or by Adam Gopnik or Cynthia Zarin (not related to Jill and Bobbie. I think. I hope.)  But no one, and certainly no one under 40 (the average of a New Yorker reader is 48), is running to their mailboxes waiting for culturally-legitimating pronouncements from (fictional) taste purveyour and mincing capon Eustace Tilley. Despite the obvious fact that the lion's share of youthful culture's energy has migrated to the web,  these young authors who have been selected  by the New Yorker, are guaranteed to grip the attention of readers today and into the future, and their work will be read and taught and scrutinized and taken very seriously and remembered by future generations the way other early bloomers, like Martin Amis or Patricia Highsmith were/are.
It's one thing to focus on age when you're talking about actors or athletes or television writers, really about just about everyone except old fashioned book writers. Does anyone seriously consider the age of an author (unless it's age over youth), when selecting reading material? Does anyone even really still "speak to their generation" in genres other than blogs and terrible movies?  I mean maybe they do, and I am just drawn to old fogies. I am an un reformable judger of a book by its cover and author bios. One look at a coiffed blonde hairdo and a power suit slapped on the back of a mystery novel and I am NOT INTERESTED, choosing instead the wizened and suspiciously knowing octogenarian who may actually have seen – or participated in -a murder in his/her long and storied lifetime. Maybe the New Yorker will have to start to surgically altering their contributor's birth dates in order to fit their  narrow idea of literary, youthful beauty?  Or airbrushing and spray tanning and implanting authors' bio notes to make them seem more youthful, slim and smooth? Ah, NO. Because no one really cares. There was a time when something like this list would offer young writers the opportunity at becoming a young literary darling, a lucky brat in the pack or a gen x writer, whose comings and goings were tracked and glorified in the style section, in New York magazine and  in "at home withs" and "out and about withs…"and took took on a momentum. But those days are kind of over. Right?  In a blogosphere?  So, late bloomers, take comfort in the fact that while you wait for a hiatus from your actual job, or toil away at night, maybe successful, but never quite getting that foothold, I don't think you are competing against the 20 under 40. But maybe start a blog anyway, just in case I am wrong.
There were a few dudes, now New Yorker darlings, who have produced books that will likely define the decade but are TOO OLD.
TOO OLD
Dave Eggers, 40
Aleksandar Hemon, 45
Heidi Julavits, 42
Sam Lipsyte, 41
Colson Whitehead, 40.
Asked why he had decided to run the list now, instead of at some other time, New Yorker editor Mr. Remnick replied: "You know why we're doing it this year? Because six months ago, I was brushing my teeth and thought, 'God, you know, we haven't done this in a while." Good day, Mr. Eggers!
My own list is comprised of Octogenarians still hard at work.
UP AND COMING WRITERS OVER 80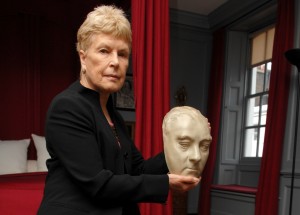 Ruth Barbara Rendell, Baroness Rendell of Babergh, CBE, member of the House of Lords for Labour, Queen of the English crime writers, austere priestess of the unbalanced mind.  My personal favorite in my huge personal library of mystery and detective fiction, she has made a life writing about creeps, depraved weirdos and psychopaths from every walk of life: closeted politicians, psychotic laundresses, illiterate, axe wielding housekeepers, homicidal spinsters, creepy ocd girlfriends, mentally challenged handymen and displaced immigrants, their horrific crimes often committed for unusually complex reasons. The lives of the high and low and the middle collide in alarmingly disturbing ways. Ruth Rendell always manages to construct a creepy and fascinating mosaic of contemporary bourgeoise British life, via violent and psychological crimes of romantic obsession, sexual impotence, misperceived communication, the impact of bad luck and coincidence, and always addressing the humanity of the criminals involved. Pathologically prolific, Rendell has so far in her career written a staggering 25 novels, 22 Inspector Wexfords, 13 Barbara Vines, 2 novellas, 9 short story collections. Rarely does a year go by without a new offerering from this genius. She has won every golden dagger, edger and gumshoe including the Cartier Diamond Dagger for a Lifetime's Achievement in the Field.  Her new book, Tigerlily's Orchids, her 50th, comes out this year.
She is 80.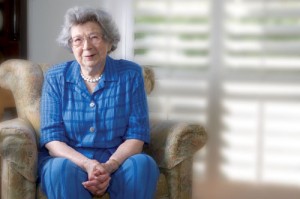 Beverly Cleary – mother to Ramona and Beezus and beloved childrens book writer – has not slowed down at all, continuing to churn out quirky tales of fabulous characters to new generations of kids. Mrs. Cleary's books have earned her all of the genre's prestigious awards, including the 2003 National Medal of Art from the National Endowment of the Arts and multiple  John Newbery Medals and was honored for her invaluable contributions to children's literature by being rightfully declared a "Living Legend" by the Library of Congress. Her books appear in over twenty countries in fourteen languages and her characters, including Henry Huggins, Quimby, and Beezus are as familiar as old friends and beloved to anybody who read as a kid.  But it is pesty Ramona, a true original and an icon in children's literature, for which she is best known.  And her popularity has not diminished. Keep on truckin', Mrs. Cleary. You are beautiful and I love you!
She is 94.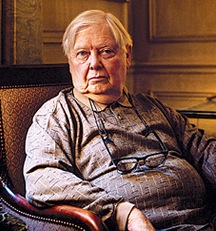 William H. Gass', magnum opus postmodern masterpiece, "The Tunnel" took him 26 years to write and earned him the 1996 American Book Award . On the subject of his turtle's pace, he has the best, most meaningful quote of anyone ever:  "I write slowly because I write badly. I have to rewrite everything many, many times just to achieve mediocrity". Just like me, but with actual talent.  Richard Gilman in The New Republic called  The Tunnel "the most important work of fiction by an American in this literary generation." Just 3 years ago, at age 92, Gass won the 2007 Truman Capote Award for Literary Criticism in Memory of Newton Arvin for his 2006 collection of essays,  A Temple of Texts.
He is 95.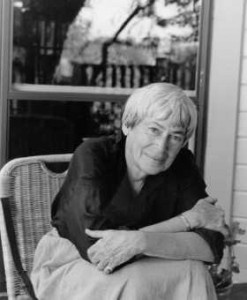 Ursula K. Le Guin is a science fiction writer I don't hate. I am not a fan of science fiction. I don't like space or the future. I like good old mother earth. And the past and the present only.  I became familiar with Le Guin after seeing the animated adaptation of one of her books, Tales from Earthsea directed by Goro (son of Hayao) Miyazaki. She is pathologically smart and has written an astounding 50+ books of every kind : novels, story collections, poetry, essays, children's books, criticism, translations, including "Lavinia," a novel based on a minor character in the "Aeneid." Le Guin's science fiction is not like that other stuff, her stories often deal with matters of race, and center on real life themes like sociology, ecology, anthropology and the social sciences. She is often placed in science fiction the subcategories like  "soft science fiction" or  "feminist science fiction" which has got to be annoying to her. Supremely pedigreed, she is the daughter of none other than anthropologist Alfred L. Kroeber and writer Theodira Kroeber. She was raised in Berkley, CA and lives in Portland where she still writes.
She is 80
.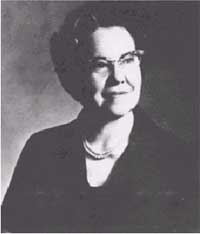 Gladys Baker Bond wrote the Trixie Belden classic: The Mystery at Bob-White Cave (1963). 'Nuff said.
She is 98.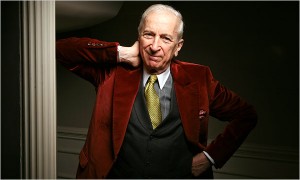 Ah Gay Talese. From my old stomping grounds, Ocean City, New Jersey , so holds a special place in my heart. No one is from Ocean City. His first job was with the Ocean City Sentinel! Talese helped to define literary journalism or "new nonfiction reportage" in the most delightful ways. His most famous article, "Frank Sinatra Has a Cold" is fucking genius. Unable to obtain a legitimate interview with the narcissist, in 1965 Mr. Talese spent three months following Sinatra, observing him and interviewing any members of his entourage who were brave or stupid enough to speak, casting light on the mobster's mercurial and tormented character. It became one of the most celebrated magazine stories ever published, a pioneering example of  New Journalism by the way in which he presented a combo platter of scrupulously faithful fact and the dynamic storytelling previously reserved for fiction. I recently read  the newly reissued "Thy Neighbor's Wife", a great smutty book  – if you haven't read it, do – and one of the cornerstones of the mythology of the Me Decade. In typical Talese fashion, he prepared for writing the book by having sex with his neighbor's wife and spending months at a a nudie resort in Los Angeles. He roams through the backyards and bedrooms of suburbia—through the development of the porn industry, the rise of the "swinger" culture and the banality of the daily sex lives of "ordinary" people. He has a new book, detailing his marriage to wife Nan, due out  later this year.
He is 80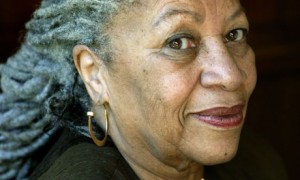 Toni Morrison's The Bluest Eye changed my life in the seventh grade. The blue eyed, white baby doll that Pecola covets, well that just broke my heart. 20 years later, she endeared herself to me all over again when, in the middle of the Whitewater investigation, Ms.Morrison proclaimed Bill Clinton – poor, junk food guzzling, Arkansas trash– to be our "first black President". Blacker than any actual black person who could ever be elected in our lifetime…..
She is 79 and 1/2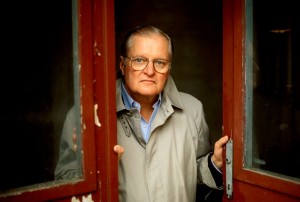 John Ashbery, the best-known writer of the "New York School" and cool gay guy, is still publishing works of genius. This past October, the Library of America released his Collected Poems (1956–1987), making him the first living poet to be "canonised" in the series, a fitting and long overdue honour. His decades-long reign as one of the high priests of  contemporary American poetry has always been something of a paradox. Having received nearly every major award for achievement in the humanities, he continues to incite questions about whether or not his poems "mean" anythin.  Whatever. In my opinion he has never written a bad poem.  In  2008 he presented a series of collages which are so beautiful they actually make me jealous.
He is 82
Charlotte Zolotow's career has spanned 50 years, during which she has written over 90 books for children. One of these, Over and Over, defined my early childhood. I was obsessed with the wan, almost bittersweet story of a little girl who suffered confusion and ennui after every holiday past and was riveted by the images of the girl in a christmas tree trance in her bue party dress, or her face illumintaed by the light of a jack o lantern, knowing as the reader, that that moment of enchantment was fleeting. I still own my copy and recently bought it for my niece. This beautiful and special author is still writing.
She is 95.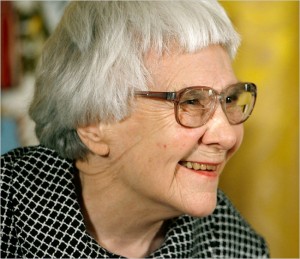 The mysterious Harper Lee, the patron saint of blocked writers, is alive and well in Alabama, having done the job of writing To Kill a Mockingbird , her one and only novel, a greater accomplishment than most writers decades long careers. I hope to God she has been hiding out, writing in secret another such book, actually any book. I love her for many reasons, one of which is for writing: "It's better to be silent than to be a fool", another for inventing Scout Finch.
She is 84.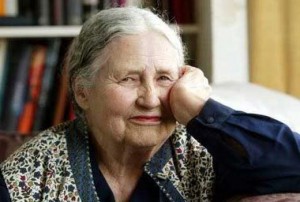 Doris Lessing published her first novel in 1950 and has written around 80 books, novels, stories, reportage, poems and plays. She was the oldest winner of the world's most prestigious literary award, the Nobel Prize in Literature in 1991, beating out favorite  Philip Roth. She was only the 11th woman in 106 years to be awarded the prize by the Swedish Academy. The book that hooked me was, of course, her contemporary gothic horror story  – "The Fifth Child".  Taking place in the unconstrained atmosphere of England in the late 1960s, a good, upper-middle-class couple, face a terrifying and unthinkable vicissitude when their benign and ordered lives are shattered by the violent birth of their fifth child, a monstrous and horrible beast, hideous, brutal, insatiably hungry, abnormally strong, sickening. This gentle and lovely woman wrote that story. Pretty cool.
She is 91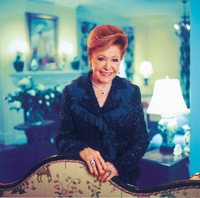 Mary Higgins Clark. Say what you will, but every one of her forty-two books has been a bestseller in the United States, and all of her novels remain in print, with her debut suspense novel, Where Are The Children,(I read it, it's good), in its seventy-fifth printing. She is publishing not one but two books in 201o. When asked what she reads to relax she answered  "I looked at my bookshelf and it was Agatha Christie and Sherlock Holmes. I was always trying to be the reader who figured out whodunit. I wanted to have it figured out by page 32. I was training myself to be that kind of writer." A woman after my own heart. And gorgeous too.
She is 82.