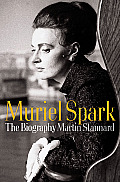 I'm currently reading the new biography of Muriel Spark, the secretive author of "The Prime of Miss Jean Brodie," who referred to herself as "Lucrezia Borgia in trousers" due to her ability to strike fear into the heart of anyone who threatened her artistic vocation. In 1992, Spark invited Martin Stannard to write her biography, offering interviews and full access to her papers. Before her death in 2006, she was said to have been negotiating the text of the book with Stannard line by line. The book has received rave reviews in the U.K.
Spark became, Stannard concludes, a "great comic artist of the macabre"…….
MURIEL SPARK The Biography By Martin Stannard
Illustrated. 627 pp. W. W. Norton & Company.