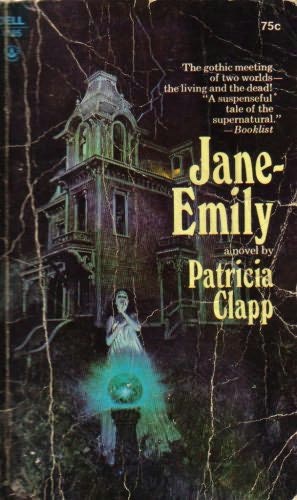 "There are times when the midsummer sun strikes cold, and when the leaping flames of a hearthfire give no heat. Times when the chill within us comes not from fears we know, but from fears unknown-and forever unknowable". This is how Jane-Emily, a novel by wonderful young-adult fiction writer Patricia Clapp begins.
I read Jane-Emily when I was ten. It was the scariest book I had ever read. It was the book that started me on a lifetime of frittering away my time reading ghost stories. It's a pre-teen Rebecca– a gothic, atmospheric tale about a "plain" orphan's obsession with the memory of the girl who lived in the house before her, and who died a tragic death. The orphan, a 9 year old named Jane is sent to spend the summer at her grandmother's mansion in Massachusetts. Like Rebecca, the book centers around a mysterious and gloomy house, afflicted by the stranglehold of the ghost of it's former resident. The house "stood tall and dark gray, with gables and half-hidden dormers, it's several brick chimneys soot -stained almost to black". A haunted reflecting ball on the mansion's grounds is the conduit for the ghost of a dead 12 year old girl named Emily. A vicious and malevolent child, Emily – in a gruesome attempt to punish her family – commits suicide by soaking her victorian nightgown and sitting in front of a window on a frigid winter night. Â 
Not for the faint of heart 10 year old, Jane-Emily is actually terrifying, high on atmosphere, and with all the mysterious and chilling nuances and trappings of a Victorian ghost story. Patricia Clapp, a Boston native, paints a nightmarish gothic environment that is also recognisably turn of the century New England. Behind the "bright rows of of pansies" and "tiny hedges of boxwood and privet" lie dark seething forces of malevolence. Ghosts, the enduring fascination of orphans, haunted mansions and spoiled little girls make this a masterpiece of a ghost story for children and a perfect introduction to novels like Rebecca or The Woman in White.
I am happy to see that Jane-Emily was reissued by Harper Collins in 2007, and available everywhere, although I prefer my cover which was the source of nightmares for 20 years.
Jane-Emily
And Witches' Children
By Patricia Clapp
ISBN: 9780061245015; ISBN10: 0061245011; Imprint: Harper Paperbacks On Sale: 8/7/2007; Format: Trade PB; Trimsize: 5 5/16 x 8; Pages: 304;