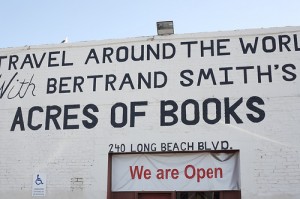 In an essay immortalizing Acres Of Books entitled "I Sing The Bookstore Eclectic" posted on their website, novelist Ray Bradbury describes the book store as "a labyrinth, a tomb, a catacomb, a maze. . . . In its dusty roundabout winding corridors, turn here and you collide with Shaw, turn there and you knock elbows with Gibbon, go farther on and you wind up in the company of a wild bunch of Victorian children, nameless until now, surrounding you elephant-high on all sides, calling their titles and daring you to remember. It's so . . . big and it's full of history. It's full of the smell of dust and time and literature." Â 
Bertrand Smith, an antiquarian book dealer from Ohio, moved his store all the way from Cincinnati to Long Beach in 1934. The first Long Beach location was at 140 Pacific Ave. In 1960 the store moved to 240 Long Beach Blvd where it remained in continuous operation as a family-run business until it fell victim to the global bookstore apocalypse and closed, on October 18th, 2008.
At the time of it's closing, Acres Of Books stocked over 1 million books, and had become a desination for bibliophiles all over the world as well as a unique cultural resource for Californians. It was not a "bookstore" by today's standards – what with their fancy air conditioning and mood lighting – but 15 years ago when I moved to Los Angeles, Acres Of Books felt like home. Dark and steamy (no air conditioning), it reeked of old book smell – that most intoxicating of smells found only in the stiff and crispy pages of a used book (I'll call it "L' Old Tome" (c) and bottle it for post book era bibliophiles). It was cavernous and barn-like: 6 1/2 miles of musty, stiflingly narrow aisles and shelves and stacked crates teetering under the weight of the piles. And there was the requisite lazy bookstore cat.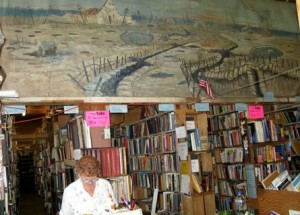 There were secret rooms that required special access, like the one dedicated to Smut, to be unlocked upon request and a Lohemansesque "back room" annex, 5,000 square feet of even more books. The sections were scantily and hilariously curated, with hastily slapped up images to represent "science fiction", "sex", "Africa" or "overflow mystery". I visited the "occult" section and walked away with a rare Czechoslovakian Ecclesia Militans The Inquisition which had been wrongly sorted amongst volume after volume of wiccan manuals and pagan hand guides.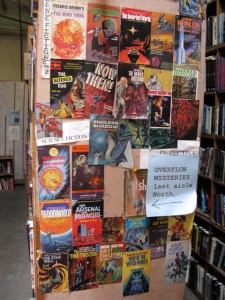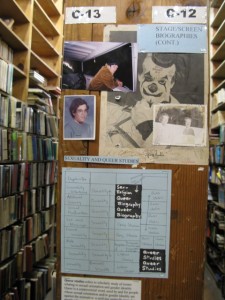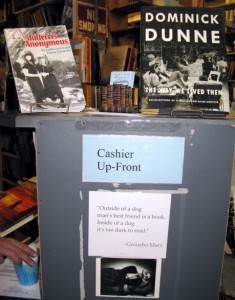 photos LA Taco
They're gone now, all the books. (The Long Beach Public Library houses The Bertrand Smith Sr. Collection: Rare texts dating back to the 15th century presented to the library by Bertrand Smith. The collection includes first editions by 19th century American authors, many rare European texts, and a two-volume facsimile of the Gutenberg Bible). The site with it's Streamline Moderne facade, was designated a cultural heritage landmark by the City of Long Beach in 1990. Yet it is under complete reconstruction to become, of course, an arts loft/gallery "Art Exchange" complex from hell. The director of this billion dollar boondoggle stated "We're trying to create an art-themed building… ". Wait, what? Like a bookstore? No, you know, like "artists studios, a hot shop for glass making, ceramics demonstrations and classes, gallery spaces". Sigh. Evidently bookstores are not artsy enough for "commercial space" anymore. Nor are books even considered art. Ceramics and glass blowing on the other hand, are. Come hither, artisans! Throw down your books and grab your potter's wheels, spinning wheels and looms! So instead of Acres Of Books we'll have acres of schnooks.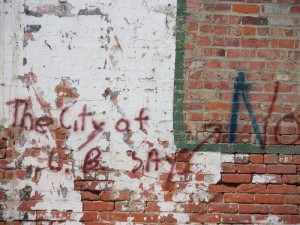 RIP.