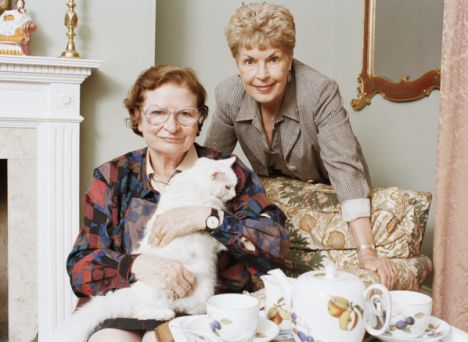 Crime writers P.D. James (left) and another one of my favorites, Ruth Rendell
One of my favorite crime novelists,  PD James, has died aged 94. Her agent said she died "peacefully at her home in Oxford" on Thursday morning. She penned more than 20 books, many featuring sleuth Adam Dalgliesh, and sold millions of books around the world, with various adaptations for television and film.
Her best known novels include The Children of Men, The Murder Room and Pride and Prejudice spin-off Death Comes to Pemberley.
The author told the BBC last year she was working on another detective story and it was "important to write one more".
Born Phyllis Dorothy James on 3 August 1920, the author did not publish her first (fantastic) novel, Cover Her Face, until she was 42. It was a critical success, but she continued working for the Home Office – where she held a job in the forensic science department and then the criminal law department until 1979.
She gained international recognition in 1980 after the publication of her eighth book, Innocent Blood.
During the 1980s, many of James's Dalgliesh novels were adapted for television on ITV, starring Roy Marsden in the in lead role. The BBC later adapted Death in Holy Orders and The Murder Room in 2003 and 2004 respectively, starring Martin Shaw as the detective.James's 1992 dystopian novel The Children of Men was adapted for the movies by Alfonso Cuaron in 2006.
The author was awarded the Crime Writers' Association's Diamond Dagger award in 1987 for lifetime achievement, and received the Medal of Honour for Literature in 2005 by National Arts Club. She also served as a BBC governor from 1988 to 1993.