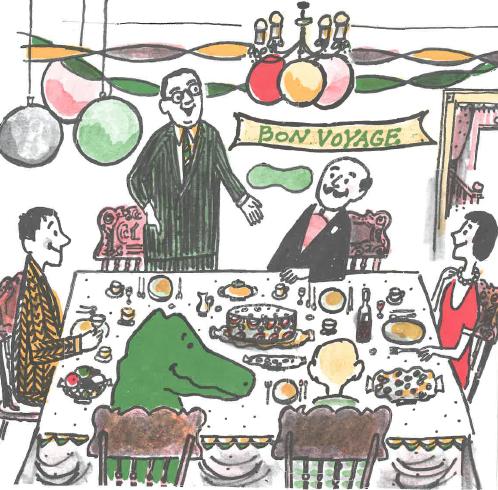 I hate all crocodiles, except for one.
Loveable Lyle was first spotted lounging in a bathtub. The Primms have moved into their new Upper East Side brownstone. Mrs Primm hears strange noises from the bathroom and makes the horrifying discovery in the tub. The Primms are horrified but quickly fall in love with the charming and talented reptile. Lyle is very good at double dutch, ice-skating and enjoys watching construction projects. He is kind and sensitive. Lyle and Mrs. Primm are out shopping at a department store and run into Hector P. Valenti -"star of stage and screen !" Signor Valenti and Lyle break into their old act, much to the delight of the store's customers. Unfortunately, the store is owned by the dastardly "Mr. Grumps", who is not a fan of Lyle. Mr. Grumps is furious at the showboating in his store! Mr. Grumps has Lyle sent to the city zoo.  Signor Valenti breaks him out with the hope of taking their old act back on the road. Lyle wants to see his beloved brownstone one more time before they leave. As they approach the house, they see Mr. Grumps' house on fire and Lyle rushes in to save Mr. Grumps and his beloved cat Loretta. Mr. Grumps has a change of heart and all ends well. The drawings of Lyle with his craggly smile are FREAKING CUTE.
Bernard Waber, the author of "Lyle, Lyle Crocodile," died at his Long Island home after a long illness at the age of 91. Waber debuted as an author in 1962 with "The House on East 88th Street," which introduced readers to Lyle. Lyle's story continued in "Lyle Finds His Mother," "Lyle and the Birthday Party". He also wrote some non-Lyle books, but Lyle is his most beloved. Waber's final book, "Lyle Walks the Dog," was a 2010 collaboration with his daughter, Paulis.
Waber's "warmth, energy, artfulness, elegance, and abiding respect for children were epitomized in his books," Houghton's senior vice president and publisher of books for young readers, Betsy Groban, said in a statement.