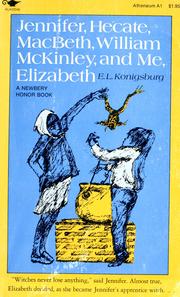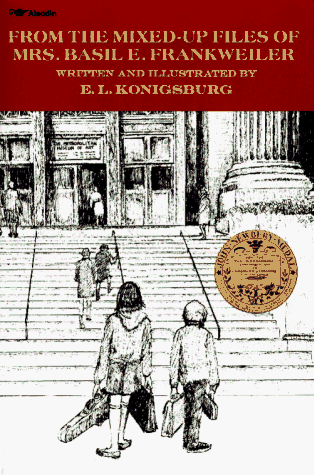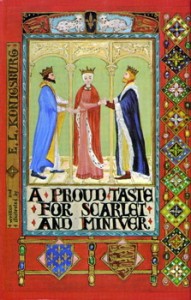 Children's book author E.L. Konigsburg, died at 83 in Falls Church, VA.
The first book I read of hers was her first book:  "Jennifer, Hecate, Macbeth, William McKinley, and Me, Elizabeth." It's about the friendship of two girls, Elizabeth and Jennifer, one of whom claims to be a witch. "A Proud Taste for Scarlet and Miniver" taught me all about Eleanor of Aquitaine and multiple perspective story telling.
Konigsburg's most famous book is "From the Mixed-Up Files of Mrs. Basil E. Frankweiler", which she wrote in 1967. It's about a couple of Greenwich-residing, grammar-school-aged siblings, Claudia and Jamie Kincaid. Claudia is tired of the injustices and monotony in her life. She is the oldest child and the only girl therefore subject to many injustice. She is bored. Bored with  being "straight-A's Claudia Kincaid", bored with arguing about whose turn it is to choose the Sunday night television show, bored of the monotony of everything. So, Claudia forgoes her hot-fudge sundae indulgences for weeks to finance a getaway plan. She forages in the garbage for train passes and pores over the good old AAA tour guide.
Claudia chooses to take her little brother for practical reasons: he is a mini-banker, a little tightwad who owns a transistor radio. You know, I really miss New York. Not the "now" New York, the then New York. The New York before The Squid & The Whale brought divorce to the Museum of Natural History. A New York before ; a New York before  It was a magical, deeply mysteriousNew York that had room for everyone: a brat living unaccompanied in a posh hotel; a bespeckled nerdball scribbling in a notepad as she spied on her neighbors; a boy wandering Chinatown having adventures with a cricket; a teenager finding solace in an elderly neighbor's cat-filled apartment; Franny and Zoey's fashionable lunch rooms; a genie in a mystery at the Cathedral of St. John the Divine. Not a New York where gossipy children act out sexually charged adult dramas, abstractefly moving through the chaos adults leave in their wake.
Anyhoo, the book famously begins:
"Claudia knew that she could never pull off the old-fashioned kind of running away. That is, running away in the heat of anger with a knapsack on her back. She didn't like discomfort; even picnics were untidy and inconvenient: all those insects and the sun melting the icing on the cupcakes. Therefore, she decided that her leaving home would not be just running from somewhere but would be running to somewhere. To a large place, a comfortable place, an indoor place, and preferably a beautiful place. And that's why she decided upon the Metropolitan Museum of Art in New York City."
The depictions of Claudia and Jamie's long, unauthorized stay in the Metropolitan Museum of Art are some of the most sublime realizations to have ever penetrated the shelves of man. After stuffing their clothes into their violin and trumpet cases, they hide in the back of thee school bus, then sneak off to Grand Central. They spend the day at the museum  deciding which antique display bed to sleep in, then hide out in the bathrooms until all all the guards have left. They spend their days blending in with school field trips to snag free lunches, obsessing over Egyptians galleries, and fishing for coins from the fountain to use for the automat. The Automat. Bathing in the fountain where water is sprayed from dolphins sculptured in bronze. Climbing over the cordon-rouges. Hiding the violin case in a Sarcophagus .Eating roasted chestnts in bed. Speaking of the bed, it is a bed in the English Renaissance Hall, a 16th century, ornately carved canopy.
."..she lay there in the great quiet of the museum next to the warm quiet of her brother and allowed the soft stillness to settle around them: a comforter of quiet. The silence seeped from their heads to their soles and into their souls. They stretched out and relaxed. Instead of oxygen and stress, Claudia thought now of hushed and quiet words: glide, fur, banana, peace. Even the footsteps of the night watchman added only an accented quarter-note to the silence that had become a hum, a lullaby."
They read books on Michelangelo and unravel a centuries-old art mystery when they happen upon a statue of an angel which may or may not be carved by Michelangelo — and this, as they say, changes everything. They use their remaining funds to travel to Connecticut and dig through someone's disorganized card catalog, prompting the catalog's owner, Mrs. Frankweiler,  to instruct her attorney to re-draft her will. The Angel, the statue of dubious provenance becomes, in its mysterious beauty, the after-the-fact reason Claudia finds for her escape in the first place. As Frankweiler rails in an aside to her lawyer Saxonberg:
"Are photo albums of your grandchildren the only pictures you look at? Are you altogether unconscious of the magic of the name of Michelangelo? I truly believe that his name has magic even now; the best kind of magic, because it comes from true greatness. Claudia sensed it again as she stood in line. The mystery only intrigued her: the magic trapped her."
As Claudia begins to realize, she has come to the museum not only because she is sick of being the old Claudia, but because she wants — needs! — to return to Greenwich a different Claudia, a Claudia who has bigger concerns than keeping her whites and colors separated, brushing her teeth, and correcting her brother's grammar: "An answer to running away, and to going home again, lay in Angel," she thinks.
…."The statue just gave me a chance…almost gave me a chance. We need to make more of a discovery."
Claudia takes a bath in Mrs. Frankweiler's black marble bathtub..
….Claudia's excitement flowed not bubbled. I could see that she was a little surprised. She had known that Angel would have the answer, but she had expected it to be a loud bang, not a quiet soaking in. Of course secrets make a difference. That's why planning the runaway had been such fun; it was a secret. And hiding in the museum had been a secret. But they weren't permanent; they had to come to an end. Angel wouldn't. She could carry the secret of Angel inside her for twenty years just as I had. Now she wouldn't have to be a heroine when she returned home…expect to herself. And now she knew something about secrets that she hadn't known before.
Claudia's on a quest for some greater purpose. "I didn't run away to come home the same." And later she adds, "And I don't want it to be over until I'm sure I've had enough." Claudia's childhood innocence doesn't come crashing down, unceremoniously shattered by some tragic experience. Indeed, the vision of childhood in "Mixed-Up Files" is a pretty fantastic one –  that of a beautiful museum at night, stark-raving quiet but loaded with mysteries to solve and deep secrets to uncover, and the freedom to find them, unencumbered by parents and teachers. When Claudia finds the answer to just one of those secrets, she's not only "different" — she's become, like the Angel, a singular entity with her own history, her own mystery. And when she leaves the museum, she's also leaving her childhood, like some abandoned violin case filled with gray clothes, triumphantly behind. Claudia went looking for an epiphany. She didn't want to end up a cartoon in a cartoon graveyard, as it were. And it's Mrs. Frankweiler, at her home in Farmington, that provides the gentle answer:
The adventure is over. Everything gets over, and nothing is ever the same. Except the part you carry with you. It's the same as going on a vacation. Some people spend all their time on a vacation taking pictures so that when they get home they can show their friends evidence that they had a good time. they don't pause to let the vacation enter inside of them and take that home.
E.L. Konigsburg wrote 20 other books and won two Newbury Medals. Another one of her books, "After reading "Mixed up Files", I made elaborate plans to move my brother and myself into the Philadelphia Museum of Art. We had "bedrooms" picked out and everything. And "Glide, fur, banana, peace" is my insomnia mantra even now, some 30 years later.