for Elli – for whom I will buy a pony someday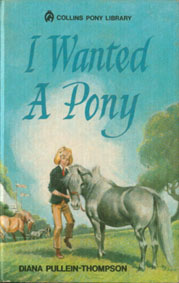 I wanted a pony so bad. And I didn't have one. So I compulsively read books about girls who DID have ponies.
There's no big secret to the "pony book" formula: a girl with no pony desperately wants a pony and through a stroke of galloping good luck, gets a pony, as well as a blue ribbon in the big show. You might not have a pony of your own, but you could live vicariously through a lucky girl who did. I knew I was never going to be lucky enough to be smack dab in the middle of a Nancy Drew style mystery, but a pony….that was a dream I kept well stoked. There simply was nothing more magical than the prospect of owning a pony.
My pony book obsession started with a single flimsy scholastic paperback. Every year, my extended family and I would spend 2 glorious weeks at a summer "resort"  – aka hillbilly housekeeping cottage motel – in the Poconos. Ramshackle particle board "cottages", shuffleboard court, baseball diamond, unheated swimming pool, fetid fishing hole, and a  makeshift "lending library" – little more than a small shelf  – that housed that one very important book.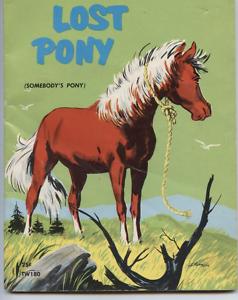 It was called "Lost Pony" and it was horsey-heroin: East Coast country gentry, twins, and a pony. Jan and Jay really want a pony, but the folks say no! There's no real reason for them not to have a pony – they live on acres of land "where grass grew especially to a pony's taste", with "a lovely big box stall". Lo and behold, here comes a pony – riderless, with a rope 'round its neck. And not some old piece of junk, but a fancy, bright chestnut pony with a creamy mane and "saucy" face.
To whom does this lost pony belong? No matter. "Finders Keepers!" shrieks Jan, and soon the pony is frisking merrily in their pasture, knee deep in clover. The twins gussy him up for the big pony show and win everything, because, apparently, this pony is the Greatest Show Pony in the East! Alas, the pony's owner recognize him and takes him back. Eventually, the benevolent owner drops the Greatest Show Pony in the East off at the twin's doorstep with a note: "Somebody's Pony is yours".  To a kid who lived for having a stray pony wander in to the alley behind my house, this was just too much.
Lost Pony led me down the garden path of pony books. I devoured Black Beauty, My Friend Flicka, everything by Marguerite Henry, and the Jean Slaughter Doty books: The Crumb – about a non-rich girl and her backyard pony, "Buttercrumb Cake", Winter Pony, where Ginny's unhorsey parents let her lease a scruffy nag from a decrepit dump called Sweetbriar Pony Farm (not inconveniently, Ginny befriends a neighboring rich girl whose family has an Irish stableman – a limping ex-jockey).There simply were not enough books written about ponies on the library shelves.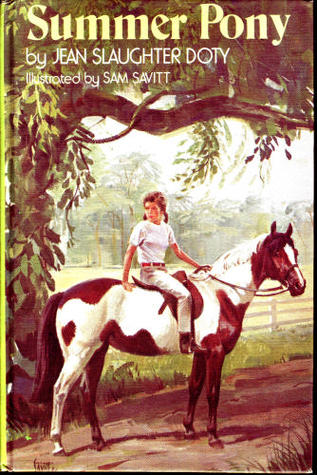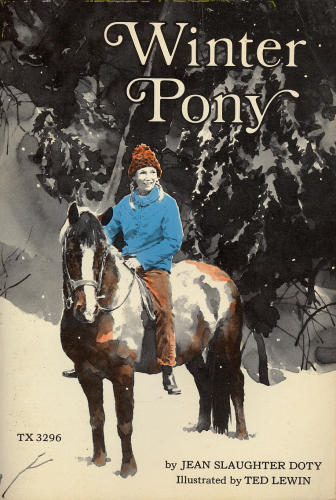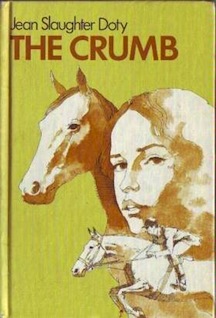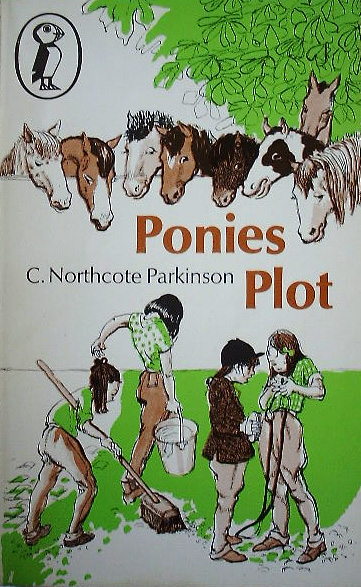 Then, a penpal from Wales sent me a book which changed the course of my pony book life and introduced me to the motherlode of pony books. The British Pony Book. The book in question was PoniesPlot, by Cyril Northcote Parkinson (a well known political satirist and naval historian). The story is told from the point of view of 8 fed-up ponies. The ponies of "Daisy Dedleigh-Sirkett's Dundreary Riding School" are all on the market, and scheming to obtain the best possible little girls to look after them. Old Smokey and Prune debate the attributes of the perfect girl: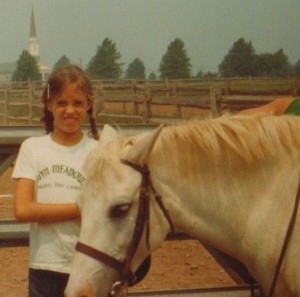 "Nine years old, standing about "15 hooves", long legs, straight brown hair, generous, kind and intelligent."
That was me! (see: right)
Clearly, I needed a pony.
Ponies Plot ushered me the magical world of The British Pony Book and opened my eyes to the glory and wonder of the British riding institutions.
"Both girls shared a single passion — ponies.  And with both of them the main use to which brains and tact and energy were put was How and Where to get more riding."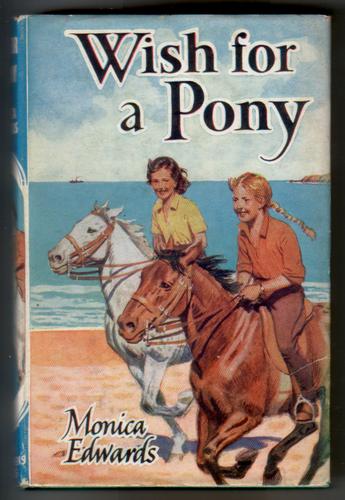 That's from Monica Edwards', Wish for a Pony. Tamzin Grey does NOT have a pony. She is POOR. This being England, Tam's mother naturally says:  "Quite the worst thing about being poor is that you can't buy a pony for a child who loves them as much as Tamzin". Someone knows someone who knows a man whose beautiful daughter was paralyzed from a fall from her pony, and now wants to shoot the pony. Tamzin of course gets the pony – not just any pony  – a spectacular, 14.2 hand Anglo-Arab named Cascade. In British Pony Book World, even if you are poor as dirt, a dusty old nag isn't good enough, you have the best pony in the world.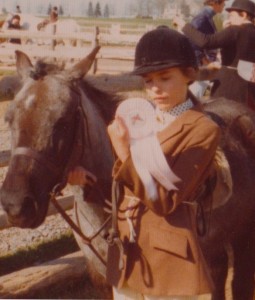 .
I rode many fun ponies at my barn; Shasta (right), Mittens, Tinkerbell, Nutmeg, Shadow, Muffet, Dixie…but none of them were mine.
.
Christine, Diana and Josephine Pullein-Thompson are pony author sisters, Christine being the most prolific with more than 100 books to her name. The lives depicted in her books were pastoral pony bliss.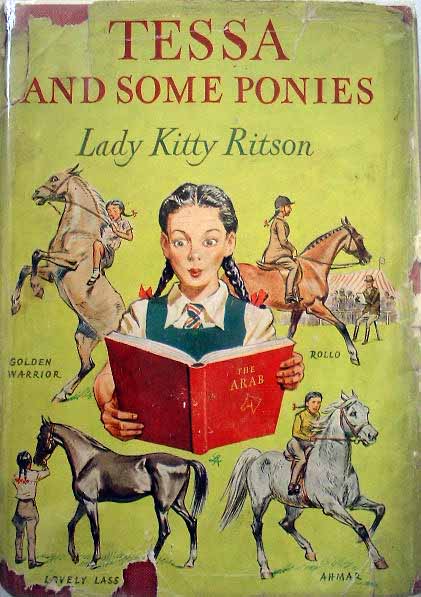 In Tessa and Some Ponies, Tessa Compton is desperate for a pony! Tessa's dad – Colonel Compton, a widower – can't afford a fancy show pony, so Tessa must make do with a humble nag name Dusty. Dad teaches Tessa how to groom and train Dusty so that he's suitable for the local shows 'without disgracing the family'.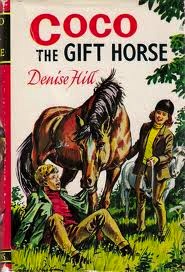 In Coco the Gift Horse, Jane and Jeremy have outgrown Falla, but they can't afford a new, larger pony! Then they stumble onto a pony named Coco, whose owner says is "gorn in the'ead," and gives him to Jane and Jeremy. In The Lost Pony, Janice and Mick long for a pony of their own, and when they are sent away to foster parents in the country they find one in the cabbage patch. In She Wanted a Pony, Ruth Philpotts is from a rich family who moves to the country because it's what their rich friends do. Her parents buy her a pony named Socks. The stories weren't inventive, but as long as the main ingredients were there; pony, girl; then I was satisfied.
I tried to explain to my mom that in England  it is a girls' right – not a privilege – to have a pony of her own. The most unbelievable fact of all was that girls in England could take their ponies to school.  I immediately started researching pony friendly boarding schools.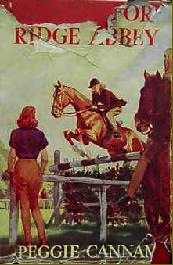 In Riding for Ridge Abbey, Ridge Abbey School wants to win the Heal-Westway Cup, but "Miss Pattycott's Academy of Riding" is competing too. Julie is a favorite for the team until her pony comes up up lame!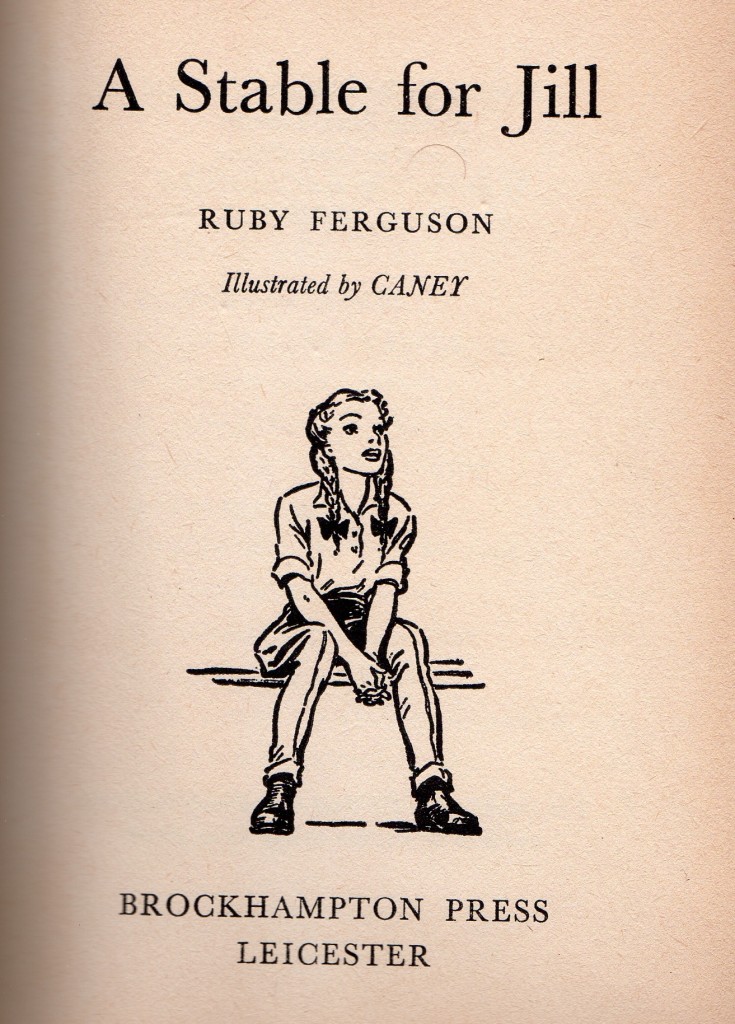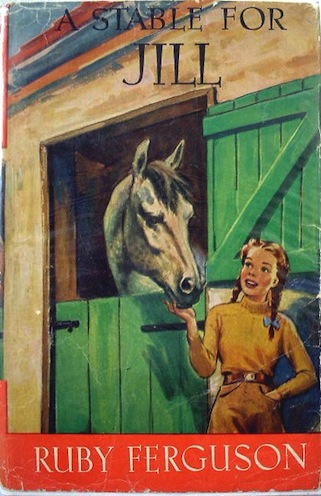 Ruby Ferguson's "Jill" pony books had the best artwork. 11-year old Jill Crewe is sassy and bonkers for ponies. She and her really cool single mom – she writes a whimsical Bobbsey Twins-like book series, "Barbie Bright Side"  – move to a quaint cottage in a horsey village where Jill is an outcast because she doesn't have a pony! After mom's book series takes off, she immediately rights this egregious wrong and Jill gets her first of many ponies.
At school, Jill meets two other horsey girls, Anne Derry – who becomes her best friend – and snooty Susan Pyke, who has very expensive ponies. The whole town is pony-mad with perpetual shows and garden parties. There's a"Best Dressed Child" contest where girls wear flowing green velvet coats with ostrich feathers and scarlet jodhpurs with white Hussar tunics. Jill has a richer, bookish cousin Cecelia who Jill consider an "absolute blot". The series takes Jill from a pony-less 11-year-old a 17-year-old champion.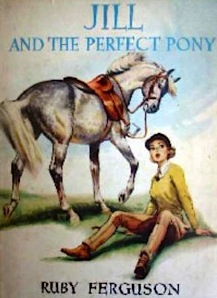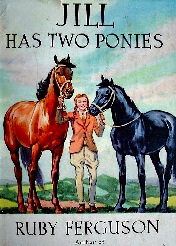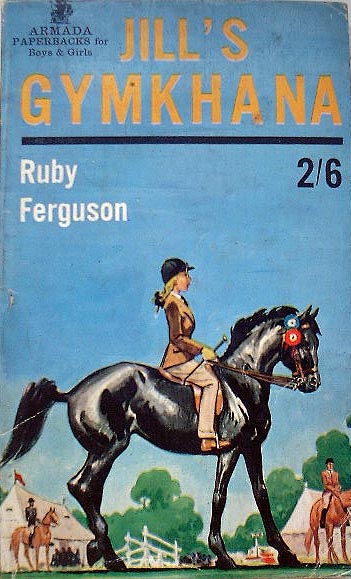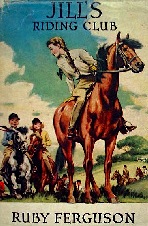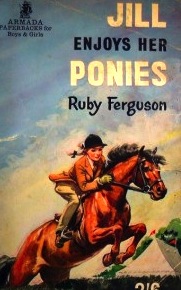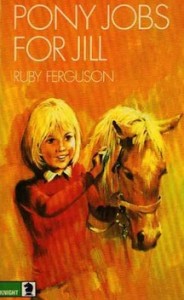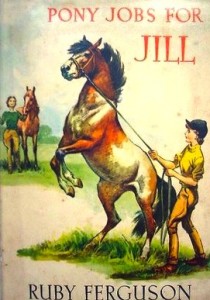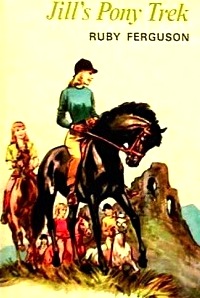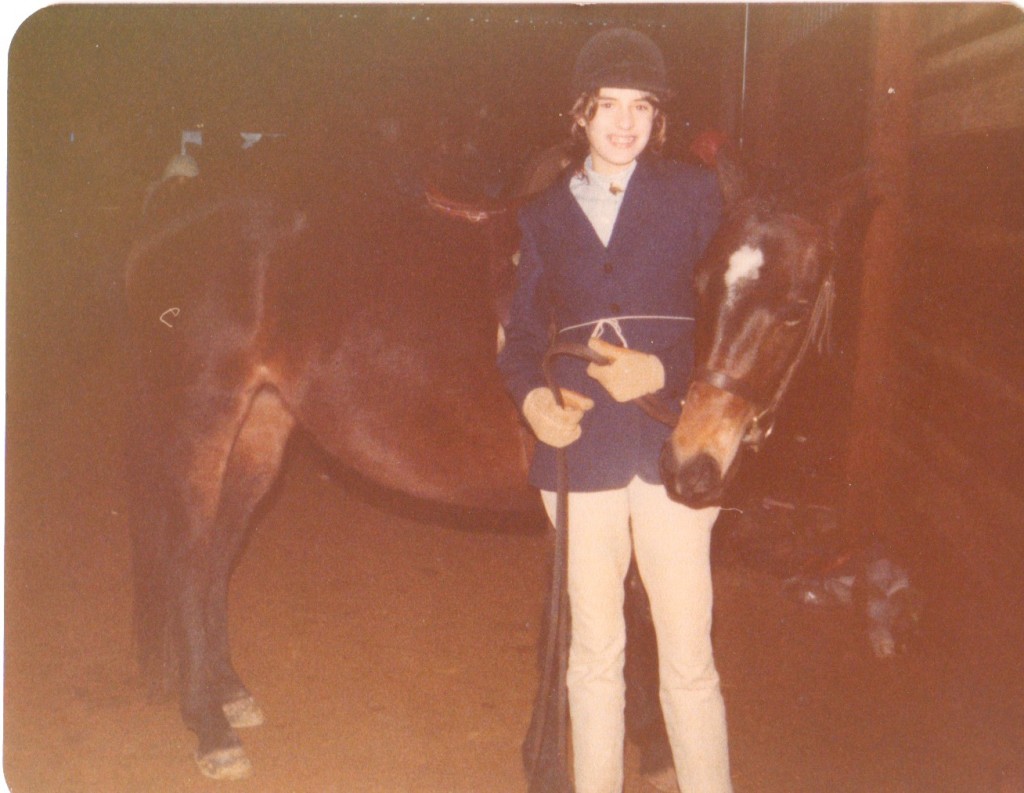 I did get a pony, finally, at the old age of 14. Downy was a 13.2 hand chubby bay and together did all the things those girls did in those books; went on trail rides, swam in rivers, did gymkhanas and horse shows and summer camps, and won many rosettes.
thanks for images and look for information on pony books at jane badger books