Authors choose to write under pseudonyms for a variety of reasons. Some simply don't want to associated with the junk they're writing. Some want to to gauge the level of their popularity. After the successes Carrie, 'Salem's Lot, and The Shining, Stephen King wanted to see if his books would be as successful when written by "Richard Bachman". Feeling the pressure of celebrity, King said, "I think I [wrote as Bachman] to turn down the heat."
Of course in the olden times, female writers knew their gender prevented their stuff from being taken seriously. The Brontë Sisters chose gender neutral pen-names (Currer, Ellis and Acton Bell), to prevent exposing themselves to prejudice or condescension. George Sand parted with her chimerical and fantastic name: Madame Amandine Lucile Aurore Dudevant, née Dupinone, to claim her equality with the male writers of the time. Mary Ann Evans, who authored arguably the greatest English novel of all time, also opted for "George", to ensure her works were taken seriously and not associated with lowly romantic novels. Even Ann fucking Rule needed a dude name (Andy Stack) to be taken seriously writing that garbage. This cockamamie mentality still haunts the modern lit world – Joanne Rowling opted to be cryptic, fearing young boys might be wary of a book written by a girl –  and in the form of "chick lit" book covers on non-chick lit novels, e.g. Prep and The Bell Jar.
There are the writers who simply want to explore a new writing voice without jeopardizing their reputations. One of my favorite authors, as well as one of the most prolific mystery writers of modern times, Ruth Rendell, reinvented herself as Barbara Vine – not to mask her identity, rather to write in a "different way" –  with different types of characters and different sense of place.
So what if you were a dude, say a sci fi writer or a writer of Westerns or war novels, but secretly yearn to satisfy your inner Danielle Steel? What if you were to-the-manor-born, to a genre that, in 1970, feminist Germaine Greer claimed enslaved women, encouraging them to cherish "the chains of their bondage"? Because everyone knows that only women are qualified to write romance novels. Men are supposed to be writing books about war, or sharks. What do men know of windswept love, passion, histrionics and romance, epic romances set in exotic locations, bodice ripping, swooning, ample-bosomed heroines and aggressive and possessive heroes and spitfire heroines?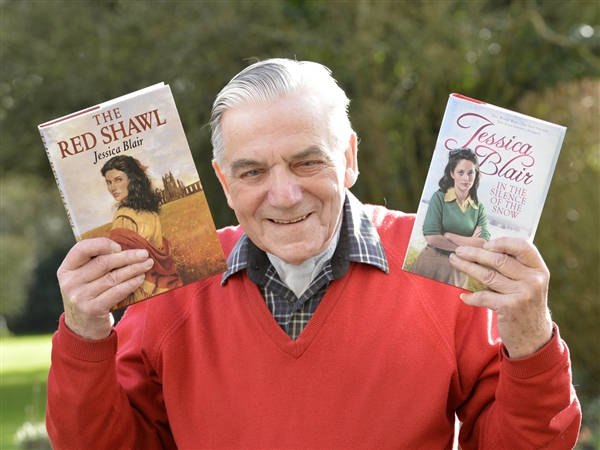 Meet Bill Spence, aka "Jessica Blair". Bill is a a handsome 89 year old grandfather from  North Yorkshire, who, in a gender-bending surprise, announced he is the Jessica Blair behind the popular Jessica Blair romance series.
Jessica Blair is a very popular romance novelist, having authored 22 steamy romantic tomes with titles like A Distant Harbour, The Restless Spirit, Dangerous Shores, Secrets of a Whitby Girl, Secrets of the Sea, Yesterdays Dreams and Wings of Sorrow. Jessica Blair's website introduces readers to her novels thusly:
The rugged Yorkshire coast and its ports of the 19th century form the backdrop to most of the novels of romance, mystery and adventure by North Yorkshire author Jessica Blair.In your journeys into the past you will follow the whalers, the jet carvers, the smugglers, the alum workers, the artists, the photographers, the herring fishers, face dangers with the wreckers in Cornwall, fly with the fighter pilots and bomber crews of the Second World War, sail with the mine sweepers, experience Dunkirk and work with the Women's Land Army.

You will visit the Arctic, the Pacific, New Bedford, Nova Scotia, the London, Yorkshire and American art worlds, Revolutionary France, and France of the Resistance, nineteenth century New York, Denver and Colorado.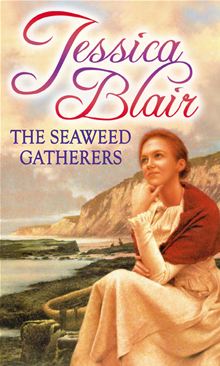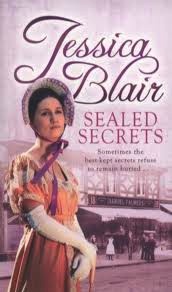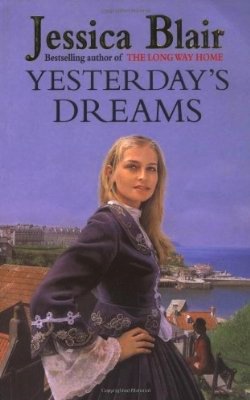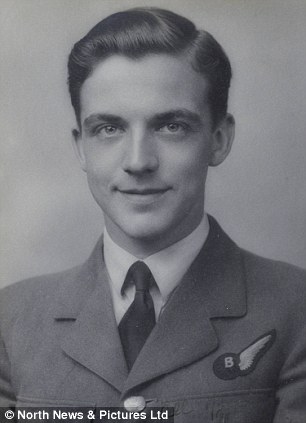 Born in Middlesbrough in 1923 and trained as a teacher, Bill Spence joined the Royal Air Force during World War 2 as a bomb aimer, doing thirty-six operational flights in Lancasters of 44 (Rhodesia) Squadron Bomber Command. Manly. He began his career as a novelist with a war novel called DARK HELL. Manly. Between 1960 and 1993, Bill Spence had 36 books published, Westerns, war novels and a non-fiction book about whaling. Manly!
In 1993, Bill decided to put his historical knowledge to work and penned his first 19th century Whitby romance. He was told his romance books would fare better if printed under a feminine moniker. Spence had no qualms about taking on a female pen name for his novels, thus, "Jessica Blair" was born.
The World War 2 vet says:
"I suppose some men may suppose their masculinity had been questioned, but it has never bothered me.'
Manly.
Spence, who claims to have moved effortlessly into the computing age, adds that he LOVES writing romance novels and probably won't be returning to any of his former genres at this point, saying:
"I'm Jessica Blair now and the publishers want me to keep producing them".
Love. This. Man.