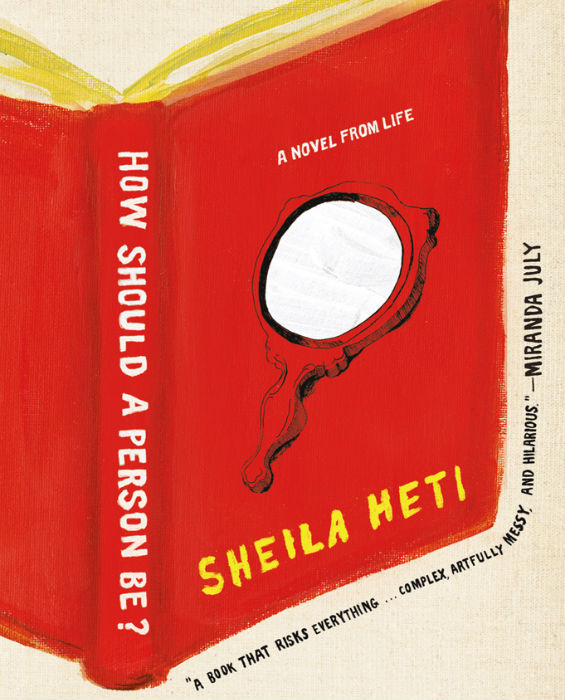 I just started Sheila Heti's new book and am taking the bold step of talking about it before finishing it. The novel, about a female playwright obsessed with becoming the world's most famous genius, has been reviewed by James Wood in The New Yorker who didn't get it, and a million other places, from Paris Review to Gawker. Weirdly, the novel was published in Heti's homeland of Canada way back in 2010 by House of Anansi, but had been turned down by slews of American publishers even though her first novel  Ticknor was published in the US by the prestigious Farrar, Straus and Giroux.
The first sentence of How Should a Person to alert me is; "There are certain people who do not feel like they were raised by wolves, and they are the ones who make the world tick".
Lots of reviewers have compared this book to the TV show "Girls", which is not completely without merit (I like that show, btw). What is worth noting is the way in which both this book and that teevee show are not afraid of the ugly or the terrible. Unlike the beautiful, the morally good or at least the redeemable, in literature and on the teevee – those who don't dwell on their own perversions or vanity, these women don't worry about making themselves likable or attractive.
Sheila wakes up and says: "I untangle myself from the sheets and get up and go to the mirror to start my day. I produce a haughty, superior expression to intimidate myself into thinking I am cool, cooler than I am. I make my eyes as world-weary as possible, like a fashion model's". There is this very young quality to the characters and their philosophical speculations, marveling at their own glib, intellectual heft. They simply cannot tolerate "ugly" things, and are entitled – not in money or social status (they are in TORONTO) – but in their impatience at being recognized for their inherent specialness, which comes from just "being". Their "fashion model" impassive coolness is such that they shouldn't actually have to "do" anything to elicit admiration. Sheila fantasizes that;
"Everyone would know in their hearts that I am the most famous person alive—but not talk about it too much. And for no one to be too interested in taking my picture, for they'd all carry around in their heads an image of me that was unchanging, startling, and magnetic."
Will report back when finished.