by Scott Laming via

abebooks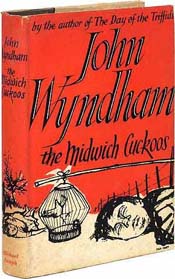 Children can be innocent, inquisitive and the embodiment of hope.   But those characteristics make for boring stories.  Sometimes authors enjoy creating a fictional child that is just plain nasty. Draco Malfoy might be a bigot and a bully, but he's rarely dull and is a vital ingredient in the Harry Potter novels. Roald Dahl's Charlie and the Chocolate Factory would not be such a tasty read without greedy Augustus Gloop, bratty Violet Beauregarde and the spoiled Veruca Salt. 
Draco, Augustus, Violet and Veruca are actually mild-mannered compared to some of the horrible children on this list. Authors have not restrained themselves from portraying children as utterly evil. And while these books are fiction, and human evil-doing is prevalent in literature, there is something especially unnatural and disturbing when the perpetrator is a child, as if it represents the perversion of innocence itself. Be warned, some of these books have the potential to be distressing, particularly for parents. Some of the young characters in this selection abuse, torture, murder and commit demonic acts with barely a second thought. David Seltzer even gave us a youthful antichrist, Damien from The Omen.
Pinkie Brown from Brighton Rock and Frank from The Wasp Factory are two examples of how evil characters can also be portrayed as extremely complex. Skilled authors can make the reader ponder the key question of why a child has become bad to the bone, while being so young.
The 25 Worst Children in Literature