from AbeBooks
It's arguably the most famous road in the world. Route 66 – just saying those words makes you want to hit the road. But did you know there are many wonderful used bookstores along the way from Chicago to Los Angeles? We have plotted the ultimate bibliophile's road trip where you can visit 66 bricks and mortar used bookstores – who all sell on the AbeBooks marketplace – while driving from the shores of Lake Michigan to the beaches of Santa Monica. We are talking about two thousand miles and hundreds of thousands of books. It's a booklover's paradise – and worth the trip for that alone. Some folks travel for culinary adventures, some travel for landmarks and museums, but bibliophiles travel for the finest in literary offerings. It's called Bookstore Tourism, and yes – there's a book about it.
The bookstores we've featured vary in size, and range from quintessential neighborhood used bookstores to specialists dedicated to subjects like children's books, history, mysteries, architecture, theology, alternative religions and cooking. Get your motor running, head out on the highway and discover some amazing used and rare bookshops in America's heartland.
"The people are in flight, and they come into 66 from the tributary side roads, from the wagon tracks and the rutted country roads. 66 is the mother road, the road of flight." — John Steinbeck -The Grapes of Wrath
66 Bookstores on Route 66:
1. Howard's Books – 2000 Maple Street, Evanston, IL 60201
Howard's Books is the quintessential neighborhood used bookstore close to Northwestern University. If a book has been in the store for more than a year it's half price.
2. Amaranth Books – 828 Davis Street, Evanston, IL 60201
Just down the road from Howard's, this store also offers CDs and DVDs, and has been around for 20+ years.
3. The Book Den – 1043-B Chicago Avenue, Evanston, IL 60202
Small but packed with books. Literature, history, anthropology, women's studies, tattoos, and more.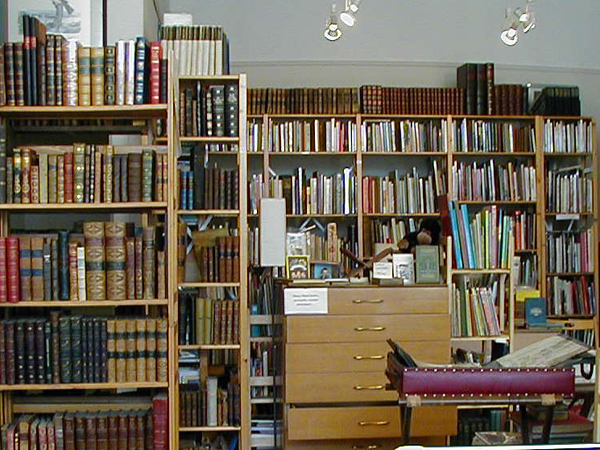 Chicago Rare Book Center 703 Washington Street, Evanston, IL 60202
4. Chicago Rare Book Center – 703 Washington Street, Evanston, IL 60202
A treasure trove of collectible books. You'll see amazing books priced in four and five figures.
{ Comments on this entry are closed }