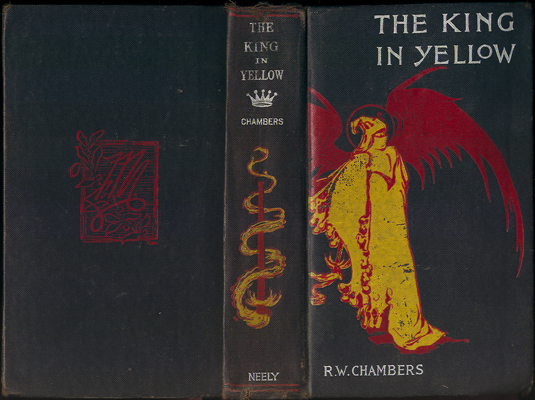 Everybody is talking about the King in Yellow, because they are watching True Detective. I decided to read it - not to write about its influence on True Detective.
The King in Yellow is a collection of short stories written by a guy named Robert Chambers (not the Preppy Murderer of the same name), in 1885. A little research tells me that Chambers has the distinction of having been one of those rare classic writers who was actually successful during his lifetime. And he didn't kill himself or die of Syphilis, or drink himself to death in a NYC pub or die with a needle in his arm. He didn't suffer addiction to prop himself up under the weight of his own genius, nor did he spend his final days wandering around the streets of Baltimore prattling on like a lunatic.
I was reluctant to read this at first,  as "horror", and worse, "turn of the century "weird" fiction" is not really my bag. But the introduction suggest that Ambrose Bierce and Edgar Allen Poe were Chambers' main influences – the Poe-Bierce-Chambers-Lovecraft continuum was good enough for me. Themes center around characters experiencing a rapid descent into lunacy, replete with disturbing visions of  unearthly things and dire real-world consequences of interacting with them. There's so much lovely imagery coupled with the absolutely terrifying stories, that I was hooked. The stories are beautiful and creepy and macabre, with heavy use of ambiguities enhancing the dread. There are the weird, creepy names like Carcosa and Hastur, as well as strange terms like "twin suns" and "black stars," and the fact that the color yellow is so blatantly ominous, with connotations of insanity, death, and decay.
{ Comments on this entry are closed }