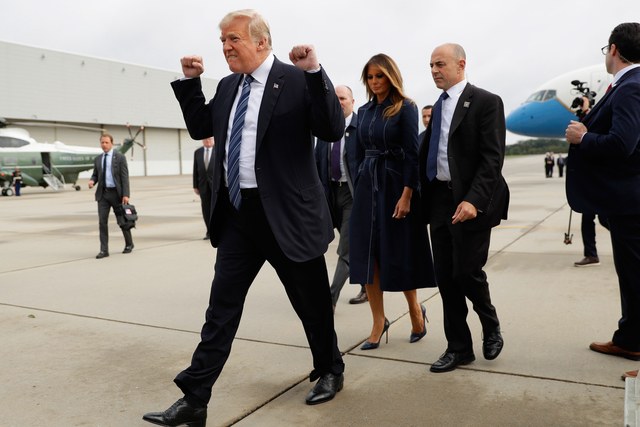 Who else is sick of the hypocritical, self-righteous, completely uninformed grandstanding from every idiot in the country today? This year seems worse even than last year, because Trump has become so difficult to defend, so Republicans are really leaning on 9/11 this year to justify him. They do that with everything every day. Sure, Trump's "no saint", but Hillary killed her staffers. Sure, Trump's not the most articulate, but Hillary called half of America deplorable.
Today its, "Sure Trump's not perfect, but remember when Muslims killed a bunch of Americans because we let ourselves get too soft? We need scrappy fighters like Trump, not pansy compromisers like Bill Clinton and Barack Obama."
I don't like being lectured on history or patriotism by people who voted for the closest thing to a classic 1930's fascist that I've seen in my life, and to boot one who accepted help in winning the election from a foreign adversary.
We haven't learned shit in 17 years, and in fact we have become a worse nation because of it. Hateful and paranoid and xenophobic. We never were "unified". While "traditional Americans" were saluting and singing that fucking Lee greenwood song, brown Americans were getting their fucking ass beat. We got an illegal war due to pure propaganda from Fox, which capitalized on some weird hyper patriotism that in reality amounts to blind support of the military and the state.
We never examined the road to 9/11, we just said "they hate us for our freedom".We've killed thousands of innocent people, we've sacrificed liberties due to fear. We've withdrawn into our borders, and fallen victim to propaganda within our own state. Bin laden may be dead, but as the years go by, more and more I think he got what he wanted.
Also, we know that right now if something horrible were to happen on the scale of 9/11 half the country would want the perpetrator's homeland turned into radioactive glass. And now they have someone who would push the button to do it.
Note that the bloody, entirely wrong, superfluous Republican War on Iraq as a "result" of 9/11 is entirely wiped from memory.