She spent the better part of her career trying to out sexy everybody else. Then it all came crashing down on the national stage at the NBA all star game. 
Every American wants the same thing from the pre-game national anthem. Clear, in-tune, over quickly. No frills, no off-script, no warbling. On-and-out and onto the main event as quickly as possible. We want the song portion of the sporting event out of the way. If we had to have any anthem on Monday night, we wanted Whitney Houston's Super Bowl performance, ten days the US commenced the first major military action of the post-terrorism age. Whitney stood on the 50-yard line in a casual white tracksuit with red and blue stripes and sneakers, her natural curls pulled back in a wide headband, looking more like an Olympic athlete than a bonafide pop star. It was soulful, supremely confident, and rousing. As she hit the final climactic high note—an E-flat above middle C—on the word "free," four F-16 fighter jets performed a ceremonial fly-by in the skies above. In a shitty moment for our country and the world, It was a moment of unforgettable drama and pride.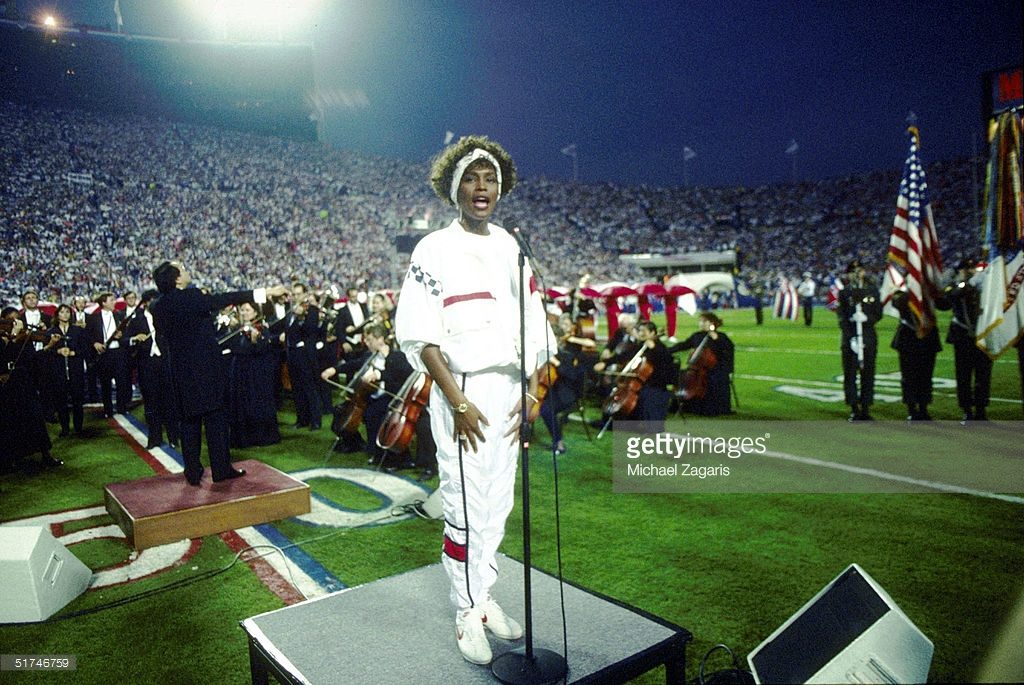 Onto Sunday's All–Star game, and another tense and horrific period in American life. Less than one week after one of deadliest school shootings in modern American history. One year into a presidency of a monstrous Horror Klown – certainly the most grievous blow that the American Idea has suffered in my lifetime – who has publicly said about (primarily) Afrian American pro athletes:
"Wouldn't you love to see one of these NFL owners, when somebody disrespects our flag, to say, 'Get that son of a bitch off the field right now, out, he's fired. He's fired!'"
It is February, 2o18, and we are intertwined with desolation and decay. Children are being slaughtered in school. Racism has run amok, seeping into even the holiest corners of American life (sports). To paraphrase Trump's famous campaign appeal to African American voters: With their lives and communities in such ruin, what the hell did they have to lose? Basically, his past week, in its slow-motion calamity, is what becomes of the bitterness and dull horror of American life. in a time of.  We are looking for any sign of relief from society's imminent collapse, that those of us unprepared for our post-apocalyptic future are destined to die alone in the street
Fergie had a momentous opportunity.And she decided to go back to the sexy well.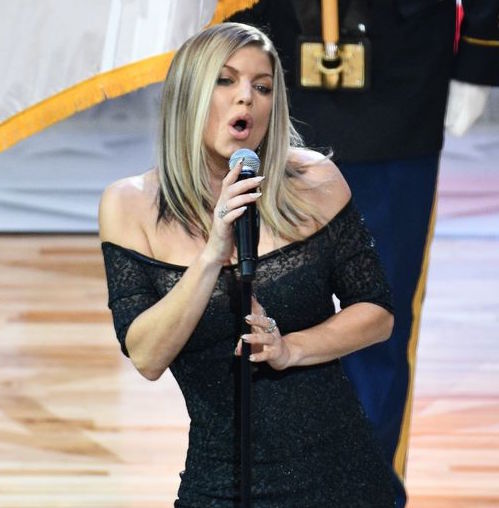 She couldn't just sign it. No, of course not. She had to go there. She had to inject the stupid anthem nobody wants to sit through with strange inflections, a growly baby voice, and bizarre vocal gymnastics, dragging it out and creepily trying to seduce America with the war song. A strange and sad app tempt at achieving Marilyn Monroe singing Happy Birthday to JFK status. Just a total misfire in conception and execution.
Fergie seems to have spent much of her professional career talking about her sex life, how well endowed her actor husband was, her locked closet of Supergirl and Ninja Pirate sex costumes.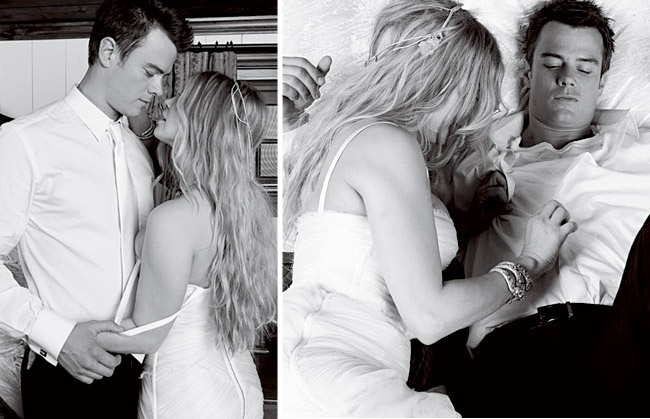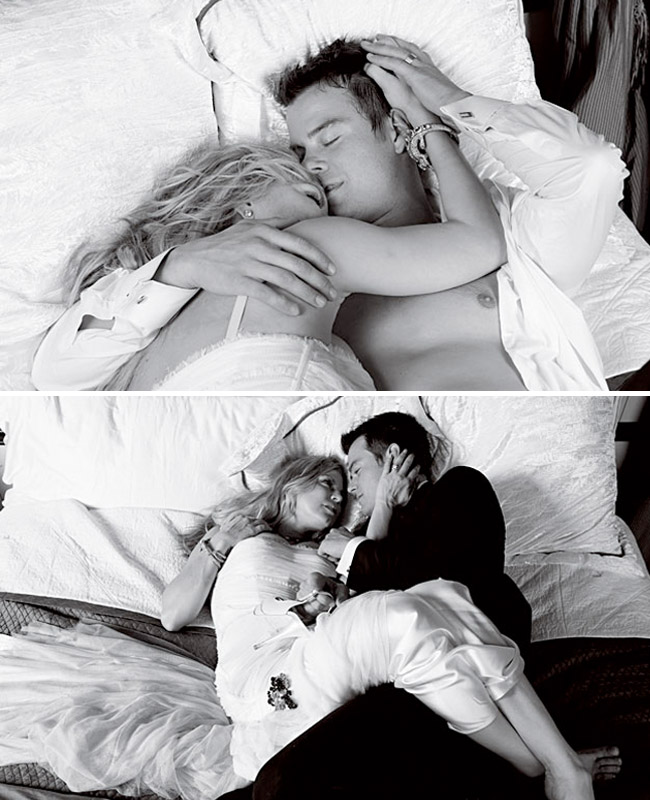 Their published wedding photos….were from the wedding night. Who else would you invite the photographer back to the hotel for some wedding night photos.
"He just dances for me in private, in some very interesting outfits," Fergie revealed to Playboy. "He bought me these amazing boots at the Hustler store. They're thigh-high patent leather with a big long zipper. They're hard to get on, but it's worth it!"
The theme with Fergie and Greenlee's tall boyfriend was so over the top that when her marriage fell apart, the media – US Magazine infairly insinuated that it was due to his being the product of a large, "healthy" midwestern childhood with focus on "family" and she "just wasn't into that lifestyle because she didn't have a "normal childhood" like he did.
"So as Duhamel stressed over recreating his Midwestern upbringing for Axl — "He tries very hard to make sure he's brought up as normal as possible," says the source — he'd get annoyed when Fergie didn't follow suit. "He felt she wasn't doing normal mom activities," explains the source, "and that made Josh frustrated."
This should enrage any successful, independently successful woman. Just because one's expression of sexual freedom doesn't look like another doesn't mean one is "wrong"and another is "right". But…let's take a  look at Fergie's 2016 music video aimed at "empowering women: MILF$," (someone may have suggested that adding a dollar sign to an tired, sexist acronym is probably not doing anything useful for women). In MILF$, a preternaturally cute milkman stumbles into a chimeric and entrenchedly middle-class land called  "Milfville," where strong women – such as Kim Kardashian, Ciara, Gemma Ward, Chrissy Teigen, and Alexandra Ambrosia – join Fergie for yoga and yard work. This intersectional subversion of a Stepfordian fantasy where women dominate both professionally and domestically, but only if you are an over the top gorgeous celebrity women.
People who take their pop culture cues from horny dudes are not usually the people I look to for signs of a significant linguistic shift in the culture, proof that now we have embraced the term as one of our own.
MILF$ depicts these iconic women posing in various states of undress, grinding and shimmying in bikinis and underwear and, yes, pouring milk over their bodies, aka not exactly a subversion of the MILF acronym (historically svelte, Pilates -carved, existing in a coma of holistic self absorption – non-working moms who can indulge in the exclusive, highly labor-inducive beauty standard that Fergie and her bod squad embody). Now, has anyone ever actually taken the term MILF seriously as a desirable thing? Given that it has its origins in teenage boy lust and porn.
"We are the daughters of feminists who said, "You can be anything" and we heard "You have to be everything." – Courtney Martin's line from her Perfect Girls, Starving Daughters: