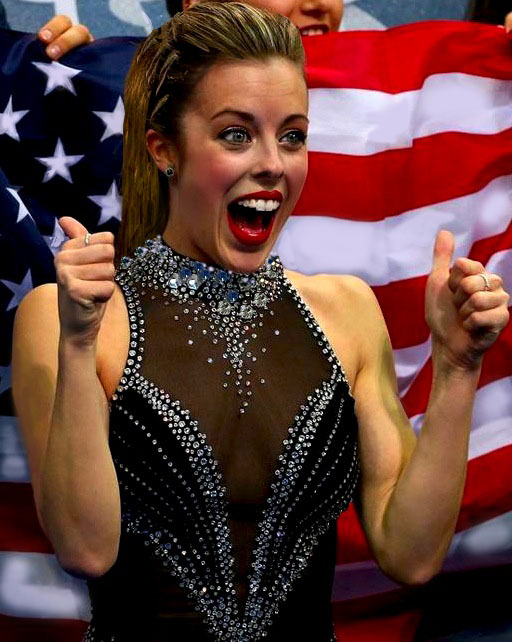 Despite the institutionalized cheating, incomprehensible scoring system, the canned music, the toothy smiles, the figure skating at the winter Olympics is the most magnificent spectacle that international sports has to offer. I was a child figure skater, subjected to my own ugly skating costumes and cruel coaches, so I know a little of what I speak when I say, figure skating remains a mystifying holdout of monumentally bad taste in sports, with athletes competing in presentations that favor bugle beads, massive amounts of rhinestones, dip-dyed chiffon and frosted hair. The costumes preferred by figure skaters often seem designed to invoke a Moscow Circus send-up of a Las Vegas act. Year in and year out, figure skaters demonstrate the weird truth that, seemingly alone among winter sports, skating seems trapped in the style frost of the 1980's, a sartorial dead end that – unlike snowboarding and skiing –  has less than zero civilian fashion impact, it is even less cool. It's the street wear equivalent of nude pumps and suntan pantyhose.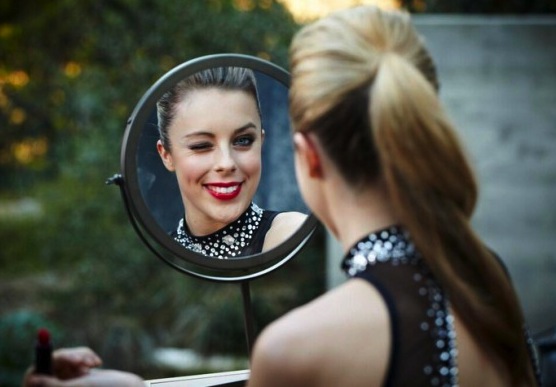 Ashley Wagner is one of our 3 blonde American Olympians – the one who fell all over the ice at Nationals, but whose "body of work" was deemed extensive enough to put her on the Olympic team. Now when we say "BODY OF WORK", we mean how many endorsements and sponsors you've racked up. Long before the debacle at Nationals, Ms. Wagner had already signed up tent-pole sponsors like Nike, CoverGirl, P&G, Hilton Hotels, the Century Council, Highmark, Pandora Jewelry  and BP. They all assessed Ashley Wagner's even Teutonic features, her toothy, fixed smile and decided, sans medal, that she was their gal. The National Championships never even mattered. Wagner was making the team. She combusted at Nationals, but her could have slid on the ice all day, she has already cashed in. Something about her exemplifies the deep deep problem with American ladies in figure skating.
Until she was de-crowned by younger, better, prettier, sweeter, more virginal Gracie Gold, Ashley Wagner was skating's "golden girl" – media's idealized ice queen, who from Peggy Fleming to the flawed Nancy Kerrigan, is the gold standard of marketing.
The non American star of the Olympics is clearly Julia Lipnitskaia, diminutive and ethereal, just-turned 15 year old, physically and emotionlessly destroying all her competition.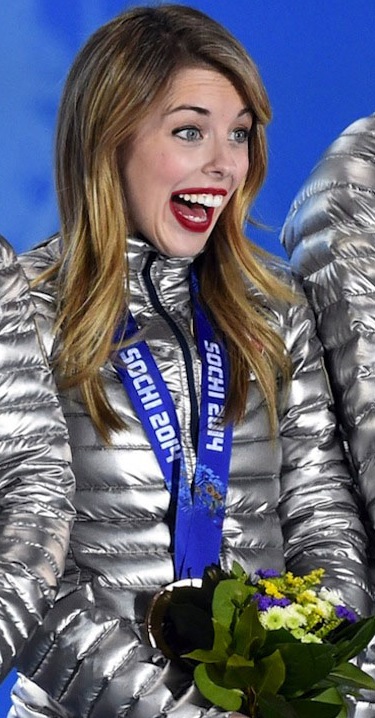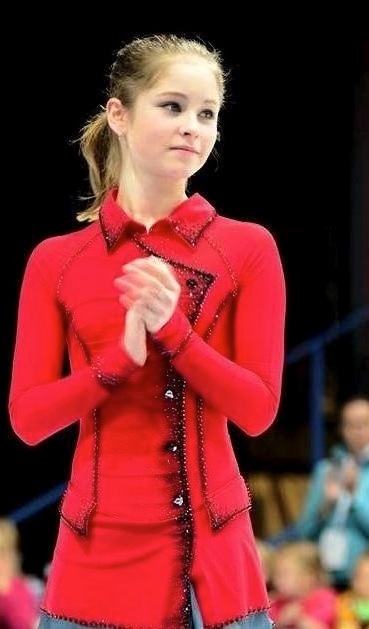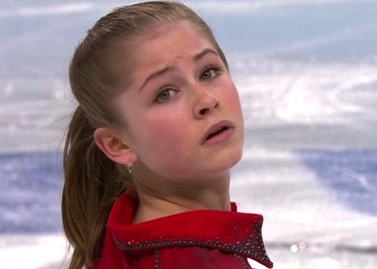 Now, when figure skaters play sad, they play really sad. Their agonized faces, mask of agony or tragedy, stage players. Yulia is no exception. The forlorn look cast over her slim shoulder that ends her program, her pretty/plain features left to stand on its own. Nude lips, just the flush of the ice on her cheeks. Her untouched light brown hair pulled back from her face in a simple pony tail. The simple, pure gravitas of her expression, her presence, is pitch perfect.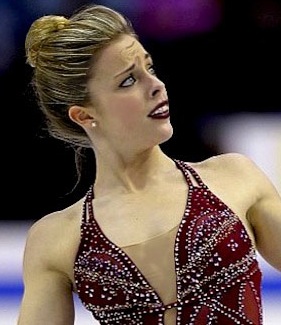 The American women, alas, do not prize subtlety. Pretty young women slather on obscene amount so of stage makeup, making them look years older. They frost and highlight their hair into obscenity, piling it up on their little heads transforming pretty young girls into Gibson girl era aunties. They contort their faces into toothy smiles that look like grimaces and tortured romance novel heroines.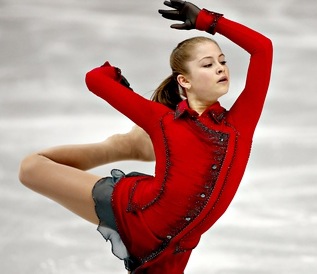 At the European championships, Yulia performed in a diabolically brilliant costume: crimson coat dress, a tailored bodice and forest green chiffon skirt with thin edge of beading, and sheer gloves. Her brown hair was pulled back in a simple ponytail, her face refreshingly unmade up.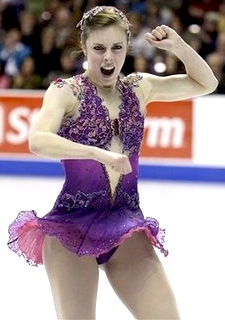 The Americans still love Ice Princess flounces, jeweled wedding dress encrustations, movie theater ruches, spangled dirndls and spider web appliqués.  It is as cheesy and dated as the costumes favored by pre-teen contestants on "Toddlers in Tiaras". They often seem to pay no attention to their body type. They load up on sequins and rhinestones. Worst of all, in order to appear to show more skin, they use liberal amounts of  "illusion" fabric, to give the look of a bare neckline or back.
From the 1920's til the 1970's, ice skaters at the Olympics wore plain, demure costumes bought at stores or sewed by their mothers or local dressmakers.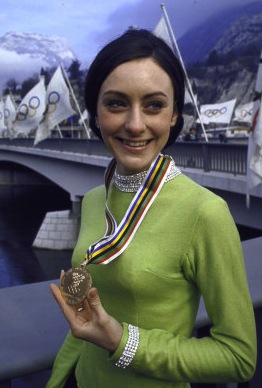 In 1968, when mainstream America was into artificial fabrics and hippie dos, figure skating remained elegant. The ephemeral Peggy Fleming won the gold in Grenoble in a simple, chartreuse matte jersey dress that, like all her costumes, was sewn by her mother. Her mom chose chartreuse because the color shares its name with a French liqueur made by Carthusian monks, thinking it would endear her to the French people.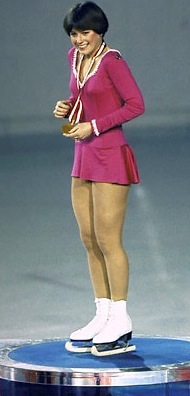 In 1976 at Innsbruck, America's sweetheart Dorothy Hamill wore dresses almost identical in style to Peggy's, with understated jeweled necklines and sleeve cuffs, in solid colors. Her demure violet dress, sewed by a friend of her mother's, had a slightly lower neckline which showed off that short n' sassy wedge haircut that inspired a shampoo, and a country.

Linda Fratianne (right) fired the first shot in the costume wars by hiring Pete Menefee, a Los Angeles costume designer, to create a beaded, hot pink and orange leotard with a skirt of chiffon petals. Lycra and spandex and new plastic sequins and beads allowed skaters to sparkle throughout the 70's.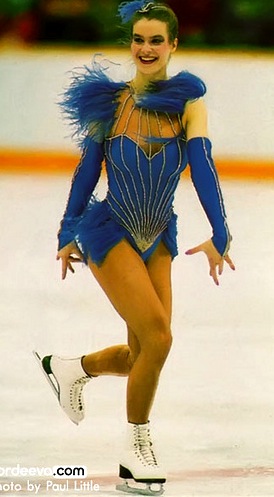 By the 1980s, skating fashion reached "Dynasty" proportions with eye-wateringly garish and risque burlesque costumes, exemplified by the flashy dresses flaunted by  Brookeshieldsian beauty, Katarina Witt. They hit their most outrageous at the 1988 Olympics, when the sexpot skater had tongues wagging by her azure ostrich feather-trimmed bikini briefs and a peek-a-boo skirt. The ISU quickly issued  the "Katarina Rule," dictating costumes be "modest" and "dignified", and not "garish or theatrical." Skirts needed to cover their hips and ass. Beads, sequins and feathers cannot be "excessive".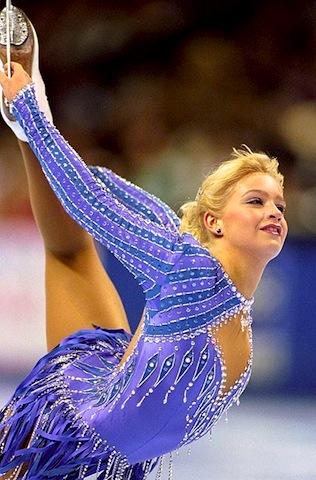 Former skating star Nicole Bobek favored the beaded costumes and spangled Heidi outfits that were ubiquitous on the ice then, and apparently now. She wore the same rhinestone encrusted suits of armor that Ashley Wagner favors today, that do nothing to enhance their beauty or athletic builds.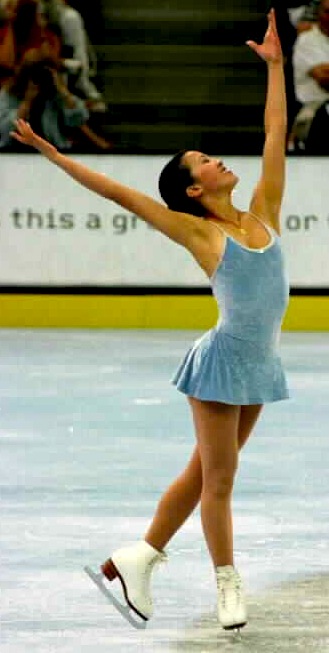 In Nagano in 1998, Michelle Kwan busted out a simple, sleeveless tunic of periwinkle stretch panne velvet. She began a trend of naked, less ornamented, swimsuit-style look with the little straps, very flattering to her slim shape. Her hair was always pulled back into an elegant bun and her makeup was slight. She ushered in the costly haute couture period in the '90s and early 2000s when Vera Wang's $ 13,000 champagne-colored, rhinestone-encrusted dress swan-like dress cast Nancy Kerrigan – a blue-collar, self-described tomboy –  as America's patrician sweetheart. glacial brunette Meanwhile, Harding's horrendous, self-styled showgirl outfits, teased out bangs and heavy makeup only served to demonize her further.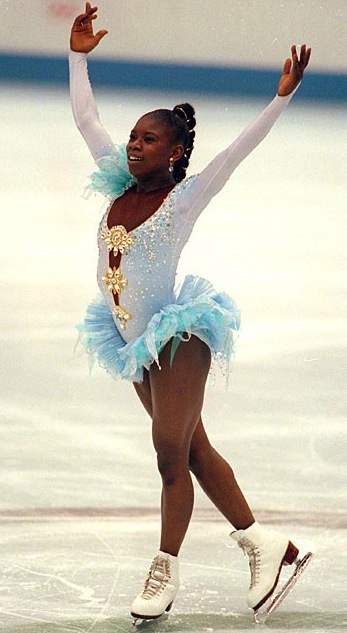 Christian Lacroix outfitted the magnificent Surya Bonaly  in a glacier-blue dress confection with a bodice fastened with large rhinestones and tulle tutu (she also caused a major ESCANDALO, when she refused to wear tights). This was a step in a positive direction.But the ladies just couldn't stay away from the sequins and the dip-dyed chiffon, and hysterical miscues abounded.
How did we, as a country, go from this (perfection):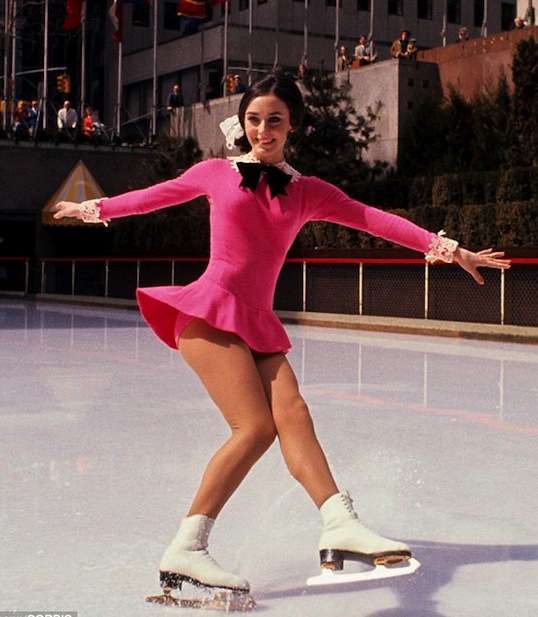 to THIS: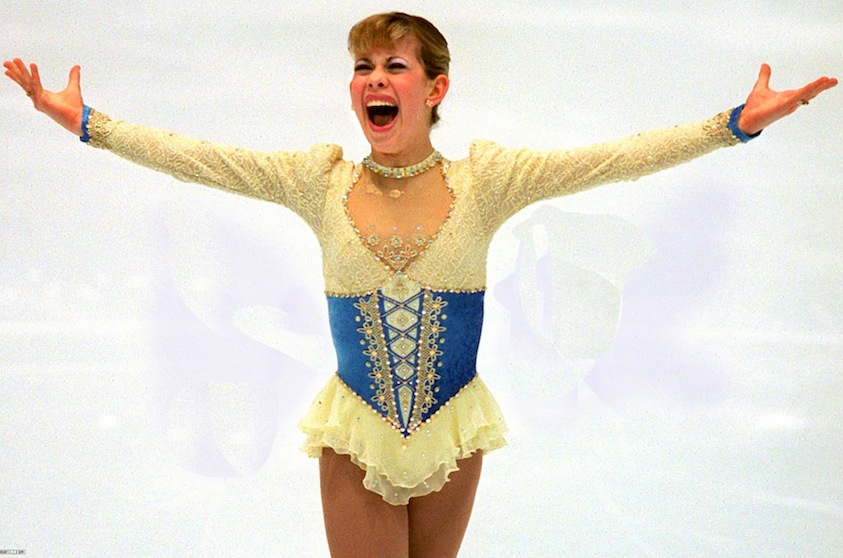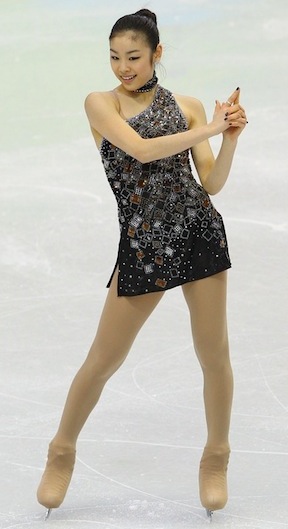 Not everybody can be as flat out beautiful as Yuna Kim, of have her perfect, linear shape, her long think legs, particularly figure skaters, who have to be preternaturally strong to do their jobs.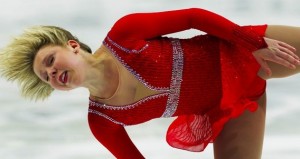 Button-cute Rachel Flatt's athletic body was served atrociously by her costumes and her styling. Her natural strawberry blond hair was bleached blonde and chopped into an unflattering cut. The weird rhinestone, empire wasted belt, the awkwardly placed plunging neckline. And LONG SLEEVES? Seriously?? The sleeves look as if they were tacked onto the dress at the last minute.
.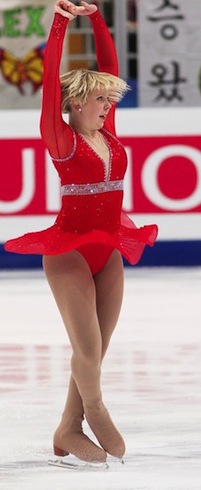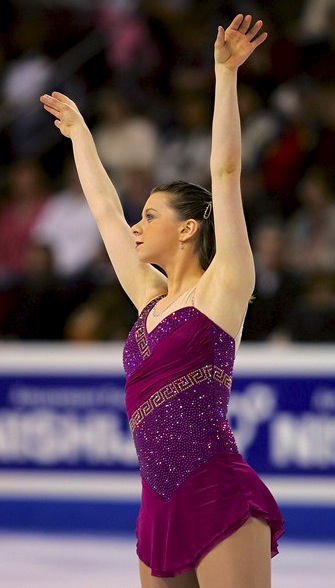 Emily Hughes had a similarly athletic build, but wisely chose simple, flattering, stretchy dresses, left her pretty brown hair unhighlighted and pulled back with simple jeweled barrettes.
There was a time when the Americans were the tasteful ones and the ladies of the Eastern Europe were laughed at for their terrible makeup and trashy costumes, their rhinestones and bugle-beads and feathers and all that excessive ornament.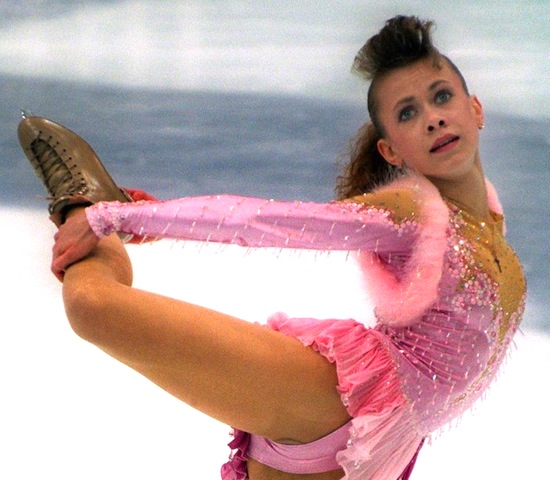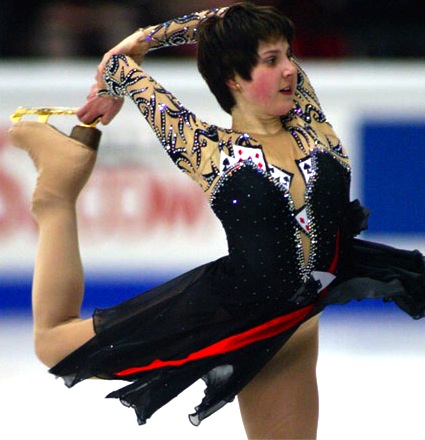 Utter insanity with the Eastern European lasses was personified by Irina Slutskaya and Oksana Baiul. Oksana was the pretty Ukrainian orphan turned world champion, who took to the ice dressed as a Pepto-pink showgirl pretending to be a flamingo/swan. Her bangs were shellaced to stand erect off her head. Her sartorial shortcoming were perhaps due to her Dickensian circumstances, as well as the timing of the Olympics: beads, fur trim and fringe were popular among Eastern European skaters in the '90s.
Poor Irina Slutskaya. She was so good, so talented, and actually pretty, off the ice. She not only had to transcend that horrible last name, but also everything about her physical appearance. The dresses, oh my god those dresses. Then there were the Lena Dunham -as-Hannah-when-she-went-nuts haircuts, the bad makeup, good lord. She never stood a chance.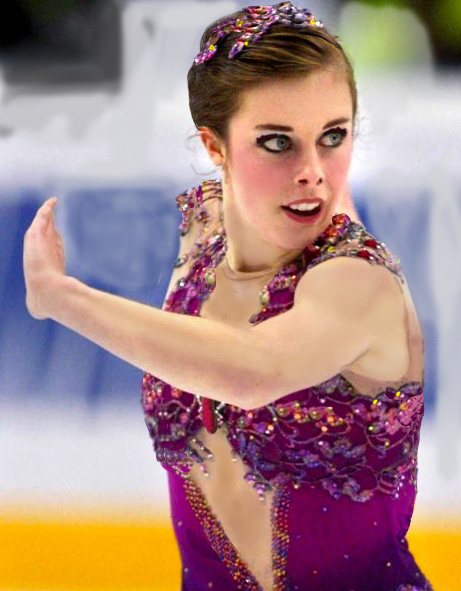 Ashley Wagner is bringin' tacky back. Her  dresses are just so ugly. So unflattering. The cut out panels and excessive use of trompe l'oeil, flesh-toned mesh called "sheer illusion," though some skaters eschew it and go girl-commando. The masses of encrustations, the diamond tunny cut out, the huge gemstones and the clown makeup, so so awful.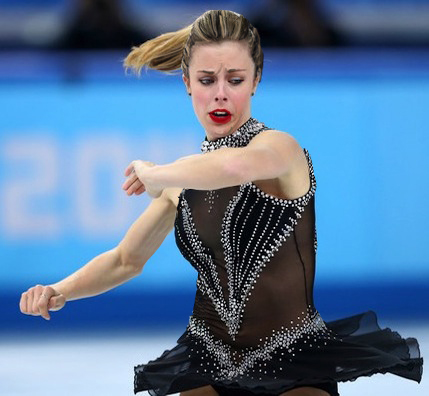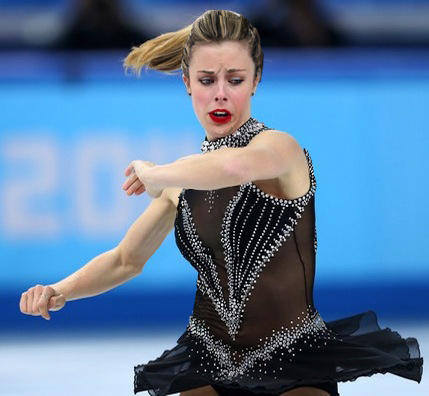 Then there is the massive terribleness of the sheer black diamond number. The abjectly unflattering, sleeveless, faux turtleneck cut, the thorough coating of rhinestones and crystals…. it's just so awful, like something out of Game of Thrones. The frosted hair ponytail, the crimson lipstick, I can't say how much I want to grab her by her ponytail and give her a makeover/under.
Then there is just the general "Americanism" of attitude. In the Olympic new "team" competition, Ashley Wagner charged onto the ice, heavily made up with a slash of red lipstick accentuating her large teeth, her nostrils flaring, skating a"sexy" and "edgy" routine to Pink Floyd's "Shine On You Crazy Diamond". After "Bringing It", and jacked-up on vindication from criticism, she strutted over to the kiss n cry, did a haughty shoulder shimmy and a hair toss, gave a big old American thumbs up. Then she saw her scores and  pulled that face: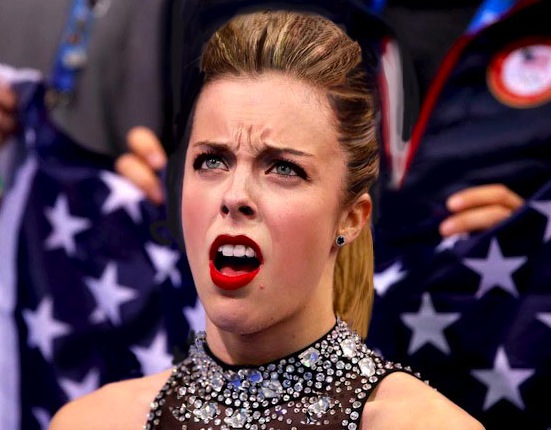 Yulia crushed her competition, torching the ladies free skate by scoring a 141.51— about 12 points more than second place finisher Gracie Gold. She displayed a more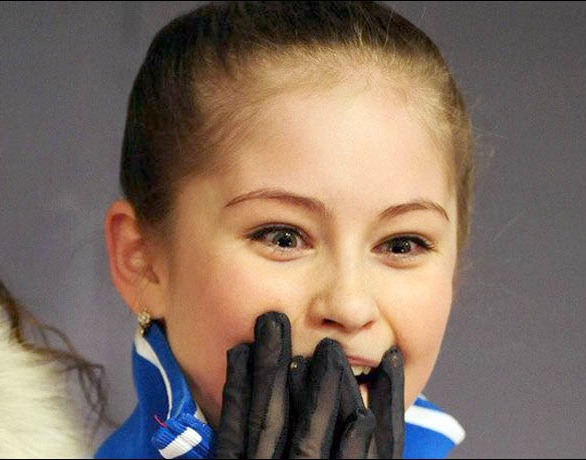 Let's learn from the past, ladies. Simple elegance. Cuts that flatter your individual body type. The "no makeup" makeup look, hair that isn't the centerpiece. You're not Vegas showgirls, you're athletes. Take a cue from the Russians. No big gestures of "woohoo!" or "SUCKS!", you're not Americans on a cruiseship, you are on the international stage.
Take a cue from the Russians for a change, behave with dignity and grace. You're not at a hoedown.
Hold it together, ladies. You're on teevee.