Growing up in Philadelphia in the 1970s, the post-Phillies-let-down/holiday season began at 5AM Thanksgiving morning whether you liked it or not. We would snowpants-up and trudge down to the Gimbels Thanksgiving Day Parade. Bringing up the rear of the parade was Santa Claus, protected by beleaguered postal workers who all us kids would bum rush with our stupid letters.
From the parade route, Santa would move to Ninth and Market to climb a firetruck ladder to the top floor of Gimbels, marking his official arrival as Department Store Santa. My family would a take a day to go to "Center City" (or "Into Town"), to "See Santa Claus" at Wanamakers, and check out the displays at the other department stores. My cousin – who went to the Gimbel's Santa said theirs was the real Santa – rather than the one we saw at Wanamakers – as we all had seen him at the parade with our own eyes.
The Lit Brothers had the Enchanted Colonial Village display, which featured a life-size town with moving people and mechanical displays with Williamsburgesque scenes like toymakers, clockmakers, bakers, blacksmiths and an aproned family enjoying a festive holiday dinner, and Strawbridge and Clothier had the horrific, life-sized, walk-through "Dickens Christmas Village".
But it was Wanamakers that was the Holy Grail at Christmas time. First there was the Light Show – Lite Brite craziness that combined water fountains synchronized to the music from The Nutcracker  and a lightbulb extravaganza retelling of the story. A dangerous combination of water and electronics in front of the world's largest pipe organ and 600 children.
"Santa's Village" was host to the obligatory "Santa and Me" photo, which the Vallows endured long past the age of appropriateness. There was never any screaming and crying in fear or hissing parental threats. This wasn't like hauling your kids over to the Rent-a-Santa in between trips to the B. Daltons and Radio Shack at Plymouth Meeting Mall, it was an event. We even posed for multiple photos: All 3 of us, and  then"singles" like the one of me (right).
We looked forward to the "going to see Santa Claus" day all year. We got excited upon making that turn onto East River Drive as we headed "into town".
We all dressed up.
But the big jackpot was on the sixth floor. Toyland. It was the bomb. You got to ride in a freakin monorail. A red and silver monorail suspended from the ceiling. After bidding your folks adieu, we'd hop aboard and get a birds-eye view of the entire toy department. If memory serves me, the train buzzed into a secret "Little Store". You would detrain at this "kids only" store and – having been given a few bucks by the parents – were assisted in selecting a gift.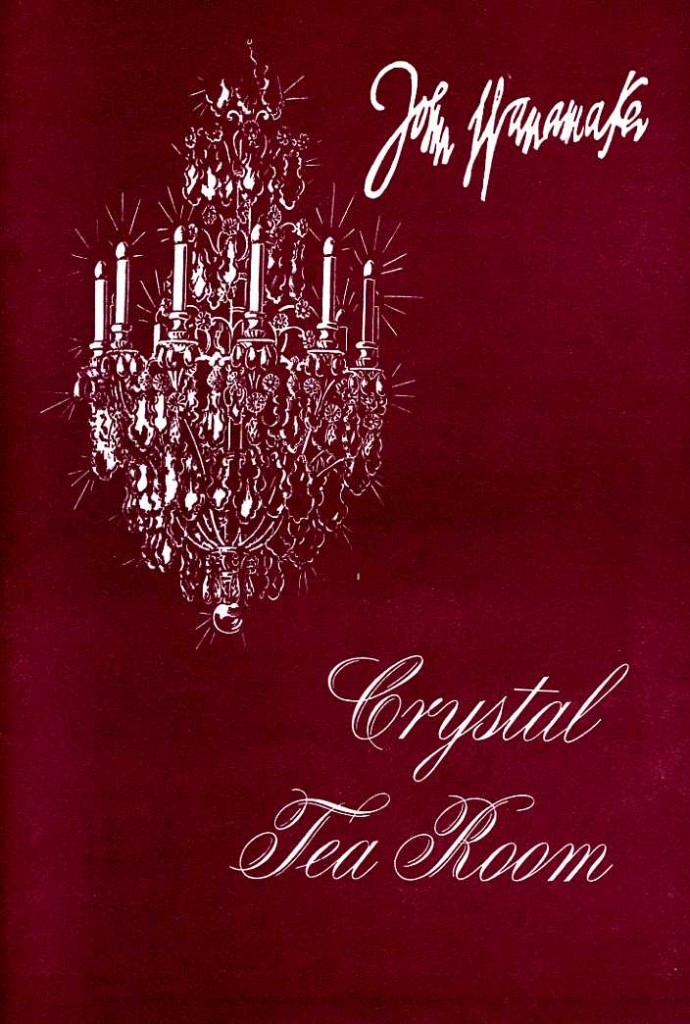 In the pre-Chick-fil-A era, department stores had restaurants, lunch counters and tea rooms. After the department store Christmas events, we would eat at either the Wanamakers Cafe in the basement or  the "Crystal Tea Room" as glamorous as Lord and Taylor's "BIrdcage" but with no birds. They had a tea sandwich sampler platter and very exotic rum raisin ice cream.
Speaking of ice cream, do I remember that Wanamakers actually had a frozen custard stand on the first floor?
That couldn't possibly be true, could it?
The "Christkindmarkt" ("Christmas Bazaar") on Spring Garden Street was a strict yearly tradition. Organized by the women's auxiliary of The German Society of Pennsylvania to which my grandparents belonged, there were tables of homemade items, knitted, crocheted and embroidered, tree ornaments and white elephants. My Oma would sell her crocheted hangers and embroidered tablecloths. There were carol singalongs (in Deutsch), "Kaffe und Kuchen" and dinner of "Kassler and Sauerkraut" which emitted an aroma that it wafter through the entire crappy ghetto neighborhood. There was Biiienenstich, Lebkuchen, Pfeffernusse, Springerie, Stollen, chocolate and marzipan and Butterkuchen so delicious, it remains a marginally funny punchline in our family today.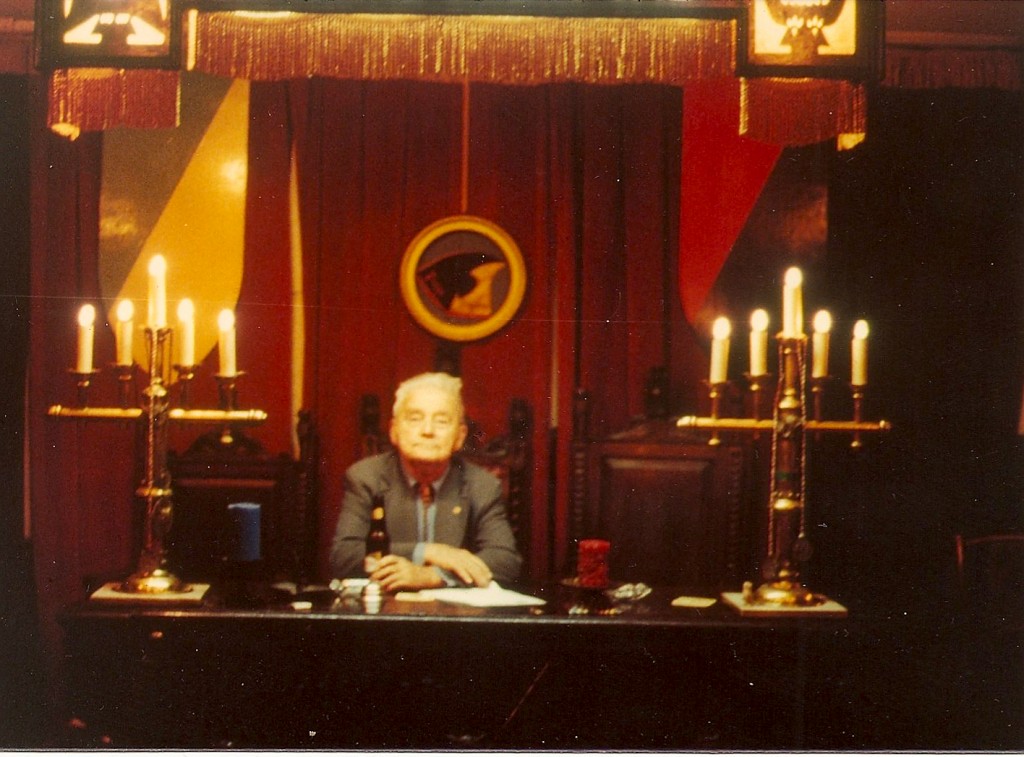 The best part was when Opa (pictured above with beer), would – Drosselmeyer-like – escort us children downstairs to the off -limits rathskeller, a dark, secret meeting room of the German-only speaking Schlaraffia – a club fur Manner. Opa was like the Grand Poobah of the Schlaroffia or something, and we thought that was very important and that we were very special to be allowed to go to the rathskeller.
Baronial and fantastic, the secret room was coated in dark wood and red and gold velvet curtain, gilt candelabras and medals and swords and dusty tomes in Deutsch. All the furniture was carved into the shapes of some sort of animal, usually owls, apparently the patron bird of Schlaroffia.
Every year we posed for photos with swords, shields, fancy medals and Grand Poobah hats.
Es war eine wunderbare.
Speaking of drosselmeyers, on those years that we did not go to NYC to see The Nutcracker, my mom would take Kristen, Karen, Meryl, Dara and me to the Academy of Music to see the Pennsylvania Ballet version. The Boys Choir sang over the glistening snow scene and  "Mary" was "Clara". The Academy of Music had limited snack fare: Orangeade in wax cartons and sour lemon and cherry drops.
The local PBS station broadcast this horrifying puppet special called The Spirit of Christmas, featuring the Mable Beaton Marionettes  – playing the roles of Mary and Joseph and baby Jesus himself – relentlessly during the holiday season.
The highly desirable Sears Wish Book. I was never allowed to have anything from the Sears Wish Book because my mom said it was "junk" (she was right).
Then, it was all over and if you were under 21 you had to stay safely inside until New Year's had past and that horrifying Mummers Parade – i.e. raging alcoholics in drag -was gone from the city of Philadelphia.