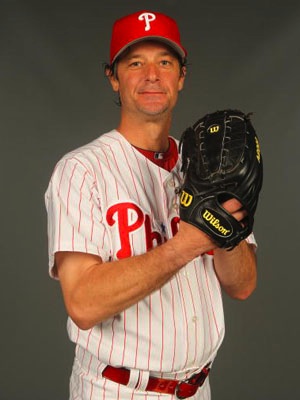 Google Jamie Moyer and up pops "Jamie Moyer old" followed by "Jamie Moyer is old". Old Man Moyer's relative old age has been the object of ridicule for years before he was even as old as he is now."Jamie Moyer is so old that he intentionally walked Adam in order to pitch to Eve", blah, blah, bifocals, early bird specials, AARP, hoverounds and hips.
I was witness to Moyer-directed age abuse at game three of the NLCS at Dodger Stadium in 2008, when the venerable lefty got mercilessly shellacked, allowing 5 runs in the first inning and hitting Russell Martin with a pitch that started a chain of events that culminated in a benches clearing skirmish between the 2 teams (in retaliation for Moyer's 70 mph beaning to load the bases, Dodgers starter Hiroki Kuroda threw a withering 94-mph fastball at Shane Victorino's head, Victorino and Kuroda began jawing, and benches cleared. Manny Ramirez inexplicably tore in from left field like a steroidal beast – running faster than he ever has on the field –  and had to be restrained by Joe Torre). The on-the-field shenanigans added fuel to a stadium atmosphere so toxic that even I was complicit, when a soused season ticket coot – himself not a day under 50 – spent the better part of the game berating Jamie Moyer for being "old", with Moyer's family sitting 3 rows away.
Sure he's a little long in the tooth. Hell, he was the oldest player in the American League back in 2005. In 2008, at age 45, Moyer became the oldest active player in Major League baseball, and nobody let you forget it. If you tuned in to any game with Moyer on the mound, the words "old" and "age" out-numbered "balls" and "strikes". During the 2009 season, at 47 years and 170 days old, Moyer tossed a complete game, virtuosic two-hitter, shutting out the Braves  7-0, after which the reporters wore Moyer down with their obsession over him being the "oldest player in major league history to throw a shutout", as if that's even a stat, an actual "record", like to Moyer, being the "oldest player in history to throw a shutout" was a realization of a dream, the highlight of his 20 year career, the pioneering achievement embedded in a vast, all-encompassing web of cherished fact and legend.
He's the oldest non-knuckleballer of modern times. He's also a true blue (Catholic) family (8 kids) man, and all-around decent guy. He was awarded the prestigious Roberto Clemente Award and practically every other award given in the name of character, charity and sportsmanship. Moyer has spent half of his life in the Major Leagues, a middle-of-the-rotation guy with a rubber arm hurling history's slowest fastball (81.2 mph). Jamie Moyer doesn't owe his longevity to dominance, power or speed. What he lacks in velocity he makes up for in movement, deception and finesse. And being old, he's a pre-game scholar, poring over the oppositions lineup in stacks of scouting notebooks and fine-tuning his game plan. He's a methodical pitcher with a deadly straight change-up that moves at 3 speed variations of slow, a curveball with a six inch vertical drop and a pinpoint slowfastball. I think his grizzled visage lulls batters into a false sense of thinking they can jack one of those slowfastballs, but Moyer's centuries of experience allows him to get inside the head  – and one step ahead  – of the whippersnapper at the plate, throwing precisely where he is not expecting, throwing below the hitting speed, surprising him with a cutter, changing speeds, throwing him off balance. I also just think that Major League batters are rendered inept by a guy who looks like their dad throwing 80 mph.
In 2008, Moyer shined for the Phillies, going 16-7 record (8 – 1 post All-Star break). Boy did I love watching old gas can Moyer take the mound. LOVED that he was older than me (hope springs eternal). He was intrepid. He pitched in his first ever World Series that year, and he did so in dramatic fashion. And by that I don't mean baffling the Rays hitters with his slowfastball and giving the Phillies a 2 – 1 series lead, I mean he did all that in the throes of violent diarrhea.
Following the elation of  the 2008 World Series, 2009 began dimly for Moyer, who struggled and lost his starting job to a past-his-prime Pedro Martinez and was demoted to the bullpen. He was pissed. Nevertheless, he pitched well in long relief and eventually rebounded back to the rotation. He made 19 starts before taking a tumble from the mound, sustaining a career ending injury (not to be funny, but it really looked like he had broken a hip), tearing tendons in his stomach and groin, which kicked off a barrage of horrific medical misfortune and multiple surgeries. He was 47 for criminy's sake, but Jamie Moyer hobbled his way back to the mound in 2010 for his 23rd major league season, until blowing out his elbow in his second career ending injury. Then, Moyer opted to play winter ball in the Dominican Republic, where he re-injured his elbow – this time the pesky joint literally exploding off his body – a third career ending injury. Moyer, now 48, decided to undergo arm-rebuilding Tommy John surgery, typically a last resort for young'uns with their careers on the line. So I was thrilled and relieved when I turned on Baseball Tonight and saw Jamie Moyer, tanned and fit, an ESPN analyst, having exchanged his pinstripes for the requisite tacky jacket and wide tie.
Then THIS (excerpted) from cbssports.com Monday:
Jamie Moyer isn't done with baseball just yet. The 48-year-old left-hander is recovering from Tommy John surgery and has asked the Phillies if he can use their facilities to rehab from the surgery. "We're providing him our space in Clearwater and our expertise," Ruben Amaro Jr. said (The Zo Zone). The real intrigue here is Moyer would be 49 years old when the season started. In many ways, if he finds himself in a rotation, he'd be the oldest player in ages that's an integral part of a Major League Baseball team.
Moyer has said before that he does not want to be some sort of "sideshow, gimmick-type event at spring training". Given the fans, commentators, analysts and bloggers age -obsession with Moyer at a youthful 45, I think it's unlikely that his age won't be paramount when he's pushing 50. There is something else about Jamie Moyer that I can't really figure out. He seems almost psychotic. There is a sort of desperation about him, like he's playing, throwing and running for his life. He seems almost manic but melancholic, moving relentlessly in an attempt to outrun whatever the reality is of the post-baseball life that awaits him. It's like he has to keep going, like if he stops, he'd die….. like he is wearing the red shoes.