I was born with 2 giant sweet teeth sticking out of my head. I have such life long  sugar addiction that for the past 2 months, I have been on a strict sugar blackout. Not a bit of sweetmeat has entered my system. Thus was my state when I went to see a new ballet called "Whipped Cream", involving a decadent Viennese pastry shop, dancing sweets, and  a revolution by the lower pastry orders.
The original Whipped Cream ballet was called "Schlagobers", and was a resounding failure at its June 1924 premiere. According to Wayne Heisler, the author of "The Ballet Collaborations of Richard Strauss":
"Vienna was in a time of economic crisis, and the ballet cost a fortune and was seen as frivolous". "The score is, in some ways, a great one, Strauss's masterpiece of high and low art. It's really honest in that the spectacular aspect of it is not framed as high art or something transcendent."
The whimsical story follows a boy with an over active sweet tooth who, following his first communion,  joins his friends at a sweetshop, eats too much whipped cream (who here hasn't stood by the refrigerator door squirting Reddi-Whip into our moths?), falls ill, and has a grand adventure in a land of sweets, not unlike The Nutcracker.
Schlagobers had political undertones, with a subtext that involved conflict between the proletariat and the royal class. This is understandable with what was going on in the world in 1924. Images from the original production: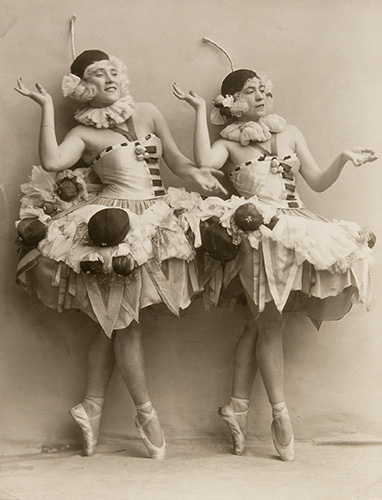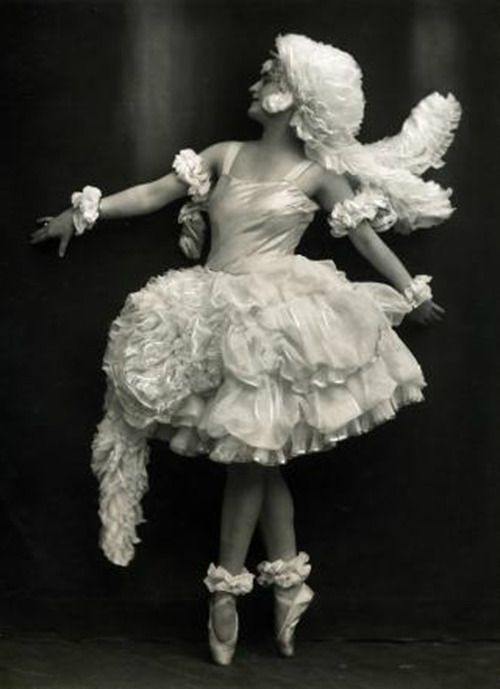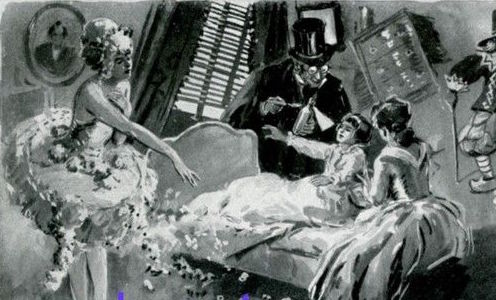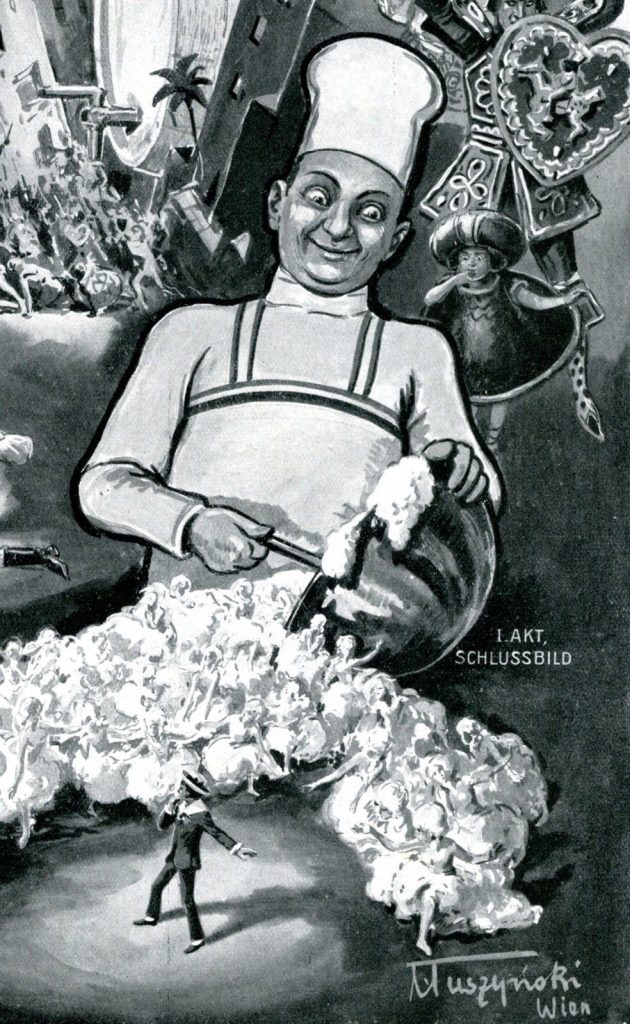 Alexei Ratmansky, former artistic director of the Bolshoi Ballet and current American Ballet Theatre's resident choreographer discovered the almost unknown, dusty old Strauss score music by chance in the early 1990s, at a record shop Japan soon after he and his wife, Tatiana Kilivniuk, had left Kiev for Canada.
"At the time, food was scarce in the Ukraine, you could buy nothing, and suddenly there was all this stuff. Tatiana loves whipped cream and would run to the stores to buy those cans you can squirt. After I found the music, I did a little extract for a choreography workshop where I was the whipped cream and she was a little boy, eating it"
Mark Ryden, an art-world star from my hood of Eagle Rock,  did the drop-dead, gasp-inciting scenic and costume designs. The five major set pieces— outside a village church, a Viennese pastry shop, a whipped cream dreamscape, a hospital room and a Viennese plaza — are devastatingly, almost overwhelmingly stupendous and lavishly detailed,realistic and fanciful.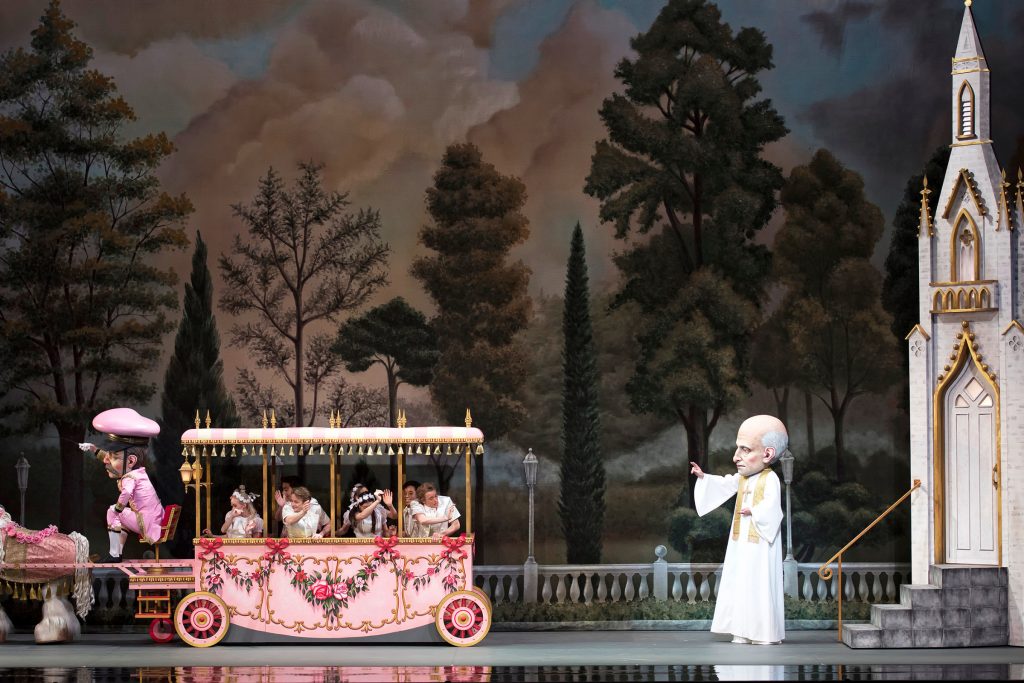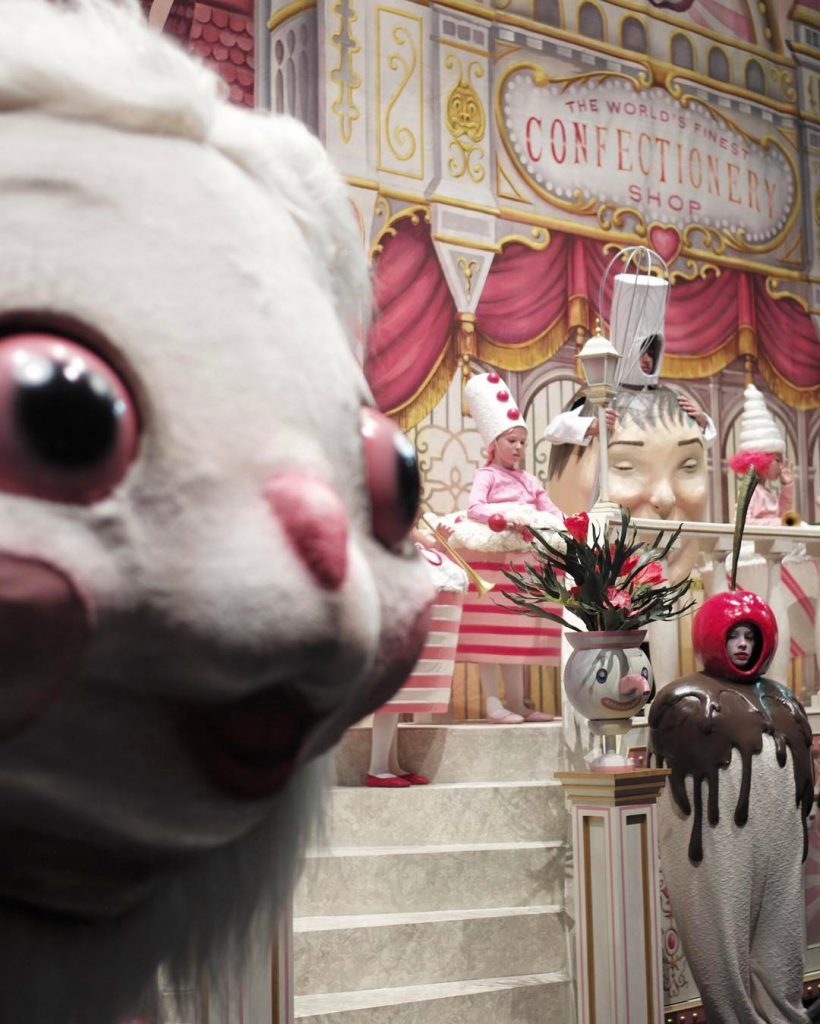 The chimeric parade of fanciful characters include a huge  furry pink and white bear, a long-necked Seuss-like pink polka-fotted Piggy thingy and a peppermint snake that slithers across the stage. The princess arrives atop an oversized dog with huge eyes and ears followed by a woman in a gown of cherries.
All my favorite things come alive: quartets of marzipan (I bleed marzipan), sugar plums, pink peppermints, gingerbread men and the titular dancing Whipped Cream – a corps de ballet of 16 frothy women.
There's a walking parfait, a cherries jubilee, and four adorable children dressed as cupcakes. There's a fluffy white pony – played by 2 dancers – with pink bows in its mane pulling a pink carriage, a gaggle of cupcake children,  and a giant snow yak. Let's hope the stuffie line is in the works.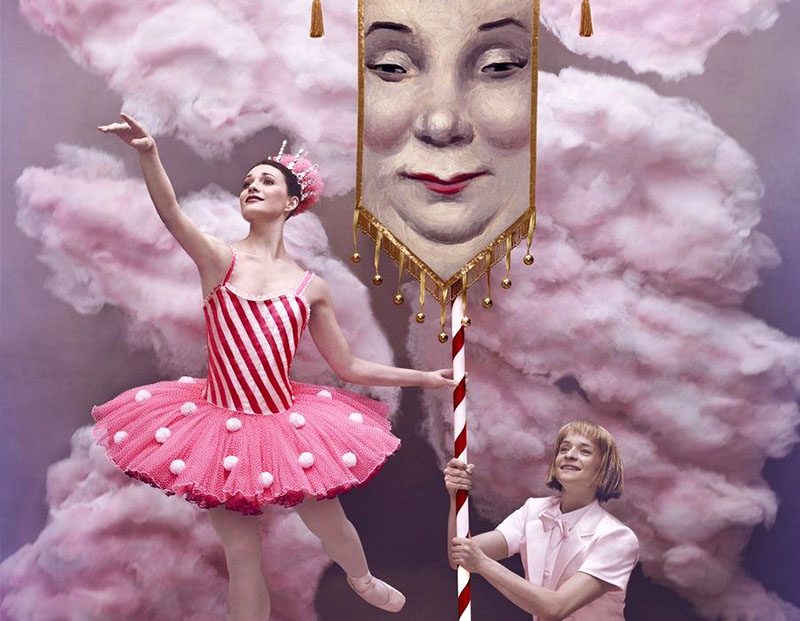 Beautiful Sarah Lane – who did all Natalie Portman's dancing in Black Swan for which Natalie Portman took all the credit –  portrayed Princess Praline, filling in for an injured Misty Copeland.
After making himself sick by shoveling whipped cream into his face, the boy is taken off on a stretcher by an ominous medical man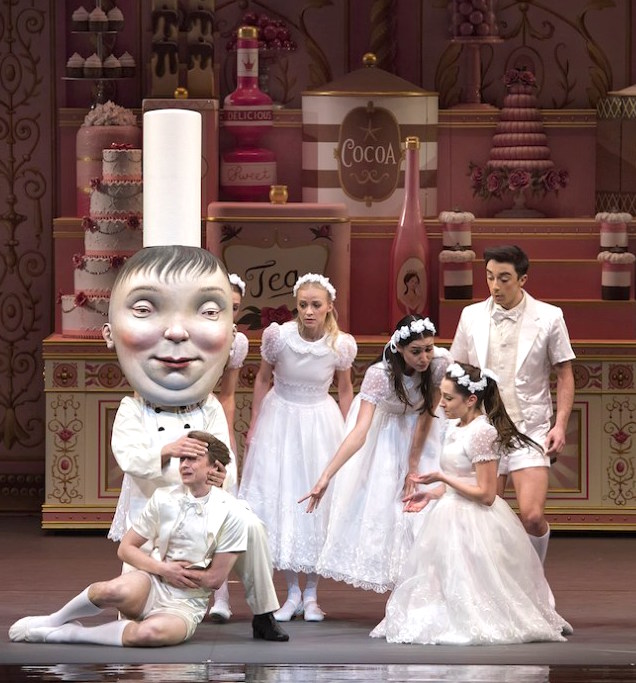 A hospital room set is a fearsome place with a blinking eyes on the wall.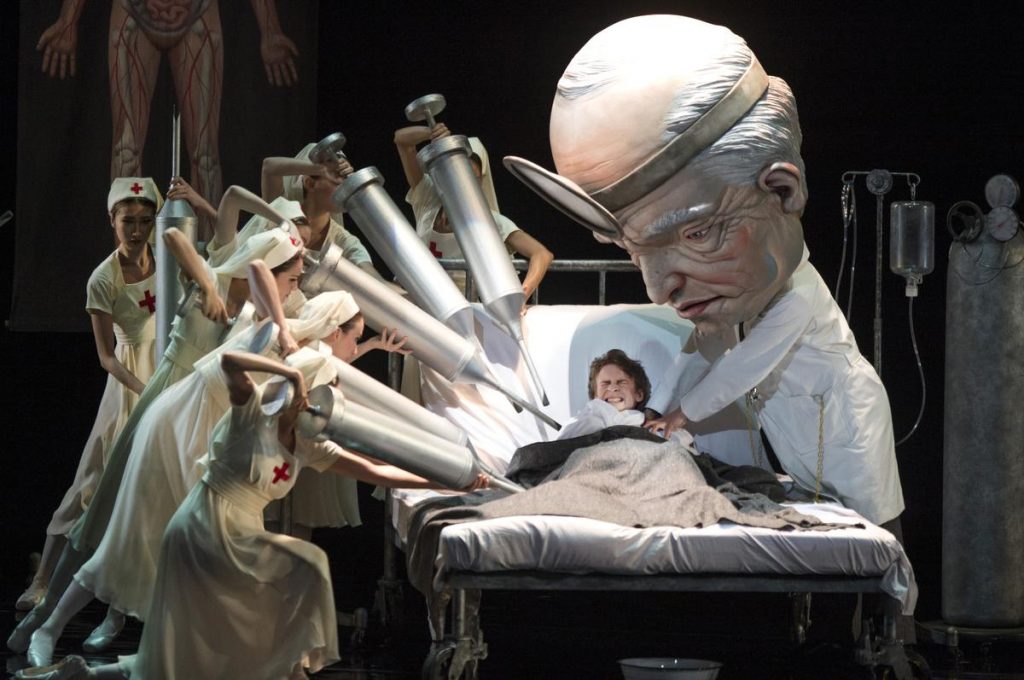 The Boy, is writhing in the hospital, a corps of red cross nurses assault him with gigantic syringes.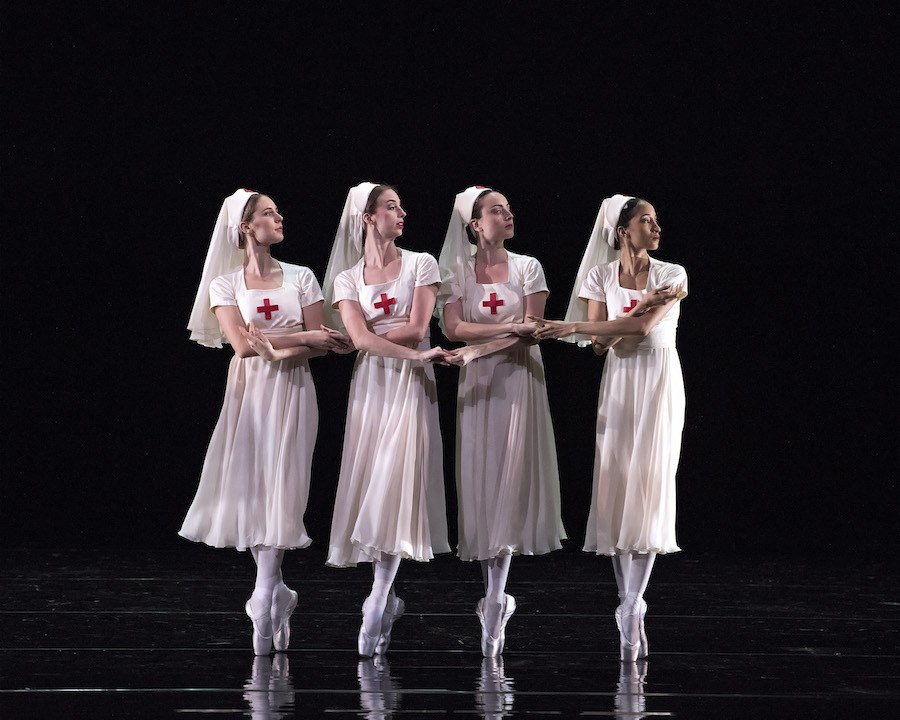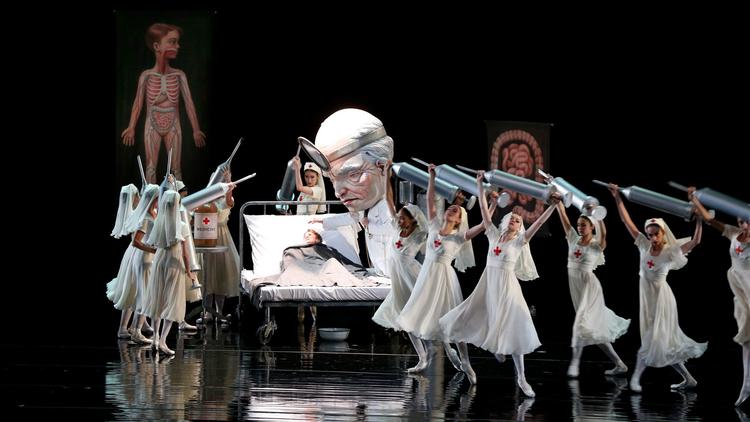 In one of the highlights of the production, three animated bottles of booze perform a boozy trio of  Vodka and Brandy and pink champagne. The comically sweet liqueurs get the weak-willed doctor and 12 nurses inebriated, enabling the boy's escape.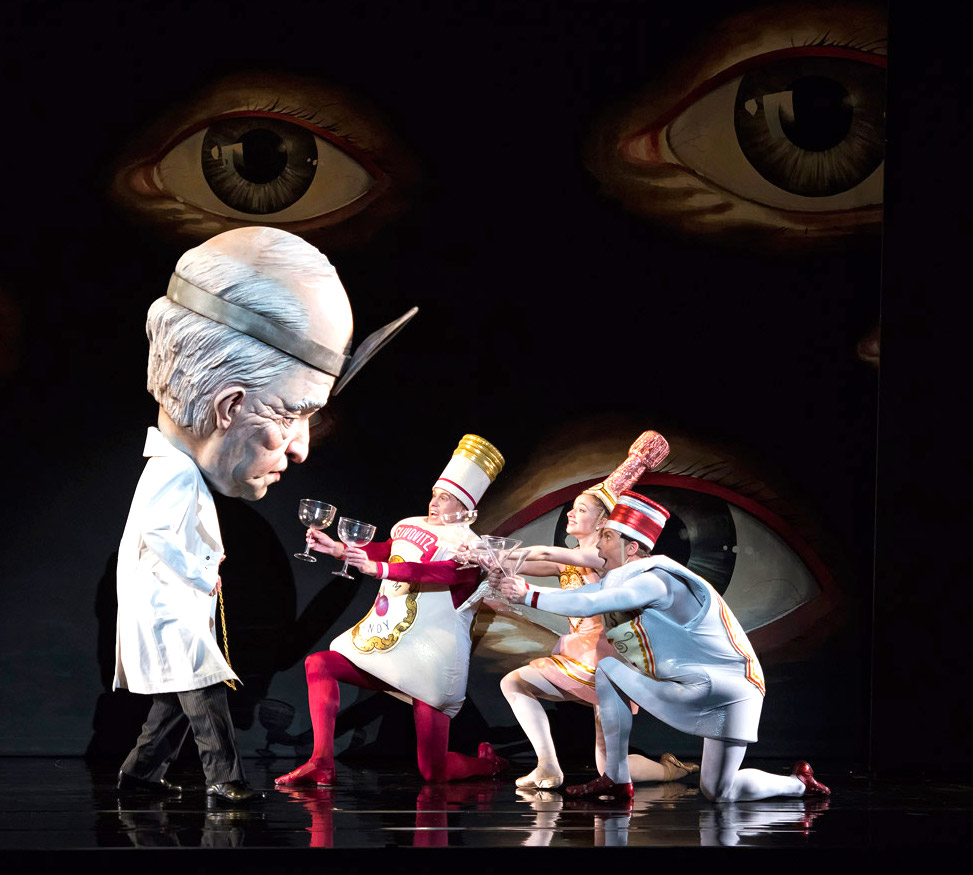 In  festive finale, the Boy joins the bonbons, becoming the consort to Princess Praline in her domain. Their fantasy world becomes the ballet's new reality.  The boy is saved and retreats happily ever after to Princess Praline's kingdom. The End.
By the end of the ballet, I was so sweet-crazed I thought I was going to die. I opted out of the after-cast-party because it was a large room filled with actual sweets.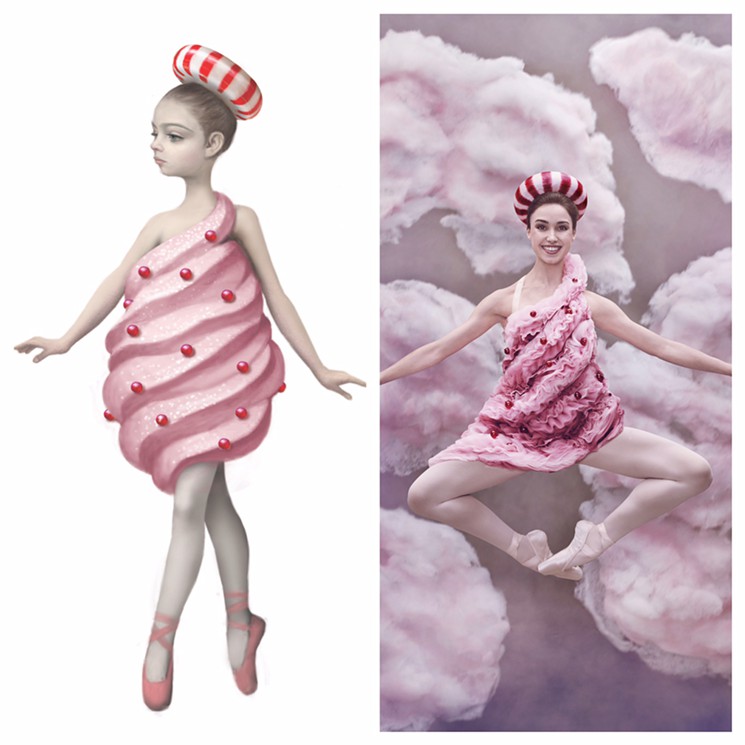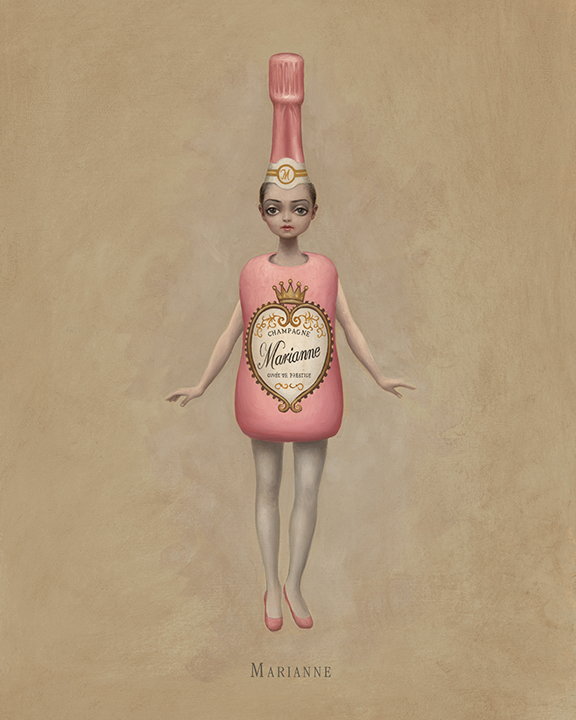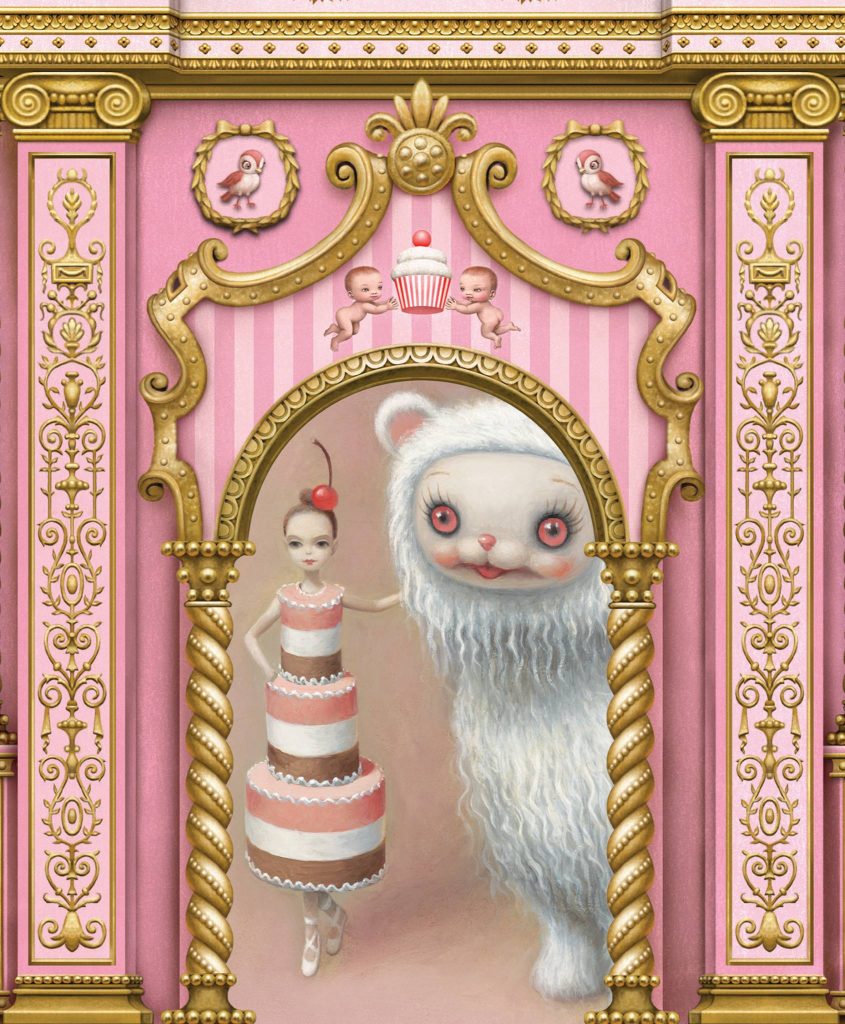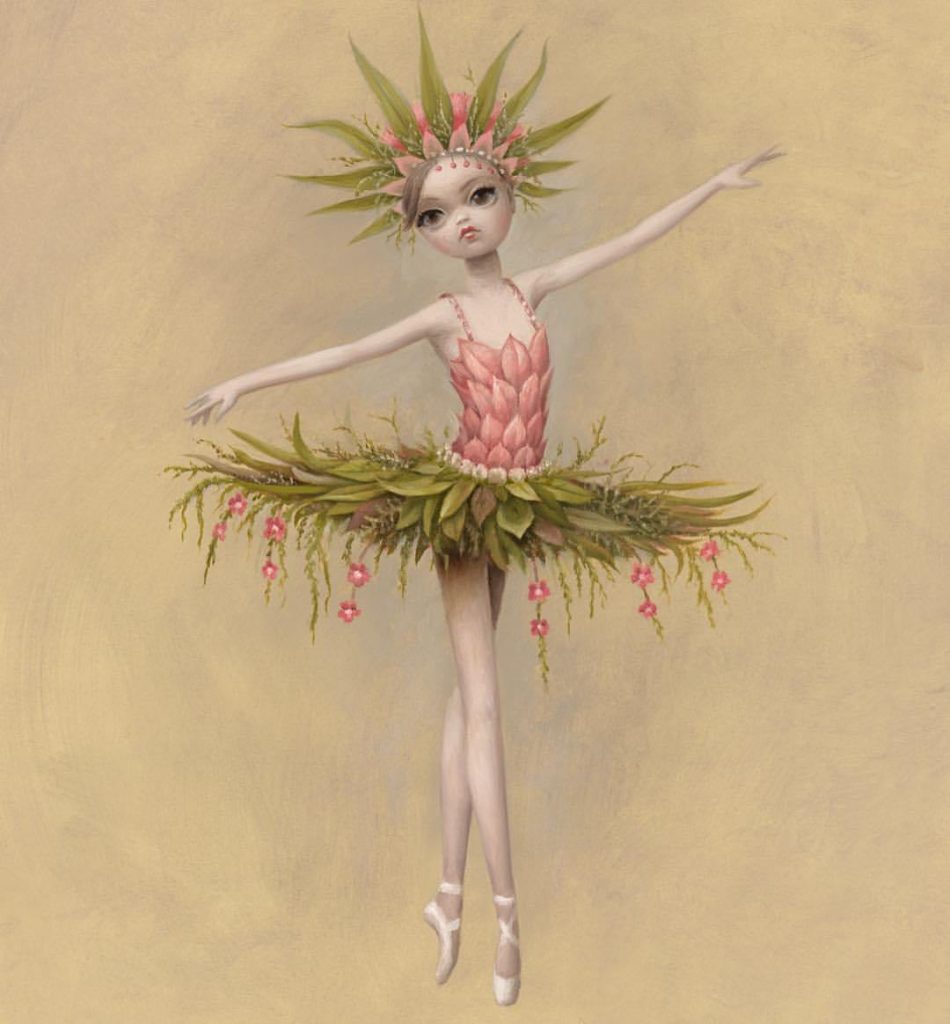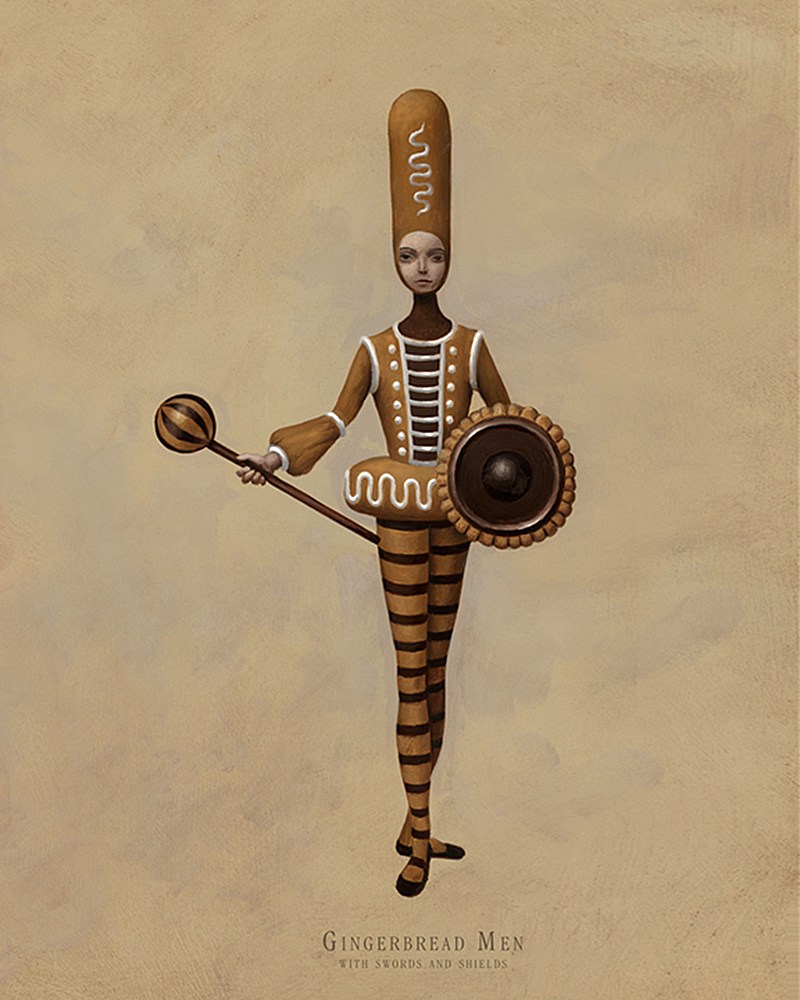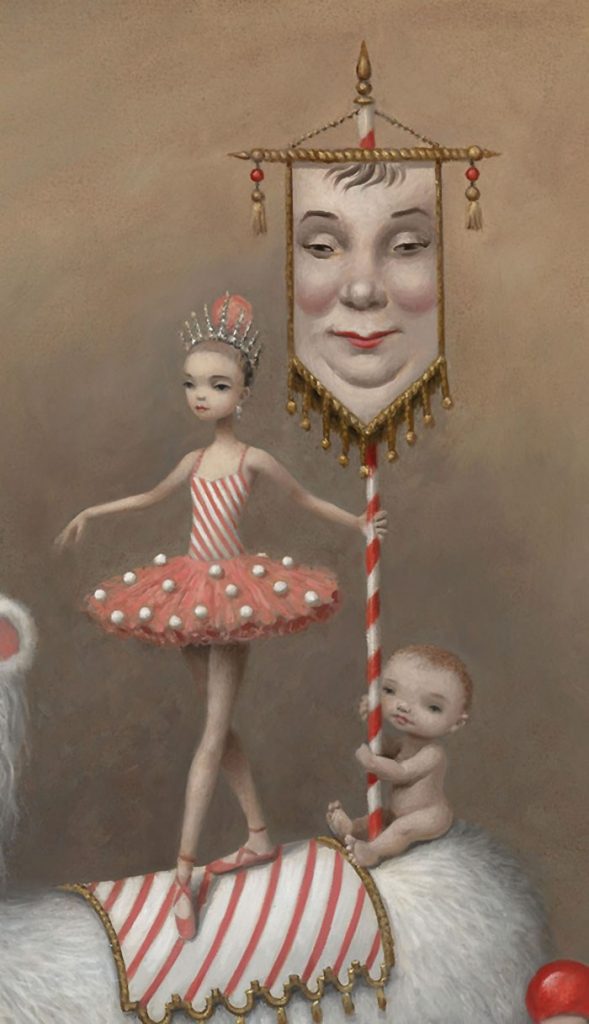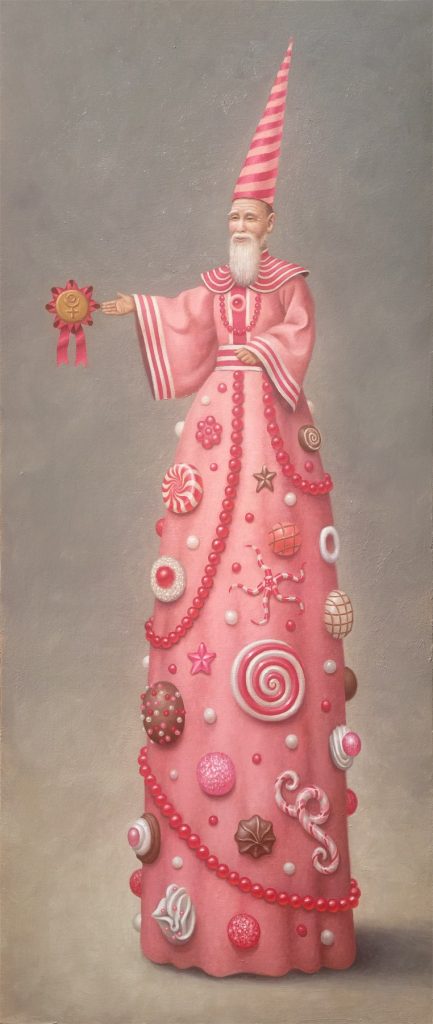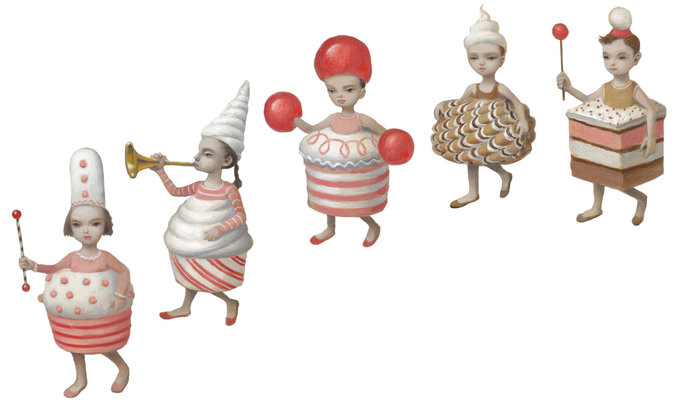 Sketches by Mark Ryden