THE ANNIE AWARDS
were f
i
rst organized in 1972, to honor excellence in the field of animation. The awards are sponsored by The International Animated Film Society/ASIFA, a California non profit organization whose creed is it to "promote and encourage the art and craft of animation." ASIFA describes the "Annie" as "the Industry's oldest and most prestigious award". The Annies
have been viewed with some skepticism and derision in the animation community, and have oft been the target of accusations;
Dull ceremonies! Lobbying! Grudge harboring! An abuse of corporate power! Bad taste! Voting Irregularities!
Its voting process and technical flub-ups have caused 2 controversies of recent.
The Short Subject Scandal of '08 evoked the 2004 presidential election, as wonky "machines" disrupted the voting process and the better of the candidates (Don Hertzfeldt), lost in the process. Then in 2009, a movie called Kung-Fu Panda swept the Annie Awards in an overwhelming defeat against Disney/Pixar's enthralling and heartbreaking Wall-E – a film that later took the record for the most Oscar nominations for an animated film  - which went home empty-fisted. At the time, the New York Times writer David Carr noted:
"Oscar watchers were stunned when Kung Fu Panda took all the awards from the International Animated Film Society. That was an inside job, full of backstage politics you don't want to know about."
Annie Lifetime Achievement honoree Bill Plimpton speculated that Dreamworks bought ASIFA memberships for the entire studio, instructing them to vote the party line: The unfortunate reality is that it feels like the elections were rigged they were bought! What a travesty. Apparently, DreamWorks does automatically buy memberships for every employee, does "encourage" them to vote the party line and may employ as much as 40 percent of the total ASIFA membership. Fed up, Dreamworks chief competitor, Disney/Pixar, which has sponsored the Annies since 1972, withdrew as a sponsor and declined to submit on behalf of their artists, citing judging irregularities: Variety, August 25
At issue is the fact that whereas members of the Motion Picture Academy and other such awards shows must be voted in by industry peers, anyone can buy a membership to ASIFA and thus, participate in the Annie voting process. Some industry members –  including but not limited to – the good folks at Disney/Pixar, have charged that the awards are skewed in favor of those that offer their employees ASIFA memberships upon joining the company. While Pixar has won many Annies in the past, Kung Fu Panda's decimation of Wall-E was…well, weird.
The 2010 nominations  - outside of the marquee categories in which ASIFA would have surely suffered blowback had they snubbed Disney/Pixar – are a shameless slate of nominations in which Toy Story 3 — the highest-grossing animated film of all time and a 2010 Academy Award Best Picture nominee —  received noms for Best Feature, Director and Screenplay, but it's artists were shut out of all the individual achievement categories (storyboarding, design, etc). How is a "Best Feature" nominee not the sum of ANY it's parts (storyboarding, design, etc.)? DreamWorks' aerial battleathon How to Train Your Dragon dominated the individual achievement categories. Two other DreamWorks films, Shrek Forever After and Megamind, had more overall nominations than Toy Story. Illumination Animation's Despicable Me – the second highest-grossing animated film of 2010 behind Toy Story 3  - was also given relative short shrift in the non marquee categories. We will have to see how it plays out at the actual awards in February and if the Annies can still boast being an indicator of the animated feature Oscar.
In the 10 individual achievement categories, DreamWorks had 28 of the 48 total nominations, 39 nominations overall.
THE SPONSOR EFFECT:
The Annies are not necessarily paid for by membership dollars, entry fees or contributions, but by corporate "sponsors"- or, as they are otherwise known: "Animation Studios": DreamWorks, Nickelodeon, Cartoon Network, Wildbrain (for instance). According to the ASIFA site, there are 4 sponsorship levels: Platinum: $25k, Gold: $15k, Silver: $10k and Bronze: $5k (sadly, there is no "Nickel" category for us). The 2010 nominees by studio:
Best Animated Television Program – Alongside the venerable "Futurama" and "The Simpsons" are: "Kung Fu Panda Holiday" and "Scared Shrekless", Dreamworks spin-off properties
Animated Effects in an Animated Production - DreamWorks, DreamWorks, DreamWorks, WB, DreamWorks
Character Animation in a Feature Production, Dreamworks, Dreamworks, Dreamworks, Dreamworks, Dreamworks
Storyboarding in a Feature Production - Dreamworks, Dreamworks, Dreamworks, Dreamworks
Character Design in a TV Production: Wildbrain, Cartoon Net, Nickelodeon, Nickelodeon, Nickelodeon
Storyboarding in a Television Production: DreamWorks, Nickelodeon, DreamWorks, Nickelodeon
Best Animated Television Production for Children: Cartoon Net, GIMC, Nickelodeon, Cartoon Net, Nickelodeon
Character Animation in a Feature Production: DreamWorks, DreamWorks, DreamWorks, DreamWorks, DreamWorks
Character Animation in a TV Production: 3 out of 5 nominations go to Dreamworks. The other 2 go to the stop-motion animated Robot Chicken (maybe the language has changed since I was in art school, but the term "character animation" actually had a semi- specific meaning), but there wasn't anything Annie worthy in the entire season of Futurama?
WHAT IS ANIMATION ANYWAY?
(Anything that writes the checks?)
Chuck Jones once referred to Saturday Morning animation as illustrated radio. I wonder what he'd say about HBO's (Annie nominated) The Ricky Gervais Show and (not nominated) Life and Times of Tim. Both very funny shows, particularly "Tim", all awkward pauses, studied/improv deadpan delivery and lots of character squeezed out of the crudely authored characters. Variety said about the show: "the gold standard of the smallscreen settled on a property that is so crudely drawn, deadpan, and static as to almost defy the term "animated"".
It's difficult to wrap my head around either of these great shows being thrown into the same arena as traditionally animated shows when you are talking about recognizing it's artists for their contribution to the medium. The Ricky Gervais Show IS illustrated radio. Not much happens, but is acerbically funny (as long as you have television subtitles to understand what they're saying). Are we putting the animators who manipulate the movement of "Tim" in the same classification as the character animators on Despicable Me? Well, no. But in in the case of Wildbrain's "Ricky", I dunno, yeah?
Anyone could legitimately feel that "T.U.F.F Puppy" has more artistic merit than Family Guy's "And Then There Were Fewer". They could feel that the score (by the guy who wrote The Fifth of Beethoven!), was not worthy of a "Best Music" nomination alongside Wonderpets! or the oft mentioned Kung Fu Panda Holiday. Wonder Pets! is a very cute show from Nick Jr. that, like Family Guy, has an original score performed by a live orchestra. Unlike Family Guy  (or the musical, not nominated Phineas and Ferb), Wonderpets! is not traditionally "animated", not actually animated at all. It uses "photo-puppetry", a technique created for the series to allow the manipulation of photos of real, extremely cute animals. It uses some drawn objects, so the end product, I guess, is considered mixed-media "animation".
Wonderpets! and Family Guy - both submitted for Best Music in an Animated Show:
"PROMOTE AND ENCOURAGE THE ART AND CRAFT OF ANIMATION".
Our LA physical animation team applies the same level of nuance to our TV cartoon as they did to the feature flicks they animated when people were still doing that. Yet, presented in Family Guy's fetid wrapping, their work will never garner them an Annie nomination. They designed and animated a 2 minute sequence in an episode we produced last year. The fabulous stop motion team from Robot Chicken produced the claymation/stop motion scene for the same episode (Road to the Multiverse)
Perhaps it's precisely because it was "animated" (oh wretched medium), that Annie voters didn't think was a good an example of "animation". Or at least not as good as Robot Chicken. But it's more likely that it was because the submission package that we so lovingly put together was stamped: FAMILY GUY.
The Emmy voters did acknowledge the team's work and the show won the 2010 Emmy for outstanding Achievement in Animation.
But that's just a stupid Emmy, not an Annie, not Animation's most prestigious award.
Maybe it's a matter of taste…..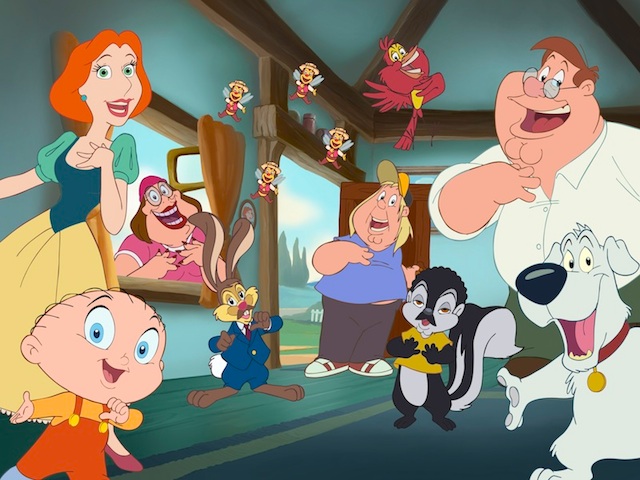 ROAD TO THE MULTIVERSE was not nominated for Art Direction (or storyboards, or animation, character or design, color design, music, yadayadayada nothin').
NEIGHBORS FROM HELL was nominated for Best Art Direction (a Fox/Dreamworks co-production)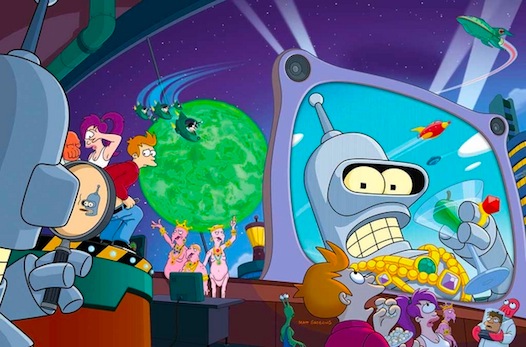 FUTURAMA was not nominated for Best Art Direction
In 152 episodes, and spanning 10 years, Family Guy artists have been nominated for 4 Annies and won 2. In 100+ American Dad's episodes, 1 artist was nominated.
Perhaps it is just a matter of taste. Anyway, at least we can with good reason (we weren't invited) avoid the 3 hour death march that is The Annies Awards show (really, for a show celebrating artistic/creative achievement, it is a startlingly hackneyed event – zero aesthetic, aping other awards shows in their banality in a failing attempt to gain some sort of "legitimacy" while ignoring its own endemic specialness, often even cringe-inducing rather than loose and alive in a "we're a community" type of way so that there are no spontaneous moments, no artists climbing over seats Benigni-style to accept awards).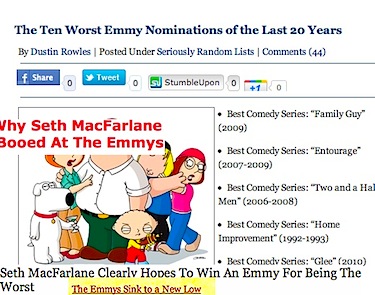 IT'S EASIER WHEN YOU HAVE NOTHING TO LOSE. The news sparked a furious debate in the blogosphere."The Simpsons deserved it more than Family Guy!" Our 2009 nomination in the Best Comedy category became a mind numbing and pedantic debate on the merits of two different animated shows. Newsflash: THEY WERE NOT UP FOR THE SAME AWARD. We got a Best Comedy Emmy nomination last year, not because we were "better than The Simpsons", or that we thought we would win, but because we submitted for that and they didn't.
The Simpsons was undisputedly the 1990′s best TV comedy, but the Emmy for Best Comedy went to "Fraiser" every year. Frasier! The Simpsons should have walked away with the award in 1993, '94, '95, '96, '97 and '98 (more people are quoting quips from Camille Grammer than they are from "Frasier", doh!). But when they threw their hat in the Real Show ring they were shut out. America just wasn't ready for a black president, I mean an animated show (Ren and Stimpy should have won in the animated category in 1992 but some claymation Easter special stole it). 22 seasons later, The Simpsons – cultural icons and the gold standard for television comedy, still garnering huge ratings – is still marginalized, sharing an awards category with "Foster's Home for Imaginary Friends" (a lovely show) and "Shrekless" (never seen it). So with the expanded arena in 2009, we had literally nothing to lose. The point is not whether the best show was nominated, it's that an animated show was nominated at all.
From Guardian UK:
The show's creator, Seth MacFarlane, seemed stunned at the nomination. "On the one hand, it's exciting and we're delighted, and on the other hand, we feel like, really, The Simpsons should have been on this list in the 90s when they submitted…It is nice that they stopped ignoring the fact that the animated shows are major players in the comedy landscape of television. This is a huge step forward".
In an arena where the net worth of the content is….subjective - 14.2 million viewers every week watch Two and a Half Men – the time animation fans spend bashing a show precisely because of it's medium is weird. There is plenty of (well deserved), under expressed hate lying around for Lost, Desperate Housewives, but those shows are never used to illustrate the point that they got award nominations. Or that anyone watches them. It's a silly thing to have too strong an opinion about anyway. It's TV, not life. Most contests are corrupt, whether it's the Nobel Peace Prize, Men's Figure Skating (Johnny Weir 4EVR), or little old ladies baking pies.
"Anyone can negatively criticize – it is the cheapest of all comment because it requires not a modicum of the effort that suggestion requires".  - Chuck Jones
I LOVE YOU BUT SHUT UP. By continuing to only compare animated shows with other animated shows, who is "ripping off", or "dumbing down", blahblah, you are ostensibly devaluing the genre and shortening the lifespan of the adult-geared animated show. If the Annies is any guide, 2D character animation is indeed a dying art form. The genre in its 2D form is declining capitol, to be sure, but why the mad rush to usher it out the door? Just because something is cut from the same material cloth, doesn't make it the same. We get it, now shut up. You probably have better things to do; you presumably have a channel changer; we don't care; why not complain about "Gray's Anatomy"?; life's too short; we employ 400 artists year round; i have a headache; it's boring; shut up. Oh and I really like your show!
In the 1940s – considered a golden era for animation – cartoons were considered ersatz movies and animators were second class citizens, even legitimate filmmakers like Tex Avery were barred from joining movie director guilds, forever the victims of an aesthetic discrimination. Today, artists working in animation have a farcical union that was incapable of parlaying the 22 years of mind boggling success of The Simpsons, the billions of dollars of revenue and the fact that no one else could physically do the job, into residuals and benefits that rank up there with the television writer for its members
(newsflash: they couldn't have made that show without you).
RESENTMENT IS A MEMORY OF PAST INVALIDATION. When you hold resentment toward another, you are bound to it by an emotional link that is stronger than steel.
The least we can do is be better than the rest of Hollywood, to whom animation will always be a Scrappy Doo cartoon, even when it's production model is identical to a live sitcom. A cartoon crossover happened that once, at the Emmys way back in 1961. It took another 48 years, but one year, The Animated Show was recognized for being what it is: a popular, revenue generating television program no less worthy of a shitty gold plate statue than "The Big Bang Theory".
So, if you're genuine in your love of animation, you would not be outraged that a show you personally hate was recognized as being a legitimate part of entertainment. It's just a TV show, not some precious dead sea scroll. If you respect the medium, the craft and the individual artists who create the stuff, then you agree that those individuals ought to be recognized and judged on the merits of their work, and given an equal opportunity to be recognized by their peers without being handicapped by a political process or being stigmatized by the show, the show's creator or the show's studio. After all, are we artists and curators dedicated to the preservation of the genre, or just a crappier reflection of everything else, where everything is bought and sold and mean spirited?
A non-profit organization honoring the animated genre is a brilliant thing, but a popularity contest among an incestuous cabal of commercial studios while holding itself up to a standard unrealistic for any judging process is an affront to the individual artist. The point here is not about DreamWorks vs Disney, Family Guy vs Wonderpets! or Kung Fu Panda Holiday vs everything else, but about an alarming lack of standards and clarity in –  and accountability for – the voting procedures. Disney/Pixar aren't the only one who've complained about the mysterious glut of nominations for "sponsor" studios and studios that purchase ASIFA memberships ostensibly for the purpose of having them vote for the company project, every artist I know has. Whether or not studios formally dictate who their employees are to vote for, everyone knows that our tendency as humans leans towards supporting the home team no matter what the quality of the product (See: "Mets Fans").
Unlike those other studios, Fox does not pay us to join ASIFA, and most  - having witnessed the abject lack of parity in the process and the strange creative bent of the judging – choose not to join. I refuse to enter into the membership-buying arms race, chagrined by the idea of influencing my crews into voting the company line. So, although we are not an official sponsor of the Annies, the 4 figure checks I sign every October for those multiple submissions for 3 series at the very least pays for the show's floral arrangements.
You know how Sundance has "Slamdance"? Well next year we're having the "Fannies"…or something (open to suggestions). All us losers and sellouts will give each other awards that, – exactly like the real awards – don't really mean anything anyway. But the bar will remain open during the event, and there will be singalongs, soft serve, meth, etc. The one thing losers know how to do is have a good time. You can view the full list of Annie nominated episodes here:
Post Emmy reflection. All dressed up, and nothing left to lose: