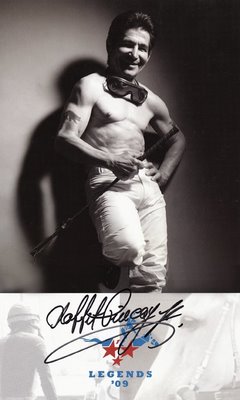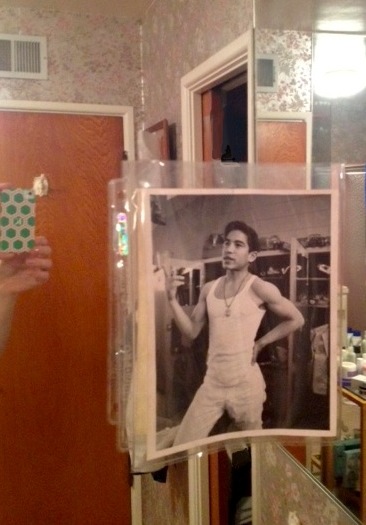 Men's Health Magazine has just awarded the Fittest Men of all Time award to pool swimmer Michael Phelps.
"The 100 Fittest Men of All Time"? There fucking better be a jockey on that list. There are 100 goddamn men on that list. I have an inspirational photo taped to my bathroom mirror of a ripped, young Laffit Pincay, world's greatest jockey and world's fittest man. If he were 6′ 4″ tall and weighed 200 pounds, Laffit Pincay could beat anybody, in any sport. But, "neigh", The Fittest Man in ALL OF HUMAN HISTORY, to ever walk the earth walk earth, is, apparently, a slack-jawed swimmer who can't bother to pull his pants up, who just happened to win the Olympics earlier this year.
Criteria for judging the ambiguous term, "fit."according to the magazine:
When judging the fittest men of all-time, Men's Health decided on a few caveats. Fitness, as we define it, isn't just about abs and muscle tone and obscure measurements like V02 Max—but that's all part of it, of course. Fitness is also about what you do with the body you've built. 

That could include setting—and smashing—records, leading your team to championships, and winning countless gold medals, but fitness doesn't stop with personal achievements, either.
When did Olympic "Gold Medals" become the standard bearer for everything athletic?
Pincay's story ought to have the resonance of DiMaggio's 56-game hitting streak, and the allure of Ali-Frazier. He was inducted into the Hall of Fame at the tender age of 26. He won the Kentucky Derby and 3 consecutive Belmont Stakes. He won The Hollywood Gold Cup a record 9 times. He once won 7 races in one day. A 7-time leading jockey nationwide, when he retired in 2003, Laffit was horse racing's winningest jockey, with 9,530 career victories. He won every major award, including The George Woolf Memorial Jockey Award, the Mike Venezia Memorial Award and five Eclipse awards, affirming the highest level of respect the horse world bestowed upon the man affectionately and aptly known as "The Pirate" for his daring on the track and sex appeal off the track. He earned his owners $237.4 million.
After much debate, Men's Health magazine they gave the prize to Phelps, in part because of his workout routine.
Better yet, Phelps didn't win on talent alone. His workouts were the stuff of Olympic legend. As he told Men's Health, "I was doing 10 workouts a week in the pool, three weight workouts plus three core workouts. It was totally intense."
Wait, what? His workouts were "Stuff of Olympic Legend"?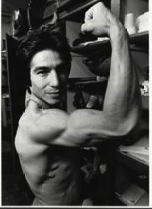 Consider the master of self-denial's training regime. Pincay's lifelong near-starvation diet was finely calibrated to provide only enough energy to get him through his mind-boggingly rigorous workout and day of racing. He famously once ate only a single peanut on a transcontinetnal flight. Pincay created for himself a life-support system for a set of highly specific skills. The result is a compact walking anatomical chart, every vein, blood vessel, muscle fiber, every strand of ligature in sharp relief. He is a physical specimen, a gaunt portrait of nobility on a nag. Called "a small Arnold Schwarzenegger", and "the Incredible Hulk", with welterweight muscles packed onto a bantam weight's body, Pincay Jr.'s sheer physical natural strength was unparalleled. Michael Phelps looks like a Ken doll in comparison.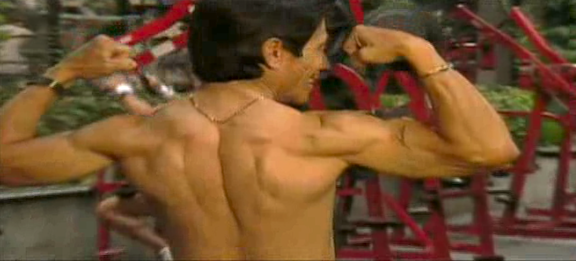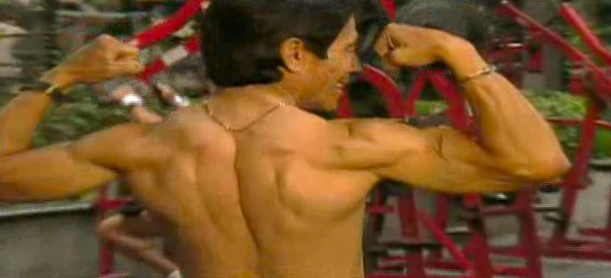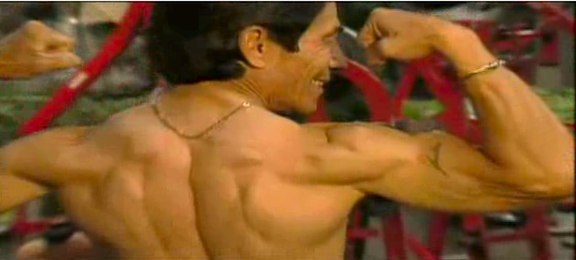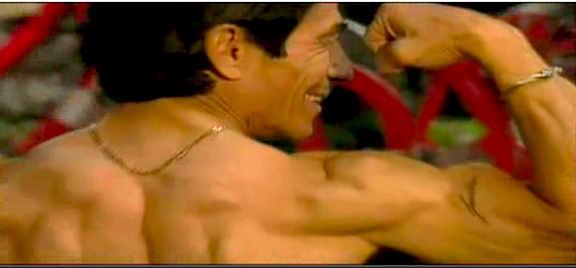 There is an old saying, Pound for pound, Jockeys are the toughest athletes in the world. Pound for pound, it isn't even close. Would you call 194 lb. Michael Phelps "tough"? When it comes to both mental and physical toughness and playing through pain, the 98 lb. jockey leaves a swimmer twice his size in the dust. A fractured wrist or a cracked rib is 3 months of "Deadliest Catch" for a swimmer; it's a couple of strips of tape and an aspirin for a jockey. During his career, Pincay broke his collarbone 11 times, broke 10 ribs, had two spinal fractures, two punctured lungs, two broken thumbs and a broken neck. He walked away from them all.
Pincay's career ended when at age 56 – and only because he broke his neck during a race, from which he got up and walked away. He waited 4 days to see a doctor, who after looking at the x-ray, screamed at him to not move. He had broken 3 bones in his neck, one of them a "hangman's fracture" (the bone that breaks when people die by hanging). Doctors threw one of those screwed-in surgical head halos on his head, and told him that the only reason he had not been paralyzed was that the muscles in his neck were so strong they actually held the broken bones in place. In medical studies to determine why jockeys seemed to recover from serious injuries so much faster than anyone else, testing conditioning, reflexes, coordination and strength of hundreds of professional athletes, Jockeys graded consistently higher than all other professional athletes.
Phelps struts around in his trunks that barely cover his pubic bone, his flabless frame always on display. Jockeys look shrimpy under their loose blousons. Those miniature, enigmatic humans in baggy knickers and candy colored silks don't need to show off their stuff. Everyone knows that under those foppish outfits are superbly conditioned athletes, sinewy and cut, with zero body fat, rare physical specimens of brute strength packed into tiny frames.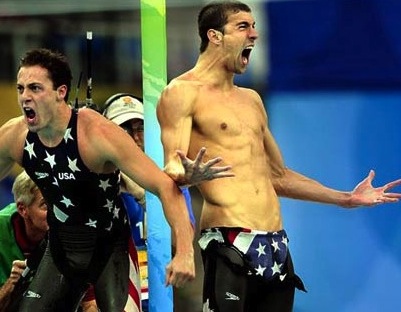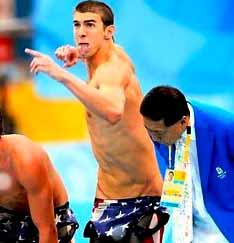 Could Rosetta Stone pitchman Michael Phelps control a 1,500-pound animal, balancing on his toes, crouched over a 2 lb. saddle, whipping along at 40 MPH in heavy traffic? NO, because beyond physical strength and fitness and eating his stupid 14 egg breakfast, it requires a combination of skill, conditioning, balance, split-second decision-making and, above all, sheer bravery that isn't necessary in a swimming pool. In a pool, you are confined to your lane. On the racetrack, jockeys fight for a spot on the rail, their puny bodies in matchbook-thin Kevlar vests and 8 ounce helmets, waiting to being flipped over the rail or thrown into the oncoming path of the charging herd. Thoroughbred colts are nervous, sexually perturbed, high-strung 19th-century speed machines, raring to go, literally chomping at the bit, shoved into narrow slots then released like the hounds to blast wild-style into the fray. What say you, Michael Phelps? Would you jump on the back of a after a few bong hits? Well you couldn't, because all that strength and bravery and having to stay within the jockeys' 116-pound maximum weight? Michael Phelps, would you do that? Could you do that? Could you do it for 35 years?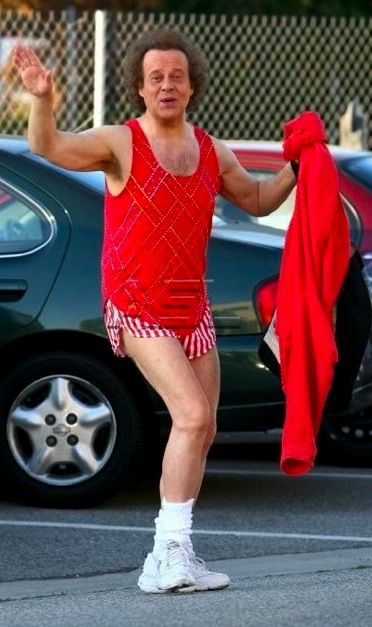 (Flabby health nut Richard Simmons, came in at No. 20).