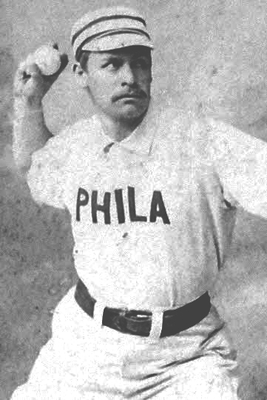 Ben Sanders, Phillies pitcher, in the late 1800s.
Today, the Pennsylvania Supreme Court reviewed the constitutionality of the state's horrendous new photo ID law. They say a decision will come before the end of the month, probably just after the state's election registration period ends on October 9th.
The lower court recently upheld the law, signed into law by Cro-Magnon idiot Governor Tom Corbett - whom I have repeatedly harassed by phone since he signed the bill into law, asking whomever answered the phone to explain the law to me. NOT ONCE DID ANYONE KNOW JACK SHIT ABOUT THE LAW, which I memorized in about 30 minutes.
The lower court, and an idiot Republican judge from Harrisburg Judge Robert Simpson, relied upon a weird and offensive precedent to upheld the law. In rejecting the plaintiffs' argument that the law clearly violates the state Constitution's guarantee of "free and equal elections," the court cited the 1869 case of Patterson v. Barlow. Looking specifically at the tumult and vagrancy of 19th century city life in Philadelphia, the 1869 decision, which in part allowed election officials to consider a voter's *virtue* before being allowed to cast a ballot, actually formed the decision last month that the new law was constitutional and could go into effect immediately. despite the fact that the state could not prove their case that there is ANYONE voting that doesn't have the right to, this weasel-faced, partisan judge ruled for this nightmare GOP-written law.
If upheld by the higher court, the new voter laws will disenfranchise 758,000 Pennsylvania voters. It's okay, because Judge Simpson "was convinced that [the law] will be implemented by commonwealth agencies in a non-partisan, even-handed manner."
The citation of the ruling, which is peppered with outdated, bigoted language to justify early curbs on the franchise, has horrified normal people. Judge Simpson's reliance on the 1869 ruling ties 2012 critiques of voter ID laws directly, and alarmingly, to a historical narrative of "anachronism and … outright prejudice," according to one legal brief filed in the case.
Painting a delightfully colorful Dickensian view of old Philadelphia, the 1869 court wrote:
"Where the population of a locality is constantly changing, and men are often unknown to their next-door neighbors; where a large number is floating upon the rivers and the sea, going and returning and incapable of identification; where low inns, restaurants and boarding-houses constantly afford the means of fraudulent additions to the lists of voters, what rule of sound reason or of constitutional law forbids the legislature from providing a means to distinguish the honest people of Philadelphia from the rogues and vagabonds who would usurp their places and rob them of their rights?"
For emphasis, the court further explained that to deny the tougher voting rules for Philadelphia voters,
"would be to place the vicious vagrant, the wandering Arabs, the Tartar hordes of our large cities, on a level with the virtuous and good man."
Patterson v. Barlow, Law Professor Jessie Allen points out, serves as a
"blatant example of the anti-democratic voter suppression alleged by plaintiffs in the current voter ID case. The law approved in Patterson enacted a complicated set of registration procedures for Philadelphia (with its large working-class and immigrant populations) and a simpler procedure for the rest of the state. . . . The opinion justifies a tougher process for Philadelphia voters because "rogues and strumpets do not nightly traverse the deserted highways of the farmer. Low inns, restaurants, sailors' boarding-houses and houses of ill fame do not abound in rural precincts, ready to pour out on election day their pestilent hordes."
Oh, Pennsylvania, surely you jest. And what say you about the Ne'er-Do-Wells, and the Ladybirds and Lags? The Magsman and Maltoolers? The Mollishers with the Newgate Knockers and the Screevers and Shirksters? The Ruffians and Bunkies, Hissian and Sawneys, the Ragamuffins and Harridans and Bit Fakers? What about the Black Legs and  Buttoners and Cracksman?And the Dippers and Dollymops?  The Scalawags and Soiled Doves? What are nations? Tartars! and Huns! and Chinamen! Like insects they swarm. Glocky Haymarket Hectors