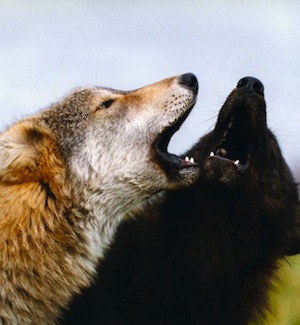 They emit unholy howls, followed by high pitched screams like the terrible, infamous hyena laughter. The new big dog in town is a freakingfracking coyote-wolf hybrid.
Scientists had already known that some coyotes had mated with wolves in the Great Lakes region, the pairings creating viable hybrid offspring. And now the "Coywolf" has been gradually expanding its range eastward, sweeping across the country like a Fox News fueled Republican cancer. Identified by their DNA and skulls, the new Coywolves have been found running wild across the great States of New York, Pennsylvania and Virginia.
Wolves became endangered because they lack genetic exchange capacity. But what people forgot was that Wolves are canines, and canines are famously adept at gene exchange. So, Coyotes are breeding with Wolves, turning mice and kitty cat eating Coyotes into massive, hungrier, braver beasts, filling niches once occupied by Wolves that were eradicated by humans. Payback time.
The deer will have their work cut out for them. Because unlike the scrawny, scrappy Wiley Coyotes limping through Los Feliz, rooting around in your trash,  these new and improved hybrids are capable of taking down deer. Or small children. In North Carolina last year, a toddler was attacked and dragged from a trampoline by a coywolf – he literally grabbed the 3-year old by her shirt and began dragging her away into the woods.
Scientists say that the Coywolves, like cockroaches and Dick Cheney, are one of those animals that will be left at the end days, that they are "absolutely established"and "here to stay." Sorry, Bambi. Give up, humanity.
Photo: Coywofl pups howling: Monty Sloan. Wolf Park, Battle Ground, Ind.