When looking at a 1920s or '30s classic Duesenberg, the finest in automotive engineering, design, and elegance, your mind is instantly filled with visions of grace, grandeur, Ivana Trump and the Great Gatsby……days spent playing polo, riding dressage horses, driving fast cars and obscenely-proportioned yachts.…..random acts of excess and opulence, the finest and most delicious foods, the iconic, carefree lifestyle of The Jazz Age…..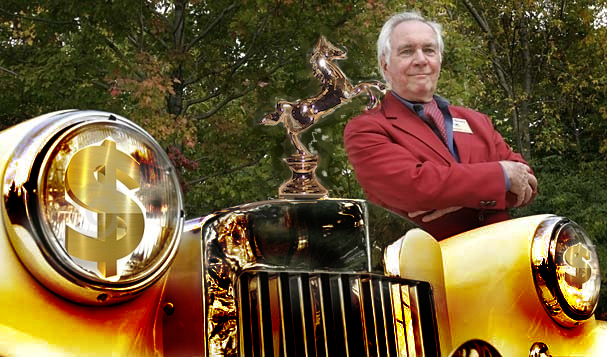 Introducing The RollsRomneySilverSpoon by ZIMMER®
The RollsRomneySilverSpoon is the finest neo-classic motor car ever manufactured. The exterior design is pure classic grandeur right out of the Great Gatsby era, handmade to the highest quality possible*. So, if you are ready for a motor car that is distinctive, that sets you apart from the "pack," that says, "I've arrived," that looks classic but is new and luxurious, an RRSS ZIMMER® is for you. If you are a little tired of paying $450,000 to $750,000 for a car you can't find in a lot full of Bentleys and Ferraris, an RRSS ZIMMER® is for you. If you deserve this kind of luxurious indulgence; an insulating shell constructed like a leather-lined bank vault; custom-tailored exclusivity; more interior space than a zeppelin, exotic and distinctly luxurious accent lines, then the RRSS® is for you. If you fancy yourself a Medici prince, a grand seigneur, then the RRSS® is for you.
*made in China
The RRSS ZIMMER® features A 22-cylinder, 943 horsepower engine, fully reclining Barcaloungers with heat and massage and electronically extendable footrests, wine cellar and champagne cooler, entertainment system with Dolby stereo and video screens in the front headrests that puts opera houses to shame, solid gold plating, wire-spoke wheels with whitewall tires, dollar sign illuminating headlights, and solid gold exhaust hoses on each side of the hood.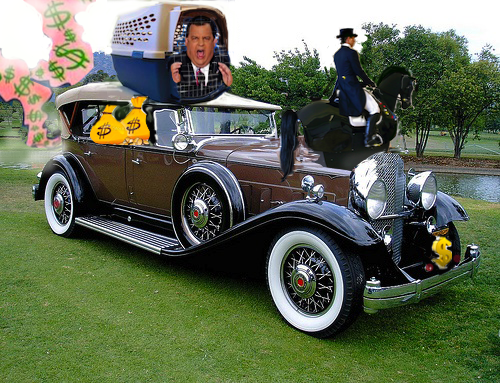 The RRSS ZIMMER® boasts a 300 lb. solid gold emblem in American Bald Eagle, Dressage Horse or choice of endangered animal, exotic Falaballea Pony skin seat covers, enough trunk space for 1000 money bags, a power tilt-and-telescoping steering wheel, rear picnic tables, thirty-zone climate control, powerful rotary saws that protrude from the hood to remove obstacles in its way  and a deflector which seals the cockpit in a bullet-proof and crash-proof, and either an air-tight or water-tight chamber depending on the environment.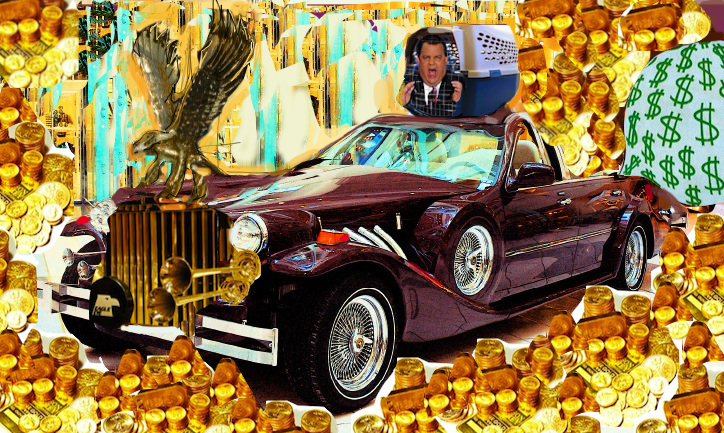 For the stay-at-home lady in your life, there is "The Anne", a classic coupe with a feminine take on the classic RRSS ZIMMER® using a 1988 Mercury Cougar as the project base. This car has a 145″ Wheelbase, and is a whopping 48.5 ft long. At the classically inspired front end, you have every encrusted hodgepodge to luxury you could ever conceive, including carriage roof, opera top with opera windows, jewel encrusted dog house, leather trunk straps, fixed moon roof with sunshade, hair dryer, make up mirrors, vibrator, 37 trumpet horns, 14 fog lamps and a  harp.