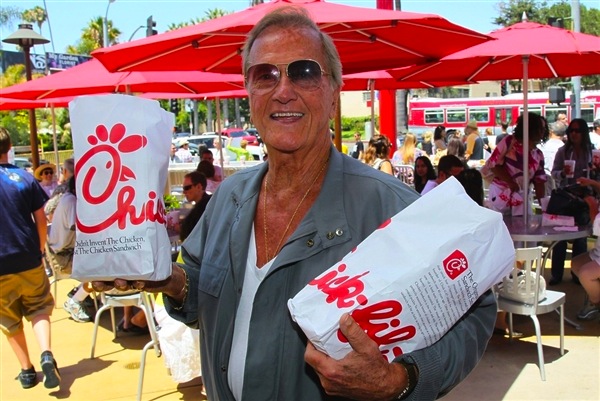 Singer Pat Boone picks up some food from the Hollywood, Calif., Chick-fil-A on Wednesday.
David Livingston/Getty Images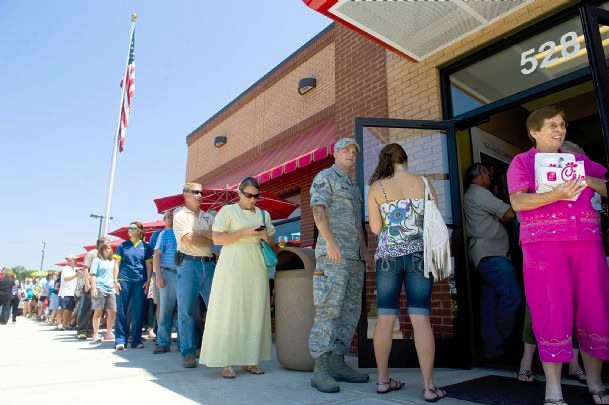 Photos of the Chick-fil-A eat away the gay day remind me of the sad sameness of every commercial strip in every white exurb hell in America. That these humans are  feasting on tortured chicken meat in order to spite gay people is just….something else….
"We're Bible-believing Christians," said Bethany Hill, 35, at a Chick-fil-A in Trevose, Pennsylvania. "We're thankful that he decided to stand up."

"You should have the right to say your opinion without being penalized," said Lillian Somers, 78, at a Chick-fil-A in Birmingham, Alabama. "I am tired of people trying to force their beliefs on me and people being blasted for Christian beliefs."
Ladies, Bethany and Lillian, if you spend your time reading Leviticus and ignoring the gospels, especially after Christ said "I am the new Covenant", then you have no business calling yourself "Christian". If you rolled down to Chick-Fil-A specifically to support them because you just hate dem gheez, then you have no business calling yourself a person.
At least all the wingnutz are in a post-chickin' feast diabeet-us coma right now.