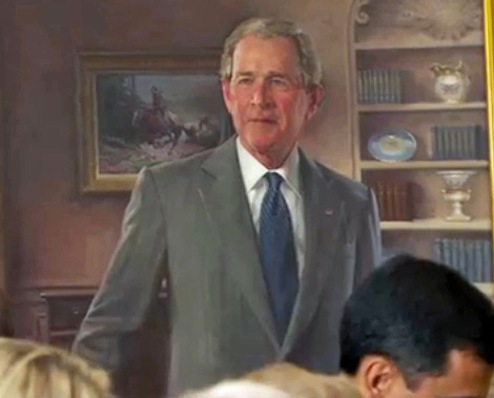 "What, me worry?"
Thomas Kincade died too soon! The official White House portrait of former President George W. Bush was unveiled today!
I'd assume that George W's portrait would be on black velvet, depicting him holding a copy of "My Pet Goat" in one hand and a Big Gulp in the other. Or, in a flight suit with codpiece and bullhorn, and the World Trade Center burning in the background. Instead, we have this painting, a fucking masterpiece. The portraitist is a genius. It's all right there, captured perfectly. I mean, it's so well done it that the International Criminal Court could probably use it for wanted posters! The subtle brushstrokes expertly captures him staring off into space after something that even he doesn't find particularly interesting. The look of a man who finds very little in the world to be particularly interesting. Ah, The banality of evil - no crude symbolism here to disturb the effect of its mystery! All the banal thoughts and experiences of the world are exhibited here in this portrait. The subtle stroke of the thinned lips, set into the self-satisfied gaze of a man who just found the hidden weapons of mass destruction in the "corner" of the Oval Office. The Rosacea tinged tint on the cheeks and chin (liquor or "clearing the back 40″?), is perfect, not one false or morbid hue in any part or line, its brushstrokes as accurate as Acetaldehyde itself. His head, as limpid as a jellyfish, is posed weightlessly on neck, as if enforcing his uncommon powers of churlishness and befuddlement; and his squinting eyes, appear to observe absolute nothingness, a ghostly Croesus who gazes as sightlessly as a stone statue into an invisible world. In him resides an essence of kingship, a kind of beau idéal of monarchy. Has the essence of a monarch – in all its vapidity, brutality  and willful ignorance – ever been rendered so exquisitely in oil paint, manifesting such an insipid singularity, a vacant and enfeebled humanity? It is as if this man has seen the melancholy of things, and it has left him abstracted. There never was yet, so far as I can see or hear or read, an isolation of a spirit so utterly desolate..a heart so barren and a spirit the least perceptive of the work of God.
Putin himself looked deep into the painting's eyes, and knew in his heart it was a good painting.
President Obama hosted today's portrait unveiling, and damn if everyone didn't really have their chuckle suits on. When the portrait was unveiled, W quipped to president Obama that "maybe now sometimes you'll look up and say 'what would George do?' The whole gang  -  minus Dracula – was there, back together again to watch the unveiling: Karl Rove, Alberto Gonzalez, Don Rumsfeld, Colin Powell, Tom Ridge and Dana Perino. The whole Peach Pit gang. Obama thanked Bush for leaving an awesome TV sports package and Bush was tossing out zingers left and right, thanking his friends for attending his "hanging," commenting that the portraits in the White House now start and end with a "George Dubya," and urging Michelle Obama to save his portrait should the White House go up in flames. Old Shit for Brains was pretty good with the yucks. Now fully aware of the fact that he was a goober as President, he is downright lovable. Man, I used to loathe that guy. What has happened to me?
What would have been REALLY funny, if after all the giggles and guffaws, Obama had the Secret Service just cold arrest everybody.  The UN's unmarked black helicopters waiting on the White House lawn to have the entire guest list airlifted off to The Hague for prosecution. Arrest Dana Perino first! Just for laughs.
Here are some better portraits of the ex Prez: