"Lead Ponies", aka "Nags"(what I like to call them, affectionately of course), are the spotted, speckled, fuzzy nags who you see palling around with the thoroughbred race horses out during pre race workouts. You've seen them, they are often insane looking –  next to the sleek bay or chestnut thoroughbreds, they are loud and tacky. They are often western, ex ropers or rodeo horses, paints, pintos, appaloosas, buckskins, palominos, even crazy-eyed albinos.  There must be some advantage for a lead pony to be all splotchy and wacky looking, but I'm not sure what it is. The lead ponies strut their stuff, manes done up in braids and ribbons, with bowed necks and a bounce in their step like they're the top dogs on the track.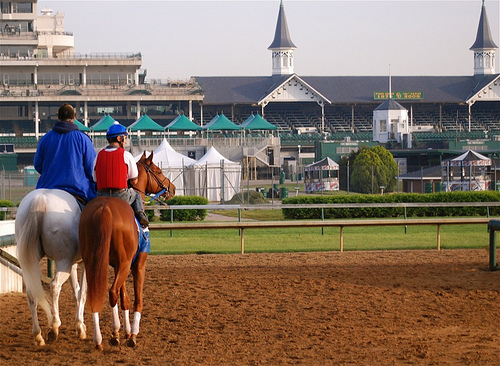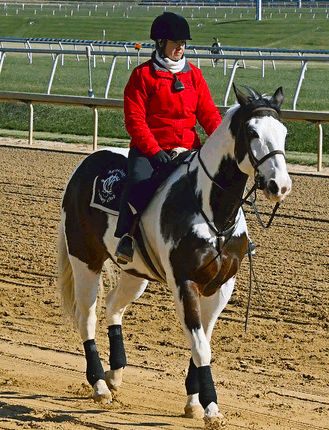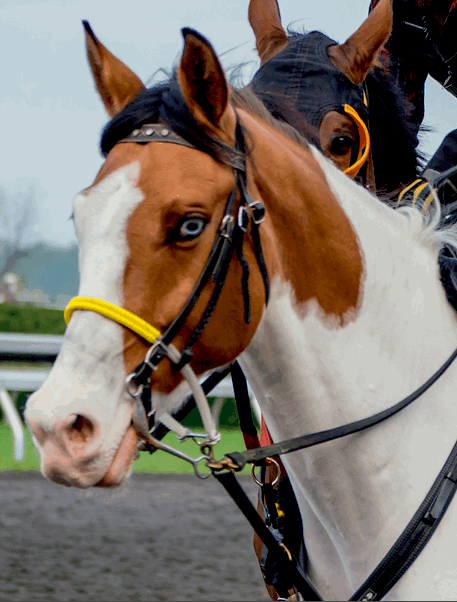 Horses are not loners by nature, and like the rest of us, prefer to have a buddy for friendship and support. Lead Ponies are escorts, schoolers, tour guides, mentors, and trusty friends for the youngsters – babies, really –  at 2 or 3, someone they respect and trust, and can inch in close to. They offer the skittish babies reassurance and courage. Their hearty and stalwart presence calms them. And if their ward runs off the course, the lead pony is the one that has to sigh and bound out after him.
On the day of the race, the lead pony proudly accompanies its thoroughbred in the post parade — a short jaunt in front of the grandstand, followed by a brief warm-up before the start of the race. The excitement can agitate the baby horse, and the ponies steady them, tolerating their nonsense, the acrobatics and nips from the souped-up athletes they are assigned to. Lead Ponies may look like crazy rodeo clowns, but they must be fit in order to gallop multiple miles in the morning workouts and during he race days, and – unlike a thoroughbred – the rider the pony carries can be as fat as he or she wants. And all the while, the pony has to pacify the high-strung star while maintaining a sunny outlook and a cool head.
If you look carefully at a race horse and lead pony, you can see the nag leaning his head in to the head of the thoroughbred, presumably muttering words of encouragement (and I don't want to hear otherwise).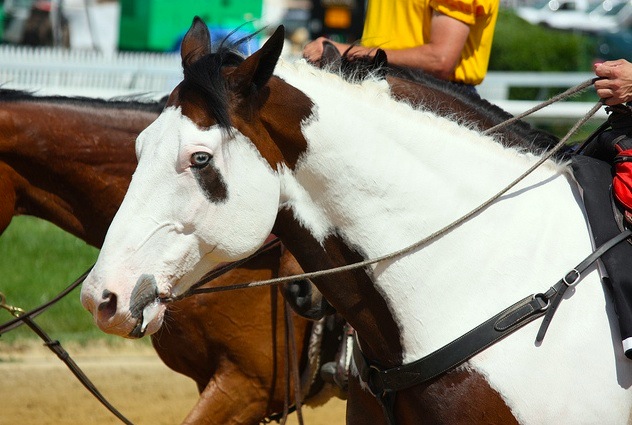 As such, lead ponies are another group of unsung heroes of the track, going about their jobs in relative obscurity. There are exceptions – lead ponies that have shoved themselves into the limelight and become stars in their own right. Here are a few of their stories.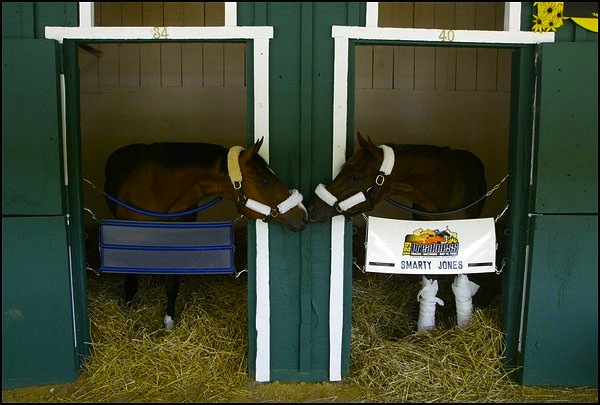 2004 Kentucky Derby and Preakness winner Smarty Jones and Butterscotch
Smarty Jones was inseparable from his traveling companion and lead pony named "Scotch with a Twist", or "Butterscotch". The 23-year-old, quarter horse, a former roper, was a major part of Smarty's life, and in 2004, the year of Smarty Jone's triple crown bid, the old nag became a celebrity in his own right. Often mistaking cheers for Smarty from throngs of crowds for cheers for him, the old ham would stop, turn and face the crowd. Butterscotch could hardly contain his enthusiasm when – at the Preakness – he served as pony for NBC's Donna Brothers, escorting Smarty back to the winner's circle while Brothers interviewed jockey Stewart Elliott.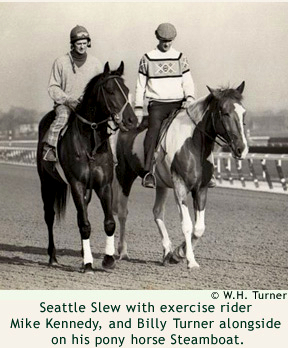 Seattle Slew and his pony, Steamboat, were attached at the hip. A big, heavy, piebald, he got his name because he "looked like a big Steamboat". Trainer Billy Turner said of him: "You couldn't miss a pony as ugly as he was. He had one hazel eye and one plain eye, and all these brown, black, and white splotches. His color was a mess".
Following Seattle Slew's retirement, Steamboat was given to a school for the handicapped where he happily took care of the kids until his death.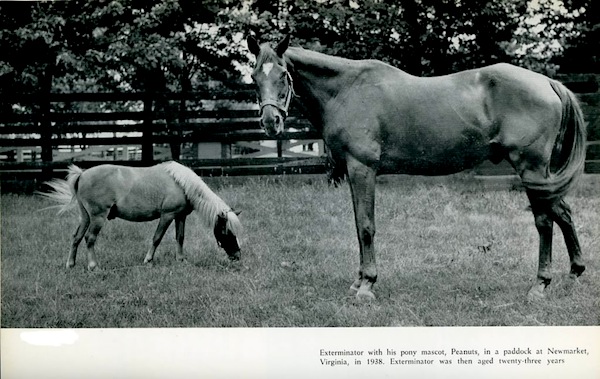 Exterminator and Peanuts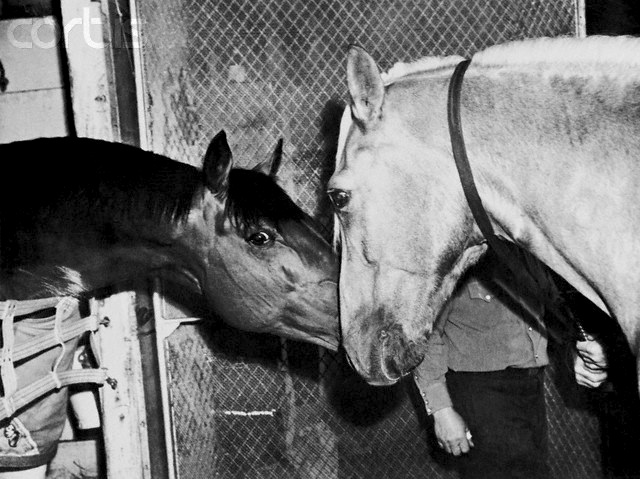 Famed champion Seabiscuit and Pumpkin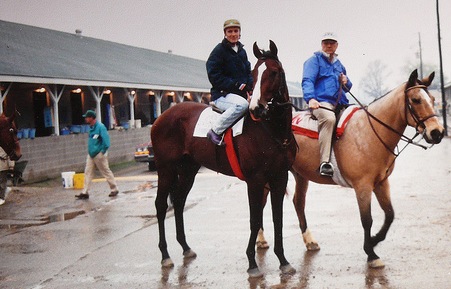 1990 Kentucky Derby winner Unbridled and Mustard
Trainer Nafzger called the relationship between champion Unbridled and his pony Mustard – a 20 year old buckskin lug bought off an Indian reservation in New Mexico –  "a love affair."
Damascus and Duffy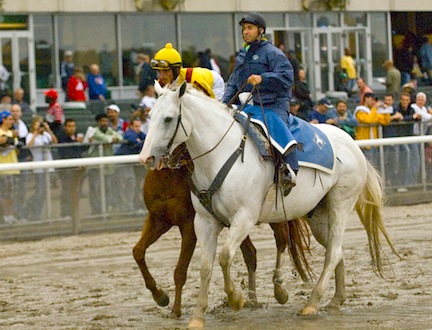 Curlin had his big, white pony, a behemoth named Pancho
According to a story in the Blood-Horse in 2004: A photo of the great Cigar standing on the track at Nad al Sheba dominated the front page of a Dubai newspaper the day before the inaugural running of the Dubai World Cup in 1996. At least the caption said it was Cigar. The horse pictured was a pure white, chunky quarter horse who bore no resemblance to America's super horse. The paper had mistakenly run a photo of Cigar's lead pony, "Snowball". When trainer Bill Mott brought Cigar out to train one evening, he overheard one man say to another as they passed by Snowball in the paddock, "Oh, there's Cigar." And when several Arabs, dressed in their traditional dishdashas, offered to buy Snowball as an endurance horse to compete in 50 mile desert races, Mott had to tell them: "I don't think you want to buy Snowball as an endurance horse. He struggles just to get a mile around the racetrack at a good clip." Snowball became a familiar sight, accompanying Cigar throughout the champ's 16-race unbeaten streak in 1996. He transcended his role as mere companion to become a star in his own right.
There are a slew of others, all with stories of their own. Kentucky Derby winner Monarchos had a beaten-up former hazing pony in a traveling rodeo named Mouse. Man o'War had a big brown hunter named Major Treat, and Secretariat had Billy Silver.
With all the attention shining on the shiny equine athletes during the Kentucky derby prep, the most accomplished horse hanging out at Churchill Downs is doing his job in relative obscurity. He is an 11 year old bay, and with the exception of a mane done up in pigtails, a fit and subdued looking horse as far as lead ponies go. He is lead pony to the star I'll Have Another, this year's Santa Anita Derby winner. We were at Santa Anita park when – a then unknown –  I'll Have Another (bought at auction for a crumby $11,000),  a 43 – 1 shot – destroyed the field to win the Grade II Robert B. Lewis,  – then unknown – adorable jockey Mario Gutierrez in the irons. Now both horse and cute jockey are major contenders in the Kentucky Derby, yet both risk having their spotlights stolen by their lead pony. Because, unlike most other lead ponies, theirs didn't come from a rodeo, or a ranch. Nor is it all spotted and fat.
The lead pony's name is Lava Man.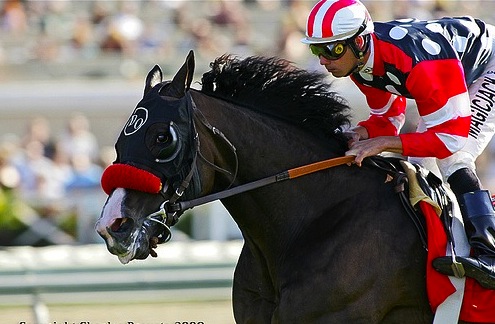 Claimed back in 2004 for a meager $50,000, and going on to  earn a staggering $5,268,706, Lava is the richest racehorse ever turned into a nag. I mean racetrack lead pony. He is my boyfriend's all time favorite horse as he arrived on the Santa Anita scene just as he was at his height. We would go see him race at Santa Anita and shriek at the poor horse along with the rest of the lunatics until we were admonished by the handlers to put a sock in it: "Lava don't like crowds", he said,
Named after the Ironman triathlon in Hawaii, Lava is a big but unimposing guy, agile but quirky. A notoriously terrible traveller, Lava Man lost  – by a lot – whenever he raced away from Hollywood. He'd get nervous, crowds spooked him, he psyched himself out, complained about the cold, and pooped out.  He survived a disastrous  2005 season, which ended with him hurting his foot. But at the end of the day, Lava Man won seven Grade I stakes, including the Hollywood Gold Cup three consecutive times and remains the only horse to win a Grade I race on dirt, turf and synthetic. He was nuts, but versatile, able to set the pace or come from behind, competing on grass or dirt. In 2006, in grand manner, Lava won the $1-million Pacific Classic with a flourish to become the first horse to sweep the Santa Anita Handicap, the Hollywood Gold Cup and the Pacific Classic in the same year.
Lava Man ran as a gelding, so no post track job as a serial sperm inseminator awaited him when his racing days ended. When he retired from racing in 2010, Lava's trainer, Doug O'Neal, made the unusual decision to give him a new job. He decided to try to train him as a lead pony rather than put him out to pasture. Now the middle aged champ spends his mornings happily and efficiently taking his stablemates back and forth to the track at Hollywood Park.
We were there when Lava made his first appearance in his old stomping grounds for the Santa Anita Derby last month. Here he is, leading out the $11,000, inexperienced chestnut longshot – I'll Have Another – emerging from the tunnel for the first time as a lead pony, on the same track where he, Lava, won all that loot.
That's Lava in the middle, fit and shiny in his dappled bay coat, chest puffed out, head held high, like the (almost) six million dollar man that he is. The braided mane was a little unbecoming of a champion, but that's what the nags are doing with their hair these days. I can only imagine what was going through his thick skull when he emerged from the dark tunnel and onto the sunny track, seeing the crowds, the starting gate and the winner's circle that were his life for so many years.
Lava started to act a little too much like he was the race horse during the post parade, and a second lead pony had to be brought in to keep everyone in their places. About whether Lava can keep it together and know his place on Kentucky Derby day, Dennis O'Neill said. "Lava Man was at the front of his stall digging in. He thought he was running, and he got a little screwy out on the track. Saturday will be his biggest gig. We'll see how he handles that. He'll probably get a little wound up, so we'll have to have a Plan B."
Lava escorted his nervous buddy that day, reassuring him that even though he was a little out of his league, that he was inexperienced and only cost a measly $11,000 at auction, that HE TOO had once been a nothin', an underrated nothin'. HE HIMSELF, the great Lava Man, started out as a cheap nag.
Here he is helping a tentative  IHA get up the guts to step out onto the dirt for the biggest race of his life – the $750,000 2012 Santa Anita Derby (the most important West Coast stepping-stone to the Kentucky Derby.  One of the graded stakes races at the major circuit tracks where the best colts build the earnings needed to qualify for the Derby).
Lava takes his new job very seriously. Via an audio recording of his on-track conversation with IHA:
LAVA: Listen up, kiddo. I know this is a huge race,  you know this is a huge race. We both know they think you're outta your league and haven't even got the right to be runnin' here today.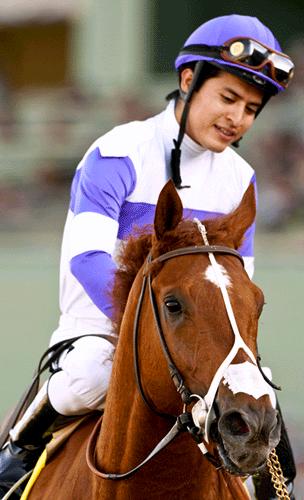 IHA: it's true, 'it's true! I'm an $11,000 nag! I shouldn't even be here!
LAVA: Kid, you look like you're going to have a nervous breakdown! That's no way to inspire confidence in your competition! Stand tall! Flare your nostrils!
IHA: These are top graded stakes earners! I'm a nothin', I am out of my league, that even though I won that last race at 43-1, I haven't been productive and offer no value. I'm a fluke!
LAVA: Shut up, kid and listen! You're spinning! Sure, they're more experienced than we are! Sure they have better bloodlines, are bigger and have better pedigree! They say your jockey is inexperienced, from Canada for pete's sake!. There are a lot of big time runners here today, everyone wants to land one of those Kentucky Derby spots. (IHA can be heard sniffling in the background).
IHA: Have you ever run in the Kentucky Derby, Lava?
LAVA: No! I was too old! Now concentrate! The one you gotta really worry about, kid, is the favorite. Over there, the big grey in the blue. That's the horse to beat. That's Creative Cause.
IHA: Holy Mother of Dapples, look at him!! I'm doomed!!
LAVA: Kid, beauty don't mean squat! Look at ME! Sure he's got some nice dapples, but dapples don't win a race!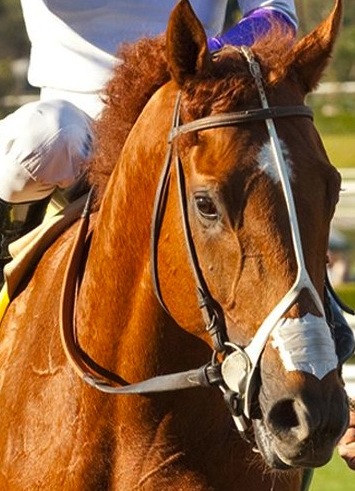 IHA: But I'm asceered, Lava! He has more experience than he has dapples! Four wins from seven career starts including three graded stakes wins. He won his last race, the San Felipe Stakes at Santa Anita Park….
LAVA: Kid, shut up..
IHA: in fact, he qualified for the Kentucky Derby on graded earnings long ago and does not even need to win this!! And still, he is the favorite, a "shoe-in" they say! What do they say about me? That I'm a flash-in-the-pan, a one-hit wonder! That I'm a piece of junk! They say I don't even deserve to be on the same track as Creative Cause who appears to be improving with each start…
LAVA: He's a horse, not a God!! He has weaknesses! Listen, kid. He hasn't got his blinkers on and loses focus and goofs around in the stretch! The main thing, kid, is to keep your mind on business, stay focused in the stretch and finish up strong. I'll be waiting here for when you cross the finish line. Win or Lose, I'll be here. Now get out of here, ya old bucket of bolts. Go out there and show them what an $11,000 nag can do.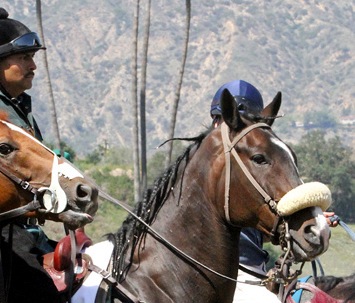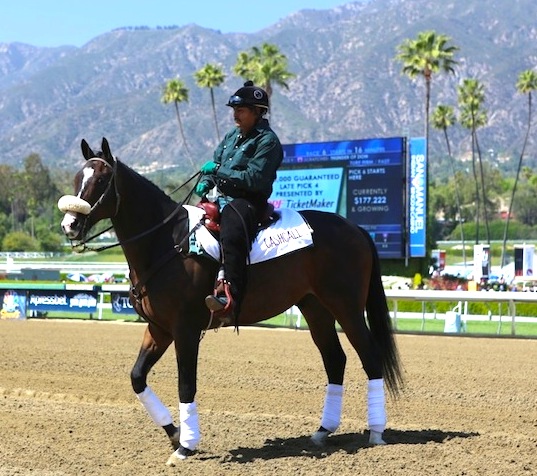 Now all he can do is wait and watch.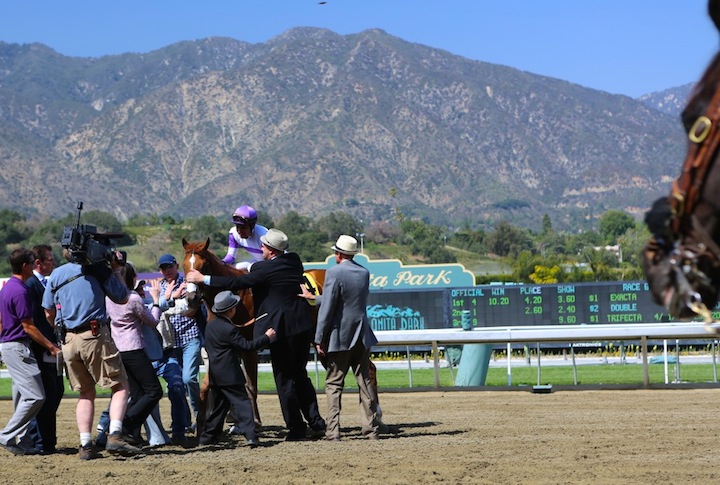 The former Santa Anita champion looks on proudly as his young student is smothered by the accolades of  reporters and well wishers, as he has just won the Santa Anita Derby.
santa anita derby photos by mark douglas